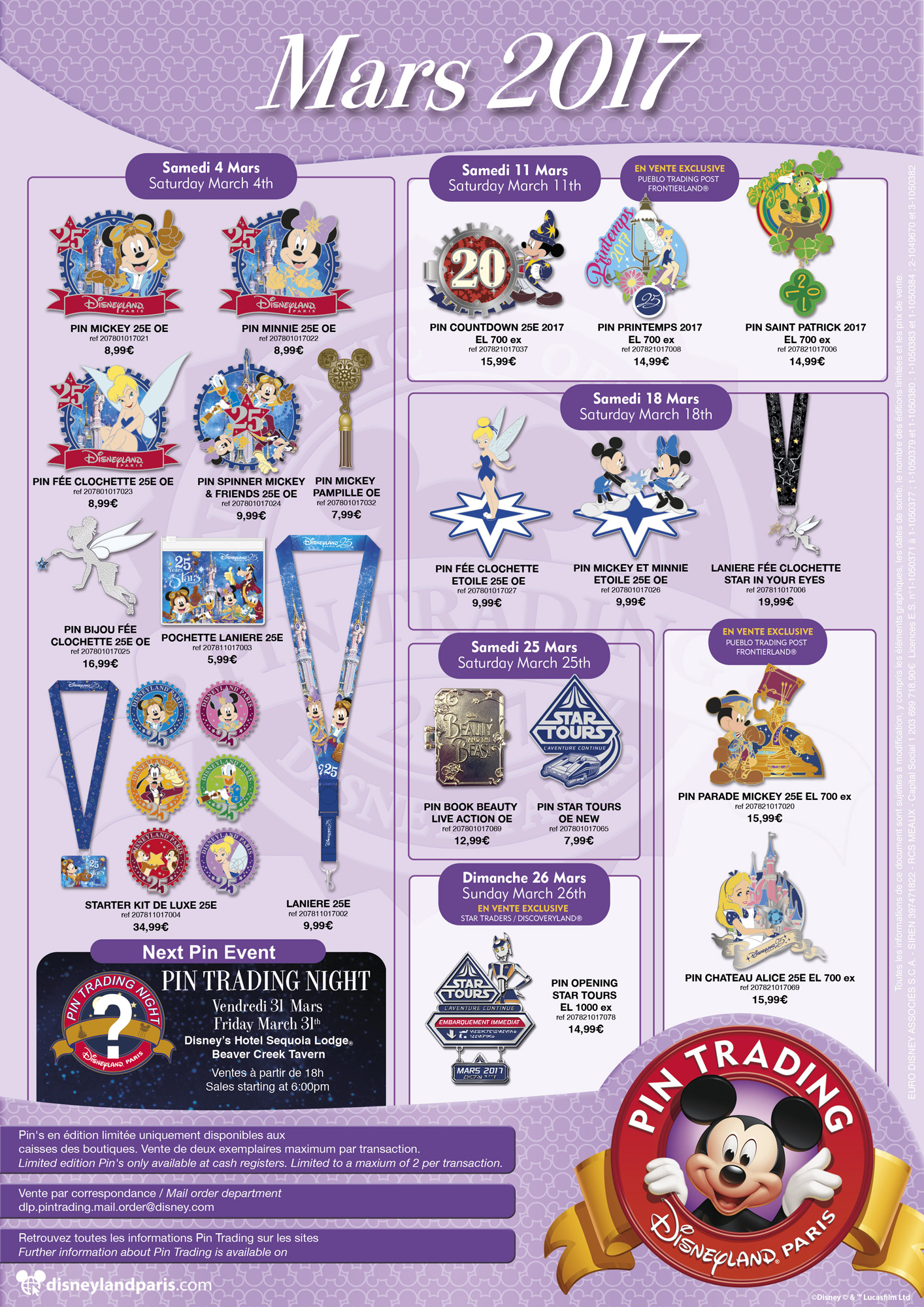 Disneyland Paris Pins For March 2017 – 25th Anniversary, Star Tours, Beauty and the Beast
It's the ones we've all been waiting for, the Disneyland Paris pins for March 2016 and the 25th Anniversary pins. Plus some other pretty fantastic pins too!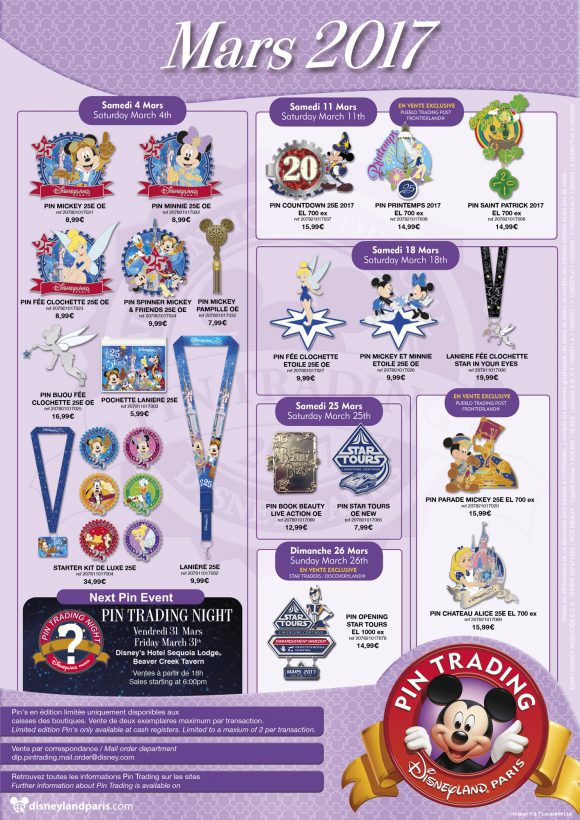 If that poster isn't enough, the lets blow those images up and take a closer look.
Disneyland Paris Pins For March 4th 2017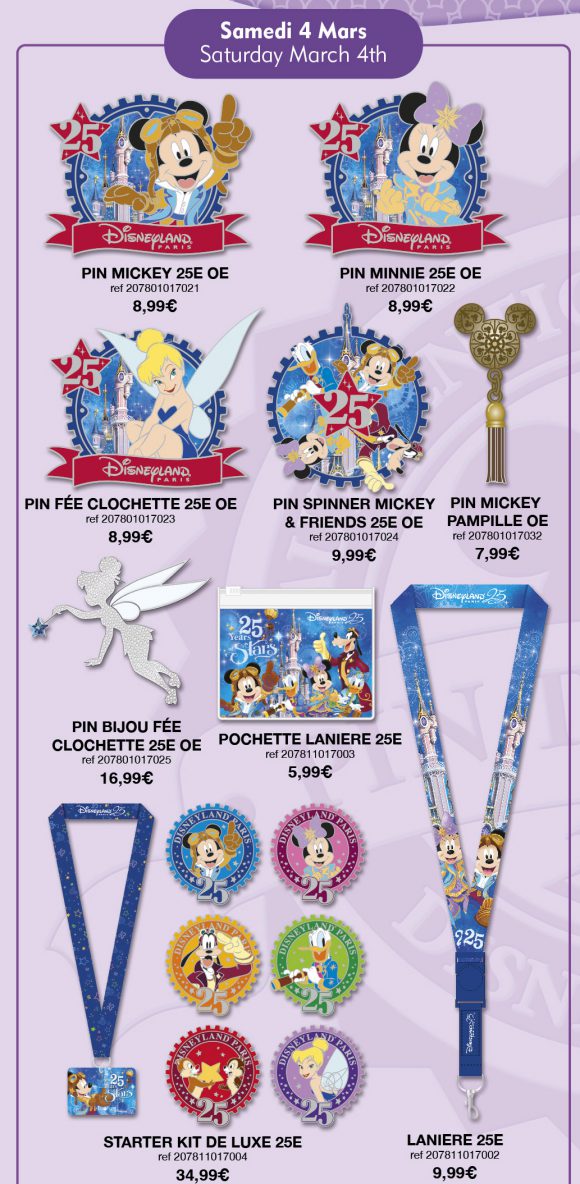 This coming Saturday sees the majority of the Disneyland Paris 25th Anniversary pins released, well, for this month anyway. We see the familiar characters like Mickey and Minnie in their steampunk outfits, that adorn so much of the 25th Anniversary merchandise. Nice to see the cog design on the edge of the pins and also in the detail in the background, along with Sleeping Beauty Castle. Tink can be seen in her symbol of the 25th Anniversary blue dress we have seen a lot of, but with just three characters featured in this style of individual pin I'm hoping there are more to come in subsequent months. I remember for the 20th Anniversary they had lots of the same style individual character pins and we need a Goofy one, because let's be honest, he rocks this steampunk look better than than anyone.
The 4 character spinner pin is a nice way to get this 25th Anniversary design and 4 characters, without having to buy 4 pins. Plus pins that have extra bits and movement are always better. The Mickey pendant pin is a bit ornate for my liking but it's a nice contrast to the bright colours of the character pins. The Tinkerbell jewel pin personifies the it's time to sparkle slogan for the Disneyland Paris 25th Anniversary and the blue star is a nice touch. The booster set is maybe my favourite pin release for this week, with 6 character pins and that ever present, and very effective, cog design. Coming with a Mickey and stars lanyard, and this set at €34,99 could be the best value piece of 25th Anniversary merchandise in Disneyland Paris. The separate lanyard and pocket matches the individual pin designs I talked about earlier perfectly, but almost seems made to be sold as a set.
Disneyland Paris Pins For March 11th 2017
March 11th brings the 4th in the countdown to the 25th Anniversary range, as Mickey displays the 20th Anniversary. I absolutely adore the Spring pin – it signifies Spring, the 25th Anniversary AND shows Tink in her 25th Anniversary outfit on a lamppost, as she'll be on Main Street. Admittedly she'll actually be atop the lamp in real life, but this is close enough. A limited edition pin of just 700, I can see this one selling our pretty fast. The St Patrick's Day pin is decent, and while it gets extra points for having a dangle bit, it sits aside one of the best pins I've seen in some time, unfortunately.
Disneyland Paris Pins For March 18th 2017
More 25th Anniversary pins will be released on March 18th, but unlike the first lot these don't state that. I'm a big fan of pins for an occasion saying as such, but these are nice if you like cutesy pins. The accompanying lanyard is from the second range of Disneyland Paris 25th Anniversary merchandise, under the banner Stars In Their Eyes.
The Pueblo Trading Post exclusive Mickey parade pin is a nice idea, but his costume blends into the background of the pin a bit too much. I'd have preferred Mickey as a separate pin to the parade float, and make them a 2 pin set. I wonder if we'll see a different parade pin released each month? The limited edition Alice pin is very nice, especially with the blue Jewel, but so far I've not seen any mention of Alice being involved in the 25th Anniversary in anyway. In fact the Alice in Wonderland characters are no longer a part of the parade for the 25th Anniversary like they are in Magic on Parade, as far as we know – maybe this is a spoiler? Still, no reason why non featured characters can't still be celebrated – I'm sure she'll be a meetable character.
Disneyland Paris Pins For March 25th and 26th 2017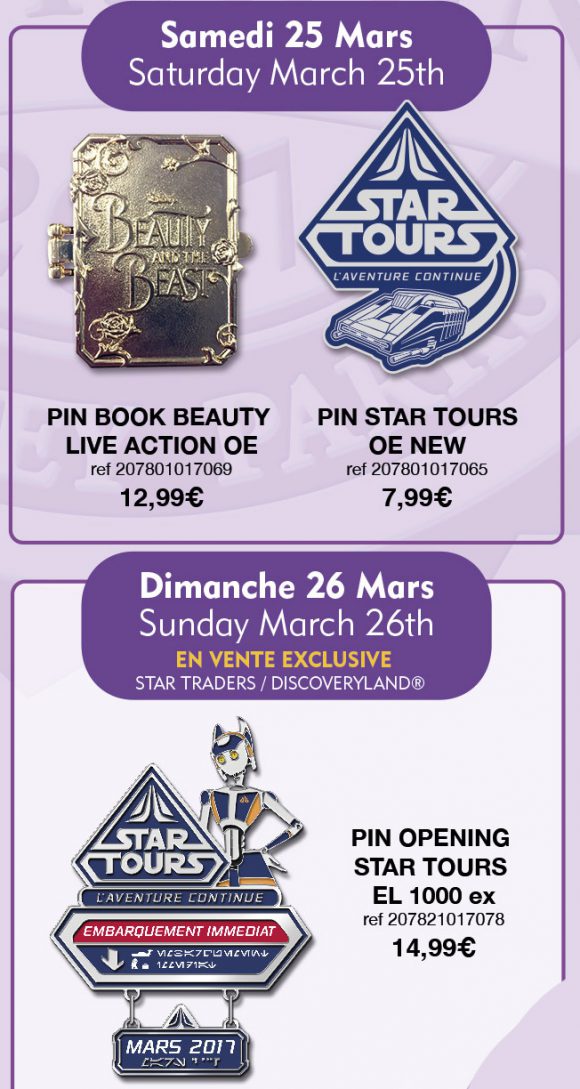 Now this is where I start to get really very excited, as we see two fantastic pins released on the 25th. The Beauty and the Beast pin interests me the least, but it looks like it opens up like a book, and I've always liked special feature pins. The new Star Tours: L'aventure Continue pin is outstanding, and has to be added to my collection alongside the original Star Tours pin. Now let's talk about that incredible Star Tours opening pin which I absolutely MUST own. It is not only one of my favourite attractions, and that's even before experiencing the update, but it will go so very well paired with Star Tours closing day pin that I got last March. This is a must for me – some way, some how.
Disneyland Paris Pins For March – Pin Trading Event
The next pin trading event is on March 31st, and at this time we have no idea of theme, only that it'll take place in the Sequoia Lodge Hotel. I wonder if it will have a 25th Anniversary theme?
All in all this is a fantastic month of releases in Disneyland Paris. I have just recently decided to buy less pins as I don't do a lot with them, except put them in my pin bag and rarely get them out. However there are some must have pins for me this month, so that decision is being revoked already!