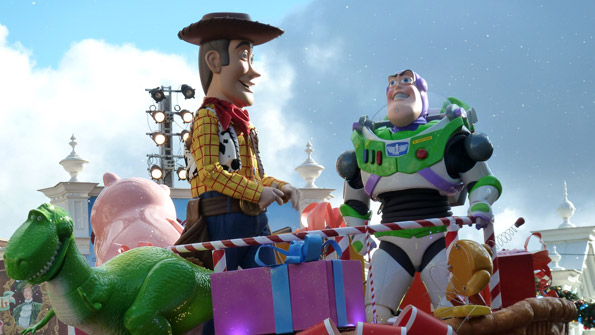 Disneyland Paris Christmas 2013: Christmas Cavalcade
Going into this year's Christmas Cavalcade I was under the impression it would be bigger, and that the music had changed. When I was in Disneyland Paris watching it on Saturday 9th November, it felt bigger and the music did seem different. It's only on coming back and studying both versions that I've realised that the music is basically the same, just in a different order and maybe more instrumental breaks in the 2012 version, and there are the same number of floats. So why does it feel so different?
Before we even get to any floats we have Goofy dressed up as a toy soldier, leading the procession of soldiers. Last year it was just toy soldiers. So straight away people are treated to a character they know and love, all kitted out for the occasion and looking very dapper.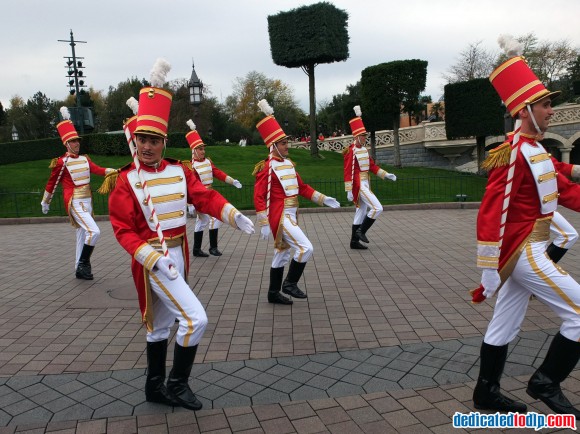 One big change is the order of the floats, so instead of kicking off with an elf riding a reindeer, this year we go straight in with characters such as Mickey and Minnie, on a much improved float from last year. Gone is the look of the float that was used for the tree lighting ceremony and instead we have snow, Christmas trees and the characters wearing much better outfits. Check out the aforementioned mouse duo – how awesome do their coats look? Also, Donald Duck playing the drums – inspired, and look out for how into it he gets. Animal from the Muppets – you have competition! There's also Tinkerbell at the top of the tree as the float goes by – don't forget her, and give her a wave. I'm sure there are many people reading this who have a Tink ornament on top of their own tree.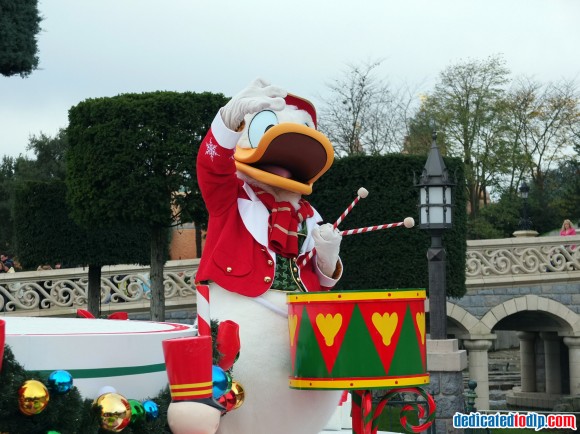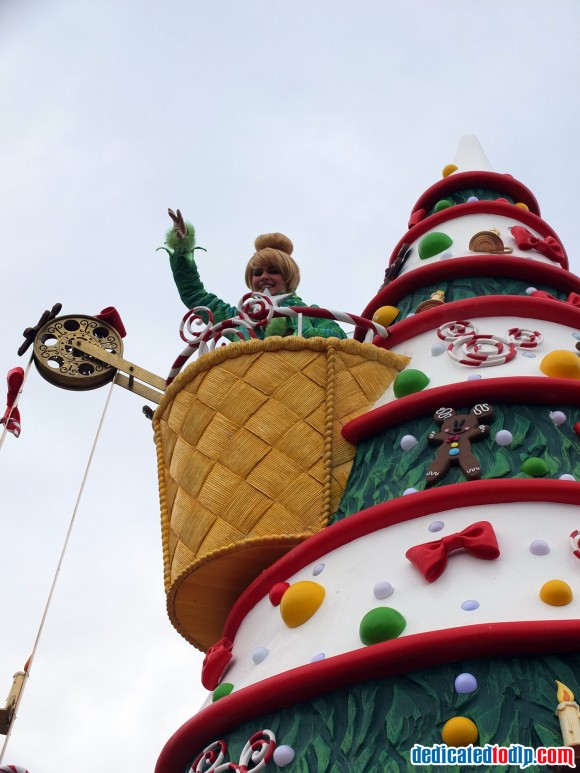 Another addition from last year are the Winnie The Pooh characters, well, Piglet, Eyeore, Tigger and Rabbit anyway. I guess Pooh is too busy at his photo location to be in the Cavalcade as well. Tigger is his ever mischievous self and Rabbit has run off with Pooh's honey!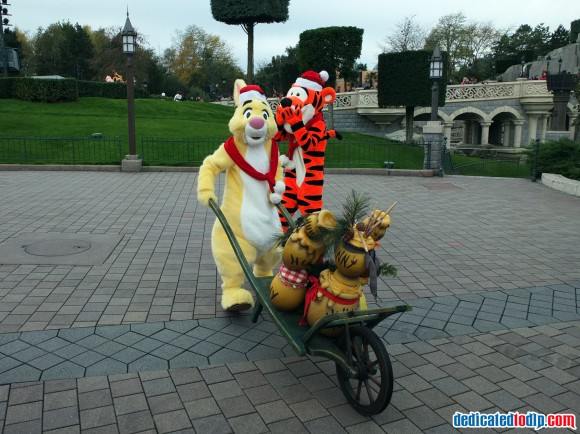 After the characters from the 100 Acre Wood we get Chip, Dale, Clarice, a couple of Gingerbread men and some sweet inspired dancers. More great costumes, especially Chip and Dale dressed up as cake decorating bakers.
It's at this point in the Cavalcade that we get the elf on a reindeer float that was first in last year's version, except the float has been altered. There's no big metal sign at the front and the landscape and Christmas trees look more cartoon than before. There's also an added North Pole sign, just in case you wondered where Santa and his elves lived.
This is where it gets a little odd as we get Mr & Mrs Incredible on hover craft type segway vehicles. I'm not sure what they have to do with Christmas, other than being dressed in their usual red outfits with added Santa hats. Then again, who cares? They look cool and it's nice to see some characters that we don't normally see in Parades and Cavalcades.
It's the turn of the Toy Story Soldiers as they precede the Toy Story Float, which this time doesn't have an elf strapped to the front, instead we get Slinky Dog. I must point out he's not strapped to the front of the basket like the elf was previously. Last year the float had more traditional toys on it, but this year it's Aliens, Mr & Mrs Potato Head, Jessie and Bullseye from the Toy Story films.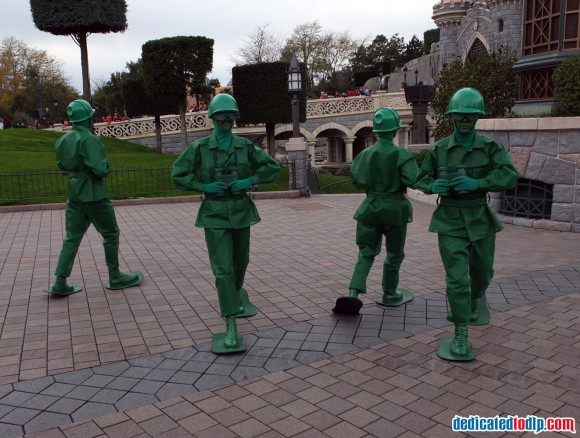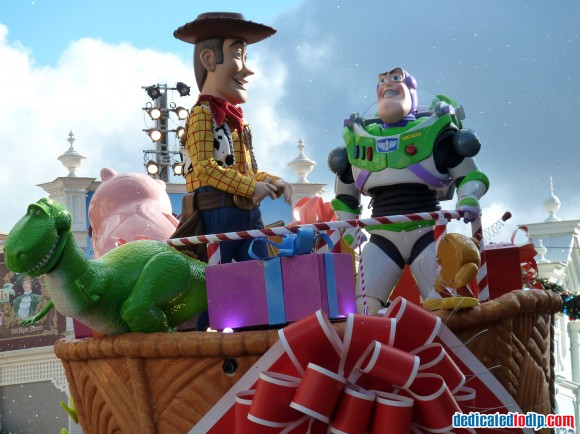 The Jack in the Box, planes and elves return again this year, to my relief. These were a standout of last year's Cavalcade and are again this year. The elves this year are particularly perky and often mischievous, where ever they appear in the Christmas festivities.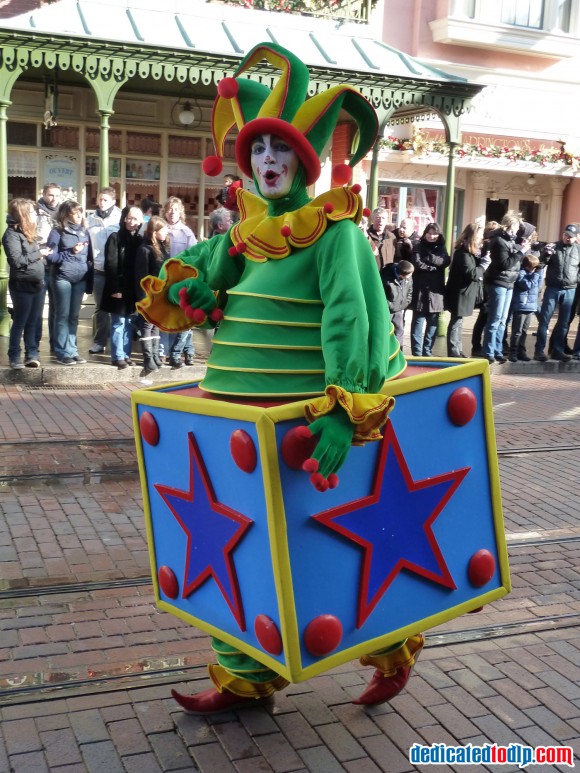 The last float, and rightly so, is Santa in his sleigh, being pulled by his ever faithful troop of reindeer. He's not alone this Christmas though, as he is joined by Huey, Dewey and Louie, who we saw make their Cavalcade debut in last month's Halloween Cavalcade. To make way for the three feisty ducks, the holly and bells arch has been removed from Santa's sleigh. Other than that and a few toy changes, it's pretty much the same as the one we saw in 2012.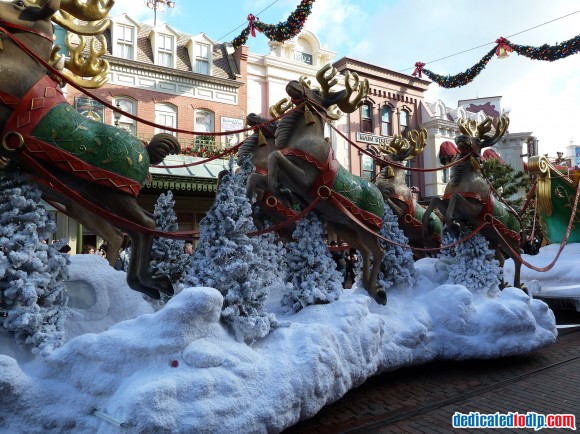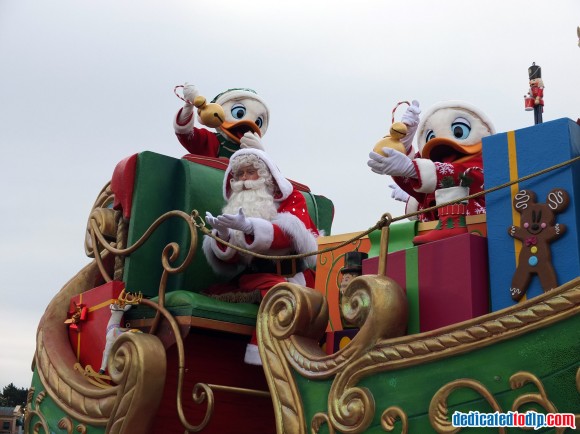 To end the cavalcade we have even more elves, and particularly cheeky ones at that, as you can see from the photo below!
The way they have changed the order and added a lot more characters and dancers, makes the Cavalcade seem very fresh and very lively. Where I watched it from on Saturday morning there were a few small children next to me, and they didn't stop dancing for the whole 20 minutes from when we first heard the music to when the Cavalcade made it's way to us.
I watched the Christmas Cavalcade 3 times over this past weekend and given the opportunity I would have watched it more – there's so much going on and the Cast Members make such a great effort to interact with the the guests, that it feels different every time.
They seem to have gone a little less traditional this year, but not so much that you don't get a good contrast of vintage and modern. This is just the second year of the developing Christmas Cavalcade, I can't wait to see what Disneyland Paris have in store for us next year.