No more new attractions after Ratatouille in Disneyland Paris until 2022?
Just moments ago as I write this, Alain Littaye over at his Disney & More blog, revealed that no new attractions are planned for Disneyland Paris until 2022, after the opening of Ratatouille in the summer of 2014.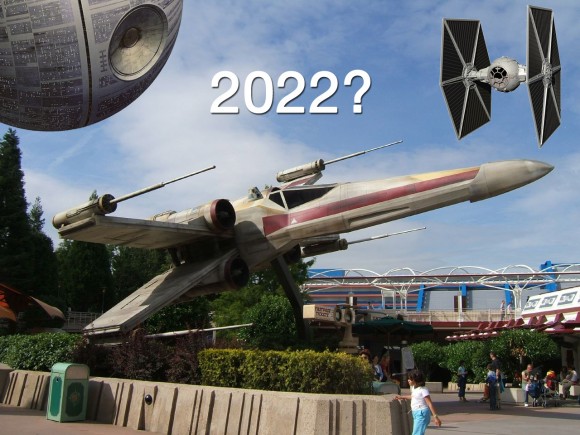 Before we start discussing this, we have to remember that as knowledgeable as Alain is, this is not fact and not everything he writes about comes true, as seen with this article talking of the Little Mermaid ride coming to Disneyland Paris in 2012. That article was written as more of a speculative piece than this most recent article, which Alain seems to be pretty sure of. But, for the sake of an interesting discussion, let's for now assume this is true.
I urge you read the article in full, but here are a few big dates for Disneyland Paris coming up, the last two according to Alain:
2014 – Ratatouille Opens
2017 – Disneyland Paris 25th Anniversary
2022 – Star Wars Land and D-Ticket Ride
2023 – Marvel Land in Walt Disney Studios
The huge investment by The Walt Disney Company (TWDC) on acquiring Marvel and LucasFilm, the money spent on Hong Kong Disneyland and Disney's California Adventure as well as the €1,5 billion Euros already spent on the Disneyland Paris debt and Ratatouille are cited as the reasons why a big investment in Disneyland Paris can't happen for so long. There are things going on elsewhere that will take priority, so for almost a decade we'll have to make do with new shows, revamped parades and new Dreams! scenes.
If this is true then it doesn't paint a very appealing picture for Disneyland Paris, especially once the glow from the new Ratatouille ride has dimmed and any 25th Anniversary celebrations have gone. It's understandable that TWDC can't endlessly billions of Dollars and Euros, but with Disneyland Paris as my home park it's hard to hear that it will be the last to get some much needed investment.
As Alain has rightly pointed out, the period from late 2018 until 2022 could be very bleak indeed. In fact that feeling could start setting in as soon as early 2018 if the extended 20th Anniversary celebrations are anything to go by, because let's face it, aside from the new Dreams! scenes, not much new has happened in 2013 in Disneyland Paris, so far.
That's the negative view, but if it is true, what's the positive spin? Some of you may question why I feel the need to find anything positive in what appears to be a very negative period for Disneyland Paris. Well let's start with the fact that Disneyland Paris is my Disney Park – it's the one I fell in love with back in July 2002 and it's the one that has continued to give me immense amounts of pleasure and memories over the years and is somewhere I am proud to call my happy place. Fortunately for me I've not encountered the bad Cast Members that others have, aside from that one time Casey's Corner where hot dogs were almost thrown over the counter to me.
I was also theorising with @Disneygraphy just the other day as to whether I don't notice the much talked about degradation of the resort as much as others because when I'm there I'm always so focused on having fun with my son Lucas and experiencing everything anew through his eyes, that I don't really stop long enough to take notice these days. It's not the same as when it was just my wife and I, and we'd spend hours at a time casually strolling round the parks taking everything in. I do of course see photos and videos once I'm back home, so I'm not ignorant to the problems. But if it doesn't impact the visit of a fanatic like myself, then is it likely to be on the radar of a most casual guest either? And there are likely to be far more of these visiting Disneyland Paris at any one time.
Another factor me is that I don't fly, so if I let myself be consumed by things that aren't being done rather than focus more on what is being done, then I'll be left feeling very disappointed and no happy place to visit. I've been to Disneyland Paris 14 times now, and the last visit in May was arguably the best of the lot. So even in a period when entertainment is greatly reduced, I still find myself having the most amazing time in Disneyland Paris. So for me it's working to look on the positive side, and to be honest, with everything I get from Disneyland Paris in the way of magic and memories, it's not hard to do that.
So, with no new attractions they can spend every bit of money they have on making what they do have, the most beautiful Magic Kingdom in the world, sparkle and shine like it once did. They are refurbishing bits and pieces, as we are constantly reminded of by @InsideDLParis and his wonderful photos from the resort, but more can and should be done. It could be argued that they should be doing this anyway, regardless of what the future holds, but I think they are – just with limited funds it's not being done as quickly and completely as many would like.
Disneyland Paris Shows
The article from Alain does say that new shows and parades are planned, which in an era of no shows is really great news. Even if they
just
brought back Tarzan, for which they would need no investment for stage sets and development, that would make use of one of the permanent theatres and give a huge boost to the entertainment programme. Any new shows would be even more exciting, and there are many Disney brands that Disneyland Paris could call upon to put on first class piece of entertainment.
Disneyland Paris Parades
Aside from shows, new Parades, which bring with them new music and great new visuals are always welcome. We are seeing a start of this with the new
Halloween Cavalcade
which is coming to Disneyland Paris next month and the
Christmas Cavalcade
that debuted last year is returning in November too. I loved the Christmas Cavalcade, and the Halloween Cavalcade promises to be good too, looking at the concept art, and so I'm enthused to see what the future has in the way of parades and cavalcades in Disneyland Paris.
Disney Films
Star Wars, Marvel, Pirates of the Caribbean, Pixar – all franchises that will be pumping out huge films over coming years, not least of all Star Wars Episode VII in 2015. Disneyland Paris can make the most of these and capiltalise on their exposure in Disneyland Paris. They can have characters from these films, only a few if cost is an issue, to meet and greet guests and be part of the parades. Temporary photo locations needn't cost a lot, but can still look good – the Rapunzel one being a good example of that. Host these in Walt Disney Studios, where it not only makes sense, but will bring more buzz to the park that needs it the most.
Ratatouille Ride
While we may not be getting any new rides for some time, we DO have Ratatouille coming next year. This is an attraction that the imagineers themselves have said is going to be incredible, and worth the wait. There will be a restaurant, a shop and a whole themed area too. A ride of this magnitude and quality will be a huge addition to Walt Disney Studios and the resort in general, and could very well get the same kind of worldwide attention as Mystic Manor in Hong Kong has recently.
Disney Dreams!
Dreams! is absolutely sensational, and already we've had two scene changes and we have a new show,
Disney Dreams! of Christmas
, coming in November for the Christmas season. What they can do with Dreams! and the scenes and characters they could include are almost limitless – the night time spectacular in Disneyland Paris has a very bright future indeed.
Disneyland Paris 25th Anniversary
Whilst the celebrations in this current extended period may have waned a bit, the first 12 months of the 20th Anniversary in Disneyland Paris were absolutely spectacular and in 2012 to early 2013, Disneyland Park felt as vibrant, exciting and magical as any time I can recall in my 12 years of visiting. If the 25th Anniversary is anywhere near as good as this, then new rides or not, 2017 is going to be a must visit year for guests.
Speculation and rumour will run rife for some time to come, at least until official word comes from either TWDC or Disneyland Paris to confirm or deny these revelations, and it's entirely possible that neither will comment at all. Attendance figures remain very healthy for Disneyland Paris, even though we've had no new ride since Toy Story Playland opened in 2010, and we've had no big E-Ticket ride since Tower of Terror opened in December 2007. Could the last few years be proof that Disneyland Paris will not implode in the face of no big developments, and that while they are a long way off, Star Wars and Marvel Lands are something to look forward to, but at the same time as enjoying what Disneyland Paris is already offering.
This could turn out to be nothing more than a false rumour and a new ride will be announced, or at least leaked, in the next few years. Whatever the truth may be, I'd love to hear what you think, so please leave a comment and your thoughts may end up on an episode of the podcast or a future article on the website.
UPDATE: 24 hours on and Alain has posted an update which basically says that the dates above for Star Wars Land and Marvel land will only be that late IF Disneyland Paris has to finance it all themselves, if TWDC helps finance them then they could come sooner, so yesterdays article was a worst case scenario. Apparently Disneyland Paris is working on plans for more attractions that will actually happen with 3-4 years after Ratatouille, which would be great for the 25th Anniversary celebrations.
Even if we do have to wait until 2022 for any big new attractions, I think we've already covered why that is not such a bad thing. I guess time will tell, and we don't really know anything for sure, not even close, but it's always fun to speculate and talk about Disneyland Paris and its future.