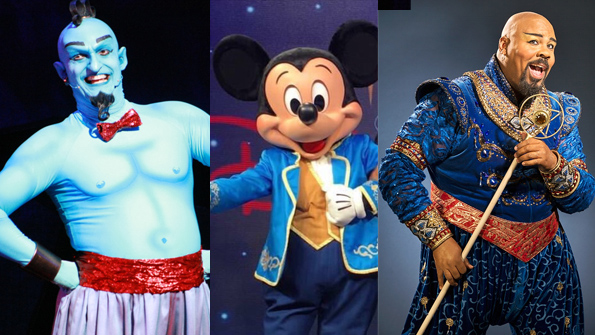 Are Human Face Genie and Talking Mickey Coming to Disneyland Paris for Mickey and the Magician?
A few days ago some concept art for the upcoming Mickey and the Magician show which debuts in Disneyland Paris on July 2nd was leaked, and seems to show a human face character Genie rather than the big cartoon head Genie we are used to seeing for meet and greets. The first photo below shows the Genie we usually see in Disneyland Paris and the second is the aforementioned Mickey and the Magician concept art.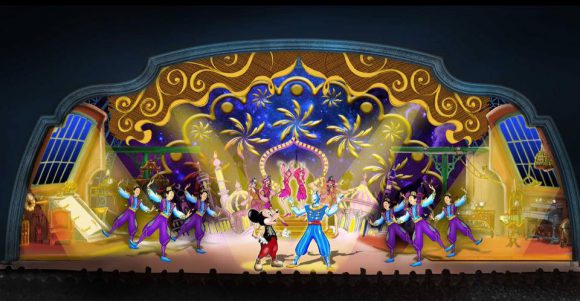 There are two possibilities for face character Genie that I can see, one is the traditional blue faced blue costume Genie that was seen in Disney's Aladdin: A Musical Spectacular which ran in the Hyperion Theater at Disney California Adventure from 2003 until January of this year. In this form Genie looks very much like the blue Genie we see in Disneyland Paris, and in the films, but with no mask, a blue panted face instead.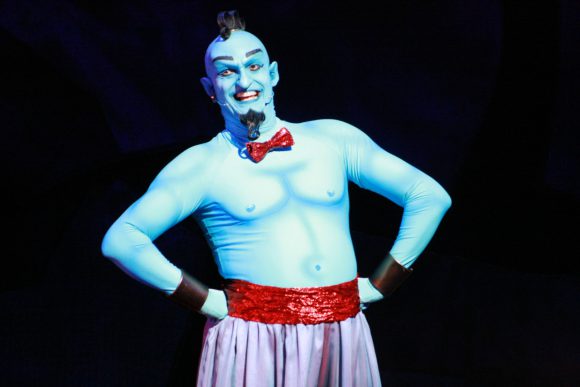 Then there is the Genie as depicted in Aladdin the Musical, a show running on Broadway in New York and also just opened in London's West End too. This Genie doesn't have a blue face and doesn't even have the light blue clothing that we are so used to seeing. Instead he has a more traditional oriental look, more in line with the origins of the story before Disney worked their magic in 1992. The photo below is from Broadway.com.
Looking at the concept art I'd say we could be in for a mix of the two, as his face looks blue, but his costume looks more akin to what we are seeing on the stage shows. The visuals we have seen so far for Mickey and the Magician do look like a stage show we might see on Broadway or in the West End, so to draw inspiration from that production would make sense. Of course this is just concept art, so they could have changed the look 20 times since this was created, but it's always fun to speculate and with a new show such as Mickey and the Magician, until it opens that's all we can do for now.
Then there is Mickey, and all the buzz that was created when his new look in Shanghai Disneyland surfaced online a couple of months ago. I have to admit, I didn't see much difference until people pointed out a few subtle differences, but Andrew at Magical DLP posted a side by side comparison – new Mickey is on the right.
The new Mickey does look like the Mickey we can see in the promotional image from Disneyland Paris for Mickey and the Magician, so for that part it's perfectly believable that we could be getting new Mickey. It would make sense if a new look Mickey had been created that we get him in Disneyland Paris in a brand new show. This next part is 100% rumour and comes from Actu Disneyland Paris who have claimed that in Mickey and the Magician, Mickey will have fully articulated eyes and mouth AND he will speak, which will be a first for Disneyland Paris.
In this video below you can see talking Mickey Mouse in Walt Disney World, and if you have never seen Mickey actually talking, prepare yourself, it's pretty surreal at first.
httpvh://www.youtube.com/watch?v=iEJB11ZdjGo
There have been rumours for years about talking Mickey coming to Disneyland Paris, and I even asked the question to the creators of Meet Mickey Mouse in Disneyland Paris back in 2013, but they gave nothing away. The show we have heard will be in English and French, so we'd have him talking in both languages presumably. But what would this mean for Meet Mickey Mouse – would we get the new Mickey Mouse there and would he talk there too? Would we then also get the new Mickey Mouse at all meet and greet locations and also on the Parade too? Would we then also get the new Minnie Mouse who also debuted her new look at the same time as Mickey? So many questions, and no answers, for now.
Mickey and the Magician already looks to be a stunning new addition to Disneyland Paris, but if these rumours of talking Mickey come to fruition, and sets the stage (pun intended) for having Mickey elsewhere in the Park too, then we could be set for some very interesting and exciting times ahead. When I first heard about talking Mickey I thought it seemed odd and I didn't think I'd like it, but looking at videos of him in action I'm sold – bring him to Disneyland Paris as soon as possible.
I'd like to know what you think – if these rumours do turn out to be true, is talking Mickey something you;d like to see and experience?