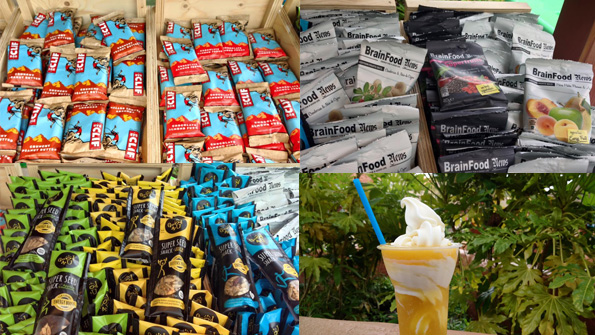 New Food in Disneyland Paris: Super Seeds, Brain Food, Peanut Butter Bar and Pineapple Whip
Unless you've been living under a rock in the last few months you'll know all about the rumours of Dole Whip coming to Disneyland Paris, which in fact turned out not to be Dole Whip but a snack known as Pineapple Whip. This is slightly different to Dole Whip, in that it evidently isn't made by Dole and the soft scoop part is not non dairy ice cream like its American Dole counterpart. The ice cream part is also vanilla not pineapple like some were expecting, though that is the flavour of the syrup/juice that sits beneath the ice cream. The picture below from @DisneylandBerry shows the Pineapple Whip sold in the Adventureland Bazzar.
Even though I'm not a lover of pineapple I'm keen to give it a try when I'm there in August. If you want to know my thoughts on the drama that I dubbed WhipGate last week, then you can watch the latest episode of Disneyland Paris News Weekly where I addressed it all.
httpvh://www.youtube.com/watch?v=pB-QfI5DTXQ
What I want to concentrate on now, are the other snacks that are being offered in the same location, that seem to be sitting in the shadow of the Whip, but are arguably a more important addition to Disneyland Paris. The photos from @InsideDLParis below show three exciting new healthy snacks being sold in Adventureland.

Super Seeds – made by the Irish Good 4 U company, these come in 3 varieties: Apple and Cinnamon (green), Goji and Mango (yellow) and Coconut and Berry (blue). I'm not a fan of coconut, but the other two sound great, especially the Goji and Mango – healthy and full of yummy flavours. Good 4 U also do Cranberry and Apricot plus Bombay Spices, both of which sound nice, but the latter I'd really love to see added to the range on offer in Disneyland Paris.

Brain Food News – these are made by French company Bergams and come in three combinations: the first is Dried Fruits (Cashew Nut and Cranberries), the second is Superfruits (Cherries, Cranberries, Goji and Chia Seeds) and the third is Energy Fruits (Pear, Peach, Apple and Apricot). These all sound delicious, and I like how they are packaged in a fun way with the newspaper theme running through – the aim being to draw people to them as a good alternative to other high fat content snacks on offer.

Crunchy Peanut Butter Clif Bar – made by the family run Clif Bar & Company in America, this is the one most excites me, being a huge lover of both peanuts and peanut butter. the following is info from the website:
Organic peanut butter and tasty peanut pieces – what's not to love?

Made with Organic Oats & Peanut Butter

Good Source of Protein
Good Source of Fiber*
11 Vitamins and Minerals
This is the energy bar that I wasn't sure of on the video I recorded at the weekend, but now I know what it is, assuming it tastes as great as it sounds, I am looking at my new favourite snack in Disneyland Paris, and it's healthy too – result!
Being someone whose body doesn't react well to an overload of junk food, I'm overjoyed to see all these healthy snacks being sold in Disneyland Paris. I hope it's just the start and we see more ranges introduced and sold in more locations.