20 Questions with a Disneyland Paris Fan – Rob Tolley
1. When did you first visit Disneyland Paris?
My Family and myself first went to Disneyland Paris in 2005
2. How many times have you been in total?
We have been 3 times in total, twice in September (lovely weather) and once in December (freezing).
3. What's your first memory of Disneyland Paris?
How stunning Sleeping Beauty's Castle looked at the end of Main Street USA.
4. What's your favourite attraction and why?
I was lucky enough to go on Twilight Zone Tower of Terror in December 2007, before it was open to the public…amazing!
5. Where do you stay when you visit Disneyland Paris?
Newport Bay Club, 3 times.
6. Where's your favourite place to eat?
Silver Spur Steak House
7. What you do first when you get to Disneyland Paris?
Straight to the Park…
8. Pins, Vinylmations or neither?
The wife collects pins.
9. Do you want to see the Captain Jack Sparrow brought to the Disneyland Paris Pirates of the Caribbean like they have in Walt Disney World and Disneyland?
Yes it would be nice to see Captain Jack again.
10. Is there anything in Disneyland Paris you have never done that still would like to do?
We would like to see Buffalo Bill's Wild West Show.
11. Before you do you plan yours days or just see what happens when you are there?
Part of the fun is seeing what happens on the day.
12. What piece of music or song do you most associate with Disneyland Paris and why?
My wife loves the parade tune. But I loved the music in 2007 at Christmas in Disneyland Paris.
13. If you had to make someone a fan of Disneyland Paris by showing them 5 attractions/buildings/shows – what would they be?
Cinemagique, Peter Pan's Flight, Sleeping Beauty's Castle, The Twilight Zone Tower of Terror and finally Pirates of the Caribbean.
14. If you could add one new attraction to Disneyland Paris what would it be and where would you put it?
A Star Wars ride would be amazing. Star Tours is starting to look its age now. I would have thought they might have updated it by now to Star Tours 2.
15. If you could spend one night anywhere in Disneyland Paris, except the hotels, where would it be?
Only one place, the Castle.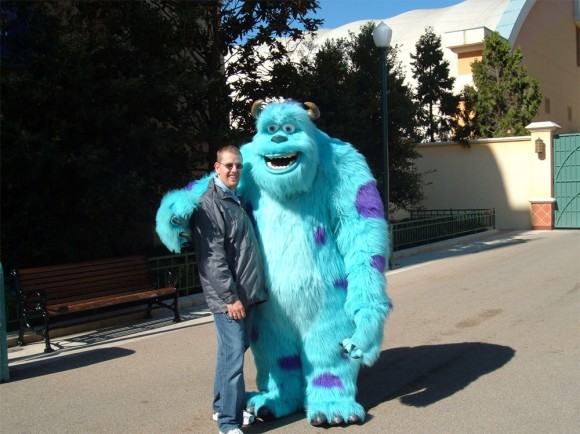 16. Are you planning to visit Disneyland Paris during the 20th Anniversary Celebrations, if so when?
I would love to for the 20 Anniversary but I doubt it. The prices have gone up so much. Shame really.
17. If you could be a Cast Member for a day in Disneyland Paris, where would you work?
Twilight Zone Tower of Terror.
18. Is there anything you dislike about Disneyland Paris or would change?
No.
19. What's your single greatest memory of Disneyland Paris?
The snow falling on Main Street USA at Christmas 2007, even if the snow was artificial. Still made a grown man have a tear in his eye!
20. In no more than 20 words I love Disneyland Paris because…
It takes you to another world where all ages can enjoy the experience.
You can catch up with Rob on Twitter here: @Biglad767.
Want to be featured in 20 Questions with a Disneyland Paris Fan? Just email the answers to the questions, which can be found here, to dlp@dedicatedtodlp.com and let everyone know what you love about Disneyland Paris and why it's the happiest place on Earth.