Dedicated to DLP has become an Official Partner of magicforum
I am very happy and proud to announce that Dedicated to DLP has become an official partner of magicforum, the number one destination for Disneyland Paris chat online. The forum was created by Kristof from Photos Magiques and is run by Kristof and Anthony from DLRP Magic! There are lots of areas to talk about all aspects of Disneyland Paris and other Disney topics, as well as the all new Dedicated to DLP sub-forum where we can all talk about the podcast, this website and anything else to do with Dedicated to DLP – our very own hangout!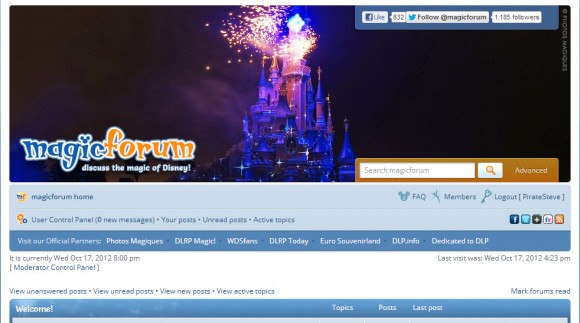 I've been a member of magicforum for some years now and it's a great place to chat about Disneyland Paris with many knowledgeable members. I'm PirateSteve so come over and say hello, and let's get chatting!