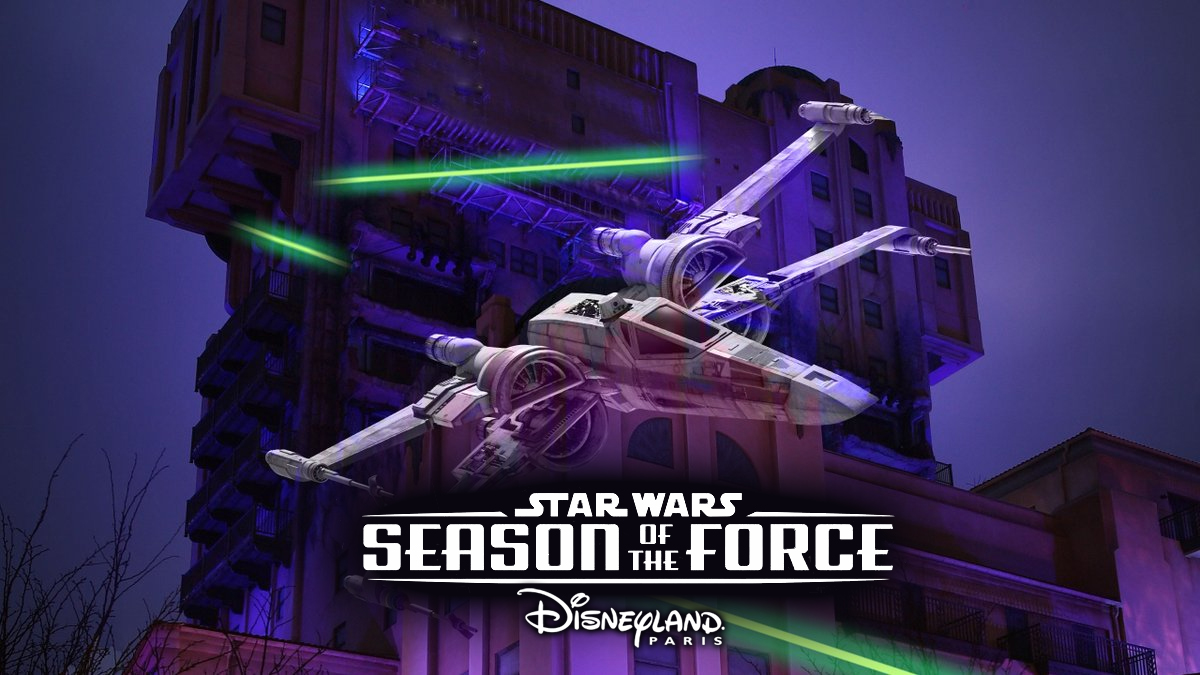 Star Wars Season of the Force in Disneyland Paris – Will It Make You Book a Trip in Early 2017?
For a while now there have been rumours of this Season of the Force coming to Disneyland Paris. Lots of things were tweeted and leaked over social media, but nothing yet from Disneyland Paris themselves. I've been patiently waiting for the official press release but it seems that travel agents have been given the go ahead to publish details and promote it, so it's about time I talk about it here. First of all, let's take a look at what information is out there, and this comes from Magic Breaks, who were the first to release the information and associated images, which I believe all do come from Disneyland Paris.
Between 14th January and 26th March 2017, Disneyland® Paris awakens with the Season of the Force. Summon your inner Jedi and lead your young Padawans to Walt Disney Studios® Park for an intergalactic extravaganza, where a spectacular nighttime show blasts you to the heart of Star Wars saga.

During the day, the light or dark side, you must choose, but be sure to pick wisely, as the fearful First Order march perilously close and stormtroopers patrol the streets, and if it's more of the Force you're after, fulfil your destiny at the Jedi Training Academy in Disneyland® Park.

Star Wars mini shows
The light or dark side, you must choose
Let the force guide you to Production Courtyard in Walt Disney Studios Park for an extraordinary example of galactic might. Will you submit to the dark side? Or does your path lead to the light side?

Behold the power of the dark side
Blast off to Walt Disney Studios Park and witness the wicked wonder of Captain Phasma leading a battalion of stormtroopers on an iconic military march.

Projection show on Hollywood Tower Hotel
Let the force light up your night
Make your way to Walt Disney Studios Park for a sensational show in front of Hollywood Tower Hotel, as light projection, special effects and live characters turn darkness into spectacular scenes from the Star Wars saga.

Stormtrooper Interactions
Are you the rebel they're looking for?
Keep a cool head in Walt Disney Studios Park because some stormtroopers are patrolling Production Courtyard and they're on the hunt for rebel spies!
The Star Wars Mini Show sounds intriguing, in that it indicates to me in the choosing of the Light Side or Dark Side, that it could be interactive. It may be as simple as Light on the left and Dark on the right, but a Star Wars show of any kind is very welcome. Behold the power of the dark side sounds like a character parade, and if the Imperial March is playing as this happens that would be a fantastic audio visual treat for us Star Wars fans. It would be wrong, as Imperial March is not from The Force Awakens, and something like Starkiller may be more relevant. However, that's not a tune that most people recognise and is very soft and bereft of all the impact and menacing nature of the Imperial March that makes it so iconic.
Stormtrooper Interactions is pretty self explanatory, and photos and experiences with said Stormtroopers would again be welcomed with open arms. I'd hope Captain Phasma would be included in that, as a photo with her would certainly be higher on my wish list than Stormtroopers, who I'd want as well, but you know, this is Phasma and her gleaming silver armour! The Projection show on Hollywood Tower Hotel is the big selling point of Season of the Force in Disneyland Paris, and though thematically there is a huge contrast between The Twilight Zone and Star Wars, it's very hard not to get excited about firstly a big Star Wars projection show, and secondly, that it and the rest of the season is happening in the oft forgotten Walt Disney Studios.
14th January and 26th March 2017
The season starts on January 14th, and when this was first leaked weeks ago, my first reaction was that they are missing out on the biggest period of Star Wars hype since The Force Awakens came out, that being the launch of Star Wars: Rogue One in mid December. I realise that is during Christmas season which is traditionally a strong sales period for the resort and I get that this is going in a period that usually attracts low crowd levels, but just once it would be nice for Disneyland Paris to capitalise on a big event in pop culture, at the time it's actually happening. It's not like Studios ever gets much for Christmas anyway, so starting it a month earlier would capitalise on the new film going into cinemas and give guests two parks of entertainment during the latter half of the Christmas season. I personally wouldn't mind being spoiled for choice – it's a change I'd willingly embrace. Rogue One timing aside, it's a great addition to a period that usually sees very little way in the way of themed entertainment.
Is The Force Strong Enough?
As for the pull of Star Wars Season of the Force – is it enough to make people book during a time they normally wouldn't it? Until I get more specific information about what is involved it's maybe at this point a no from me. That may surprise some of you given how big a fan of Star Wars I am, but I also hate cold weather. I'd probably be looking at half term, as I wouldn't want to take my son out of school again.  And that means February, pretty much the coldest month of the year. I can take December, as that's not quite as cold, and the Christmas season is my favourite in Disneyland Paris, but not February, that's just one step too far down the thermometer for me.
There is also the fact that Pirates of the Caribbean, my favourite attraction, will be closed and there will be no seasonal entertainment, that we know of, in Disneyland Park. Plus there is Star Tours The Adventures Continue, which isn't due to open until March, though we don't know for sure when that will be. To visit Disneyland Paris just a few weeks before the opening of such a big attraction, as someone who can't go that often, that is also a no no for me. I'd like to see the projection show and have a photo with a Star Wars character, but given the choice I'd rather visit a little bit later in the year and enjoy the new Star Tours and all the 25th Anniversary celebrations too.
For those who can handle the cold weather or go more regularly than I do, then perfect, it's a season of entertainment that we haven't had before, but for me the offering is not enough to sacrifice a trip at another time of the year which offers more. Late March does sound more appealing to experience it, but then I can't take the family and to visit so close to the 25th Anniversary launch and therefore not be able to experience that until much later in the year, I just couldn't do it.
Of course this could all change when we get more details and first hand accounts of what Star Wars Season of the Force in Disneyland Paris entails, so I'm not closing that door completely, especially as I think about a new Star Wars projection show, at night…hmmm. See, I'm still torn now – I really do want to go and be in Disneyland Paris fortheir first ever Star Wars Season but those dastardly obstacles! Maybe I can wear lots of layers and beg my family to let me have a quick solo over nighter – for website review purposes, of course!
Now what about all of you – does it sound appealing? Will you book especially to experience Star Wars Season of the Force or have you already booked for that time and it's an added bonus? Star Wars Season of the Force in Disneyland Paris – yay nor nay?