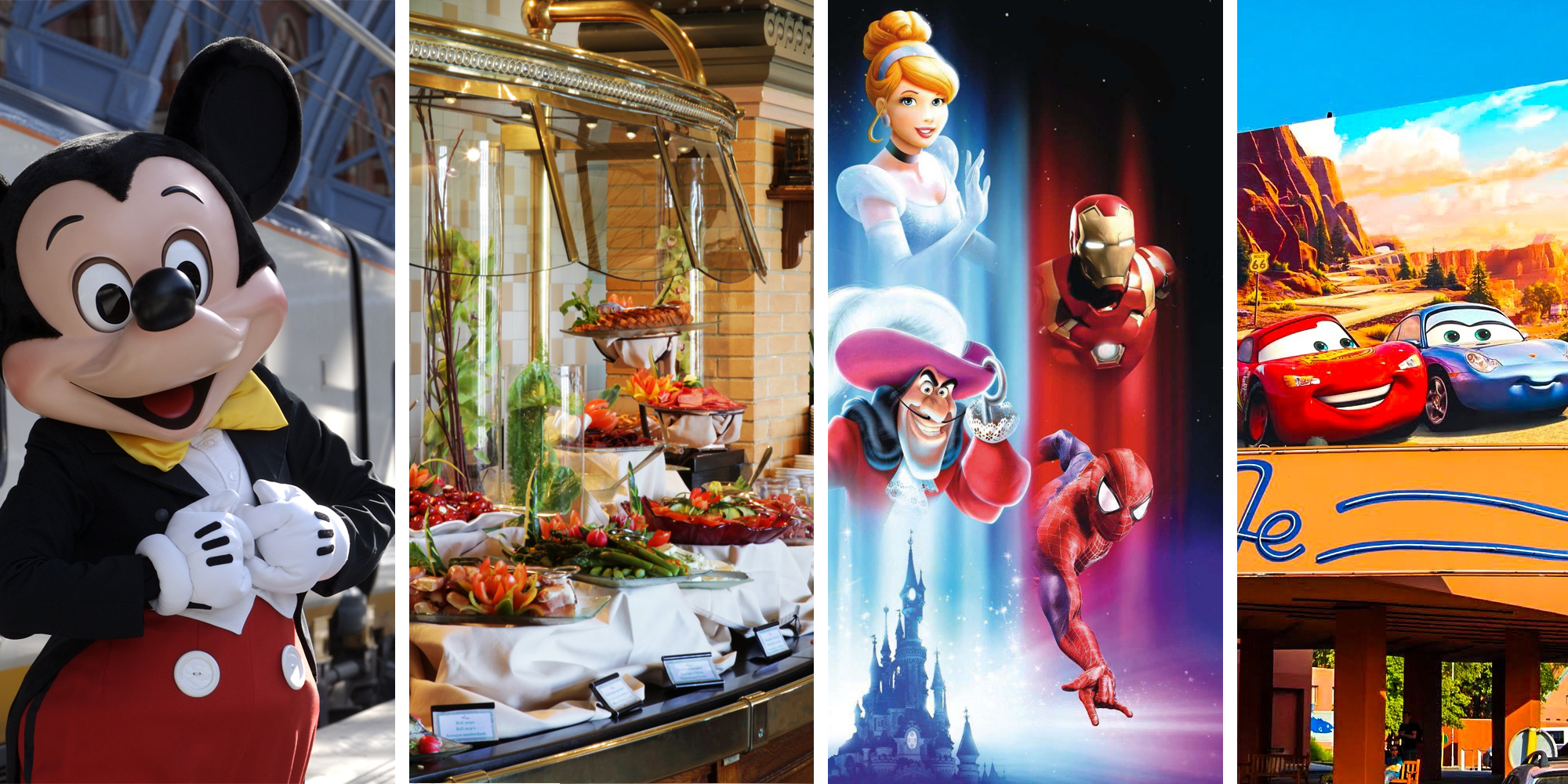 Things To Consider When Booking a Trip to Disneyland Paris
As I have mentioned previously in my blog, in 2018 we won't be going to Disneyland Paris. Once again I'd like to emphasise that this is our decision, some based on circumstance and some on a change in priorities. Going to Disneyland Paris is a luxury, at least it is for us, so I am not looking for and don't want any sympathy – save that for the people in this world that actually need it. However, I've had lots of different talks with my son over the past few months, and whilst at times it seemed like he was okay with not going to Disneyland Paris, and was excited to try new places and experiences, it turns out that's not quite the whole truth. Disneyland Paris is his absolute favourite place to go in the whole world, and he wants to go back. He is 10 year old and growing up fast, so we want to strike while the iron is hot, or lukewarm at least. Next summer is what we have discussed, giving us time to save and plan. After30 minutes of research this morning, I remembered just how much is involved in a DLP trip and how many decisions need to be made. At least, that is how it is for me and I thought my readers might like to know how I am going about it.
When To Book to go to Disneyland Paris?
In the past it's been a pretty simple process: "Let's go to Disneyland Paris this summer" – "Okay" Then the trip to Disneyland Paris gets booked, usually about 6 months in advance, sometimes less, on occasion just a few weeks before departing. Now that money is less freely available,  such frivolity is not possible. That's fine- Disneyland Paris is a luxury and boy, does it make me realise how incredibly lucky we are to have gone so regularly in previous years.
Looking at a number of holiday websites, I found the prices to be  almost exactly the same on all of them. I found 4 nights/5 days onsite (Santa Fe) to not be too bad, just a little over £1,000. Looking at this current year for the same 5 day period and I'm looking at £1,540, which is approximately 50% more. Yes, I know it's only short notice, but from looking at this exact week for the past 5 months, that's been the price for quite some time. In fact,  it's even been higher at certain times this year. So it would seem that booking way in advance could save us a lot of money, which alleviates one fear of mine, that we'd book over a year in advance and miss out on a crazy good deal, but that doesn't seem to be the case. The price for next year is part of their 2 nights free promotion, so for a 4 night stay that's half price, on the hotel part of the cost anyway.
The other huge benefit of booking so far in advance is that we can put a deposit down, around 15% on most websites, and then pay it off month by month. I say that, but there doesn't actually seem to be an option to do that. You get given a date at which point the holiday has to be paid in full, usually 60 days before departure. In the good old days I know we set up an agreement with our travel agent and they took X amount each month until it was paid off. But can't you just put the money aside, the same amount each month as if you were paying in instalments, and then pay it off on that deadline day?, I hear you ask. Yes is the answer to that, but having that money just sitting in the bank exposes it to being pilfered on days when "we could just use some of the holiday money and then put in more next month". That's a definite risk in our household, especially with my penchant for attending gigs and festivals, and the family's love of getting away to the beach. Then what if the fund never gets refilled? So in a quest to find somewhere that does take instalments, we will be going into an actual bricks and mortar travel agent at some point, for the first time in ages. Well that's not strictly true- we've lightened their collection of Disneyland Paris brochures on many occasions, but this will be to make actual enquiries with a view to possibly even booking a trip to Disneyland Paris, offline, for the first time in many years.
How to Travel to Disneyland Paris?
Taking the car across and going via the Eurotunnel would undoubtedly be the cheapest way to go, but I'm not so sure that our car would make the trip, and that's not a worry I want hanging over my head for the duration of the holiday. My family walks to work and school, so there's no real need to get a new car, unless we start going to Disneyland Paris more. As a non-flyer, that leaves the Eurostar, the way I've travelled to Disneyland Paris all but 2 of the 25+ times I've been. I love going by Eurostar – it's easy, for me living in the South East, quick and I don't have to think about a long drive back at the end of what will be a fun, but usually pretty tiring 5 days.
So I've decided on Eurostar, in what wasn't really much of a dilemma, but, when to book? Not at the time of booking the hotel package, as direct Eurostar bookings aren't available until 9 months before departure date, and they can be pretty expensive at that point – £500-£600 for the three of us. If I do book them at the first opportunity, like the Disneyland Paris accommodation and tickets portion of the trip, it gives us not only time to save before we book them, but plenty of time to save for spending money after we have bought them. Indirect tickets become available 3 months before departure, and the last time we went they cost just £200 for all three of us travel via Lille. I find the train change no problem at all, and the savings is pretty huge, but then there's the risk of not getting tickets and being left with really expensive direct tickets at that point, if there are even any left. Risk-averse as I am, I'm leaning more to the pricey but reassuring 9 months out direct Eurostar option. I also wonder if those high street travel agents I spoke of earlier, maybe someone big like Thomas Cook, has an allocation of Eurostar tickets, so I could in fact book the whole trip, including train tickets, over a year in advance? Something to investigate.
Do We Stay Onsite or Offsite in Disneyland Paris?
I've done both, lots, and while you can read me waxing lyrical about offsite hotels such as Relais Spa, Sejours & Affaires and Hipark, there is nothing quite like staying onsite. Just waking up in the morning in a Disney themed room, knowing you are just a short walk away from Disneyland Park and Disney Village, well that's magic without comparison. As a family we love the walk from the hotel, especially along the Rio Grande River in the case of Hotel Cheyenne and Hotel Santa Fe, saying bonjour to les canards as we pass them by. Having a Disney Store a very short walk from your hotel room and even waking up to the sound of Goofy, it adds so much to the holiday. Of course one of the biggest reasons is seeing Sophie on the hotel television channel and her incredibly contagious enthusiasm. It's also very convenient to be able to buy things in the stores around the resort and have them delivered back to your hotel, because as low budget as any trip might be intended to be, Disneyland Paris merchandise WILL be bought, no doubt about it.
So whilst the argument for staying onsite is a hard one to fight, surely it's cheaper to stay offsite? Well yes, sometimes. If we all had annual passes then absolutely it would be, but we don't. Actually, that's not quite true, I have an Infinity Annual Passport, but it runs out this December, more than 7 months before the time we are looking to go back to Disneyland Paris. So that will mean 3 brand new Annual Passports, and whilst they are good value for money for repeat visitors, I'm not so sure they can compete on price against a 14 month in advance deal that's offering us 2 free nights, but it is something I will investigate further. Maybe three Annual Passports and hotel discount will work out less than the £1,000 we have seen for that week just booking online the standard way, and then we'd get discounts on meals and merchandise too. But then the ability to pay for the hotel in instalments
comes into play again. So much to think about! Hey, this paragraph was supposed to be about offsite hotels.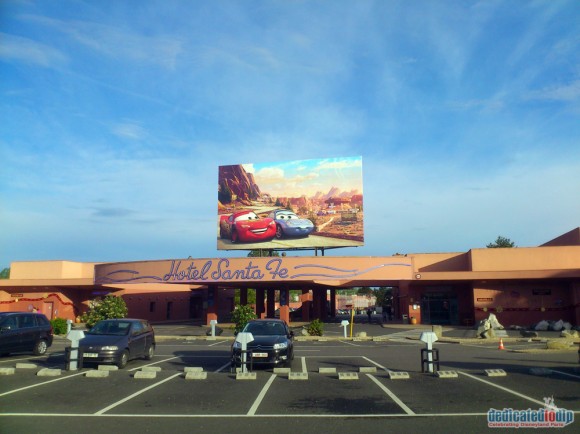 From my browsing this morning it seems that very few of the offsite hotels are available to book now, and those that are, when combined with Annual passes, are comparable to onsite package prices, and more in some cases. Do I want to wait until they become available to book? Not really, as offsite prices at peak times have gone up in recent years, and I really want to start this whole paying off the holiday bit by bit sooner rather than later. Then there's the trains, and as much as they are so quick and frequent between Val d'Europe and Disneyland Paris, it's not the same as a nice stroll by the river, and a last minute look in the aforementioned hotel Disney Store. They can also become pretty packed at night, but still not as much as the courtesy buses which we have almost never taken, at least not on the return journey. So, onsite it is and, even though I adore Hotel Cheyenne,  my son wants to go back to Hotel Santa Fe for the Cars theming. I'm fine with that, as it's a bit cheaper and a great hotel, especially for a Cars fan such as myself.
Should We Book a Meal Plan in Disneyland Paris?
We had a meal plan (dining plan in the States) back in 2016 when we visited for 5 days in the summer. It was part of our booking, which incidentally cost the same as 5 days in Disneyland Paris this summer, no meals included, not even breakfast. Prices may have gone up a little in the last 2 years! Anyway, back on point and we enjoyed having a meal plan as it meant most of our food budget was paid off before the holiday and we got to try restaurants such as Chez Remy, Blue Lagoon (Captain Jack's now), Plaza Gardens and Inventions, the latter with a modest premium on top. These are restaurants that we'd usually pick one to visit per holiday, not go to one every day, so it felt rather decadent to us. It would cost £400+ for us to add it to the proposed 2019 trip, but that would only include Plaza Gardens, Restaurant des Stars and Restaurant Agrabah Café as in park options, far fewer than it used to. I'm fussy so that eliminates the Agrabah Café.  Also, we love Plaza Gardens so much that I recently declared it my favourite restaurant in Disneyland Paris, but I don't want to eat there and Restaurant des Stars every day, especially not when other favourites of ours include the likes of Cowboy Cookout Barbecue and Toad Hall. A pastry for breakfast, one visit to Plaza Gardens and trips to our favourite counter service food outlets are going to come out cheaper than a meal plan, and sees us eating in restaurants more to our liking. If we want to include more in-park restaurants in our package, we are looking at £500-600 and that's way too much. So, no is the answer to that question. We won't be booking a meal plan in Disneyland Paris.
What Next?
One thing I do need to do is look at the official website in different languages, as sometimes the French or Dutch or Germans get better offers than us in the UK, apparently, but it's not something I've ever looked into. This weekend will see us visit that high street travel agent, where I will try not to come across as a Disneyland Paris know it all. That shouldn't be hard at all, because whilst I reckon I know more than the average Joe, I'm by means an expert and I'm going there to find out the answers to questions I don't already know, and that's quite exciting in itself. I'd also love to hear from all of you. Having read all of that, what's your advice and what secrets do you have for keeping costs down and booking in advance?