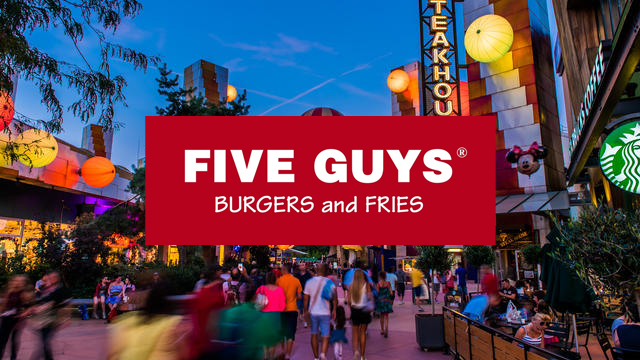 Am I The Only Person Not Excited By The Rumour That Five Guys Is Coming To Disneyland Paris?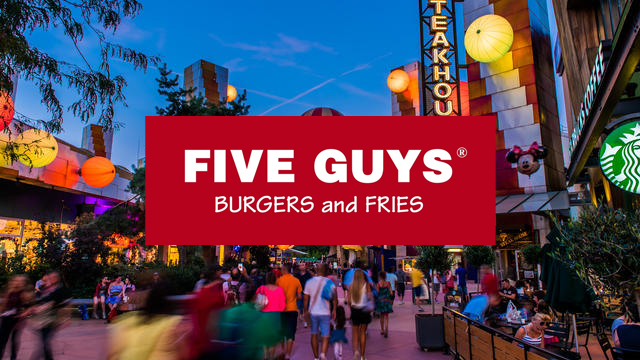 Just moments ago @DisneylandBerry broke the news, which until confirmed by Disneyland Paris or Five Guys will be classed as a rumour, that Five Guys Burgers & Fries is due to come to Disney Village in Disneyland Paris in 2017. At this point Twitter got excited, and my heart sunk. I don't eat burgers, so that's going to have a big impact on my reaction, but away from my own personal preferences, it's the lack of diversity that saddens me the most.
EDIT: It's official, as confirmed by Five Guys France
Disney Village already has a McDonalds, specialising in and (in)famous for their burgers, as well as the following restaurants for whom burgers is a big part of their menu: Planet Hollywood, Rainforest Cafe and Annette's Diner, as well as being an option in a few others. In a locality the size of Disney Village that's high concentration of burgers, and to add another just seems like burger overkill. We have Vapiano opening late this year, so rumour has it, so at least we have a Fresh pizza and pasta option on the way, but what Disney Village is really crying out for is something a bit different.
I've said it many times on this website and on the podcast too, but when are we going to get a decent oriental food option in Disney Village, for those of who don't want burgers, pizzas and steak? Chinese food is so popular all over the world, with Thai and Japanese hot on its tail. How refreshing it would be to walk from Planet Hollywood up to Cafe Mickey and see an offering of noodle and rice based dishes amongst the sea of beef and chips. You only have to see how popular Wagamama is to know that the demand would be there – in the UK alone there are 5 times as many Wagamama restaurants as there are Five Guys.
I'd hazard a guess that the Five Guys will be built near the Vapiano, down to the right hand side of World of Disney, in attempt to quickly build up that part and have it as a thriving part of Disneyland Paris as soon as possible. While I would prefer uniquely themed establishments, if that's not going to happen then the influx of well known brands will help them to achieve their goal all along, of making Disney Village a desirable location for both locals and guests of Disneyland Paris. I just wish it wasn't more burgers. I'm keen to know, is it just me and everyone else will welcome Five Guys with open arms, or are there others that dream of more variety in the eateries on offer in Disney Village? Leave a comment and let me know.