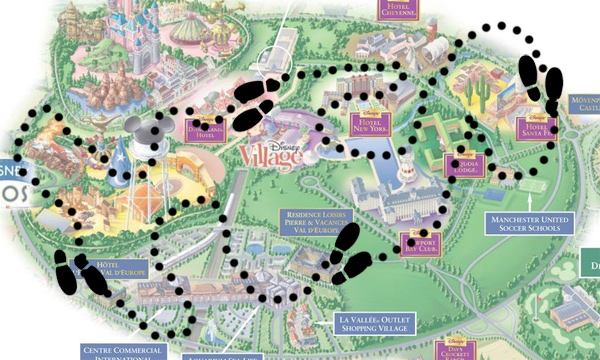 How Far Do You Walk in Disneyland Paris?
We always come back from Disneyland Paris quite tired, but that's entirely our own fault. We don't plan our stays, so our navigation of the resort is on a what do we feel like doing now? basis. This means that we could be in the far corner of Adventureland and decide we want to ride Star Tours in Discoveryland, or go from Phantom Manor to Casey Jr le Petit Train du Cirque. This isn't the most efficient use of time, but we've never been planners – feels too much like work. So on returning home; I'm always conscious of my feet feeling they've had a good work out, and wondering just how far I've walked in Disneyland Paris.
Well, thanks to modern technology I now know. I've had a Pebble Time Steel watch for about a year now, and one of the things it does is keep track of every step I take, and log it on the associated mobile phone app. This past summer, on our most recent trip to Disneyland Paris, I decided to look at that data and see how many steps I took, and how far that translated into. So, here is that data.
| | | |
| --- | --- | --- |
| Date | Steps | Distance |
| Monday 31st July | 17,432 | 9.9 miles |
| Tuesday 1st August | 20,203 | 11.6 miles |
| Wednesday 2nd August | 21,417 | 12.0 miles |
| Thursday 3rd August | 22,448 | 13.0 miles |
| Friday 4th August | 17,757 | 10.1 miles |
That's a grand total of 99,257 steps and 56.6 miles. According to Google, the distance by car from Disneyland Paris to Paris is 40 miles, so that's like walking to Paris and then 16.6 miles back again towards Disneyland Paris. While I have already admitted that I feel tired when I get home, I don't feel that way when I'm there. I always have something exciting at the end of each walk, or run, as rope drop at Frontierland can often be, to necessitate the steps taken. My watch has a target of 10,000 steps a day, something I far exceeded in Disneyland Paris, and on 3 of those days more than doubled. If I had full park days on Monday and Friday I have no doubt the totals would be even bigger. If I hadn't beeen queuing for Big Thunder Mountain and Pirates of the Caribbean so much those totals would have been much bigger. On 31st October for Halloween last year I exceeded 30,000 steps, but that did inclide the Soiree which gave us extended hours and lots of extra activities to walk between.
Back home I average around 10,000 steps a day, more now I have started running again, but even then it still falls short of a day in Disneyland Paris, which on this evidence is a very active one. Makes me feel less guilty about having a Currywurst hot dog and a Nutella muffin in the same day! I'll certainly be keeping track of my activity on future trips to Disneyland Paris, and with mobile phone and watch technology like it is today, so can you. Which leads right back around to my opening question, how far do you walk in Disneyland Paris? I want to know, on previous trips, or when you come back from upcoming trips, how far you walked. The record currently stands at 56.6 miles, because I'm the only one I have asked so far. Your turn…