Disneyland Paris 20th Anniversary Collector's Programme Photos
If you were lucky enough to visit Disneyland Paris on 12th April then you'd have been there for the 20th Anniversary celebration day of the resort and you'd have picked up a very special collector's programme, only available on that one day. A kind chap on Magic Forum was there himself and kindly sent my a copy. It's a very nice souvenir of the day and so I thought I'd take a few photos and share the images of that programme with all of you. Let's start off with the front cover with the lovely 20th Anniversary logo on a gold coloured background: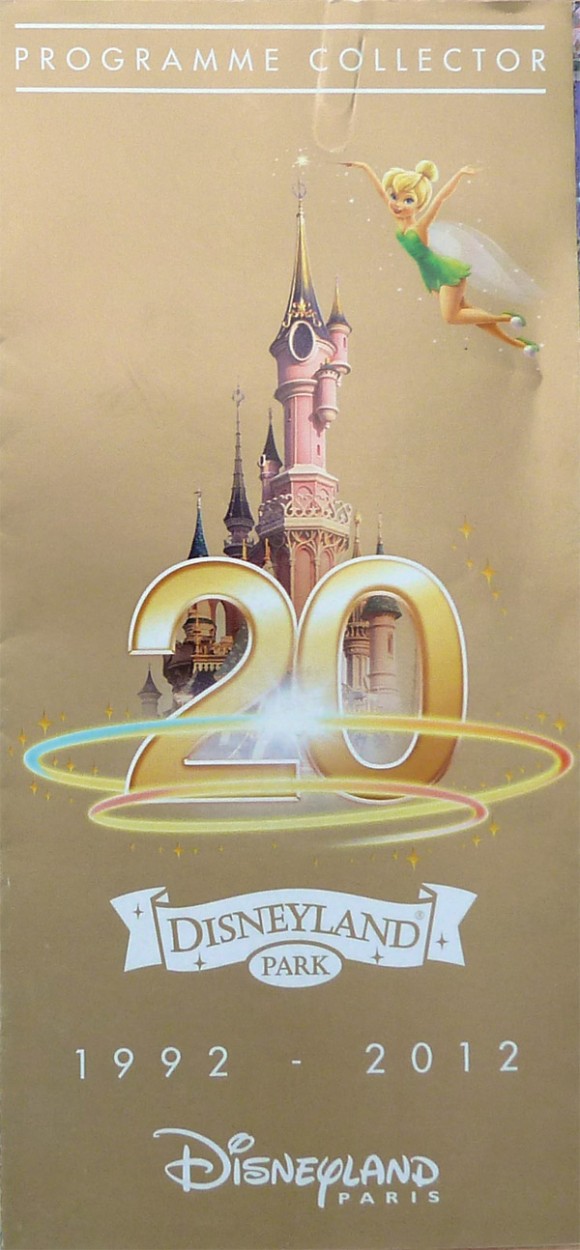 Unfolding the programme we can see the front cover, back cover and 2 inside flaps:
Taking a closer look at those inside flaps you can see that they come together to make one bigger montage image of moments from the 20th years of Disneyland Paris.
You may have seen some t-shirts featured in the second image – these were special 20th Anniversary t-shirts, which much like this programme were only for sale on 12th April. Here's a closer look at those t-shirts – do you think you'd have bought one if you were in the parks that day, and if you were there, did you buy one? I really like the men's t-shirt – it's not too in your face and it's nice to have a blue t-shirt rather than the all to common white or black.
This last image is of the inside of the programme which details all the special events of the day, along with a great marketing image of Dreams and some other photos, including one of Tony Baxter. That last one was to advertise Tony's Concept to Reality talk in Videopolis.
I've always been a fan of the park guides and have a huge collection from years gone by. It's really nice to have this in my collection, even though I couldn't be there on the day, and it was the kindness of someone that means I have a copy. In fact I also had an offer from someone else who picked an extra copy too. Just goes to show what a great bunch of people Disneyland Paris fans are. I hope like me you enjoyed taking a look at this Disneyland Paris 20th Anniversary Collector's Programme – let's hope we can all be there for the 25th Anniversary and get a copy of the Disneyland Paris 25th Anniversary Collector's Programme for ourselves.