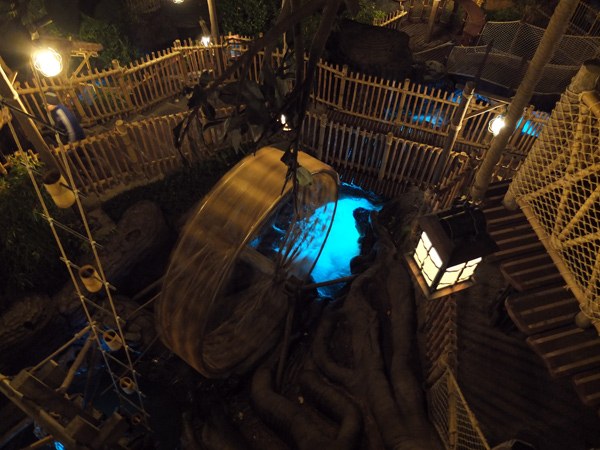 Disneyland Paris Review: The Newly Refurbished Adventure Isle and La Cabane des Robinson
I teased this article on Twitter by saying About to write about my favourite area in the whole of Disneyland Paris, which is now even better and looked glorious on my last trip, and that is absolutely true. Adventureland is home to both my favourite attraction in Pirates of the Caribbean, and my favourite restaurant, The Blue Lagoon. It also has the most beautiful and immersive area of Disneyland Park – Adventure Isle. A few of the attractions homed on Adventure Isle have recently been refurbished, and thankfully opened in time for my Halloween trip, and at this point I promise not to use the word favourite with the same regularity as I have already.
La Cabane des Robinson
Affectionately know as the Treehouse, La Cabane des Robinson has long been a favourite of mine, and offers a nice contrast to the frenetic pace that engulfs a lot of Disneyland Paris. It was closed when I visited in August so to have it open again, at a time when it gets darker a lot earlier, was one of the most anticipated parts of this trip. In fact, on that first day, it was Villains show at 2.30pm, Annual Passport Office at 3.30pm, Parade at 5.30pm, dinner at 6.30pm and then the Treehouse at 7.30pm – so the first attraction of this visit to Disneyland Paris. Could this be the start of a new tradition?
On my approach to the Treehouse I noticed two things, both of which sent pangs of excitement through me – those being the lights and that the water wheel and waterfall were both working. I didn't make it more than a few metres in for the first 5 minutes, as I just stood in awe looking at the waterwheel not only working, but the water below was beautifully illuminated with blue lighting. The water wheel is such an iconic feature of the film and subsequently the attraction in Disneyland Paris, but it has a torrid history of not working, and just a day later it was stationary once again. Ascending the stairs and looking down from above, had me in a trance once more, as the people I was with, slightly bewildered at just how long I was stood looking at this one part, finally began to realise how much La Cabane des Robinson meant to me.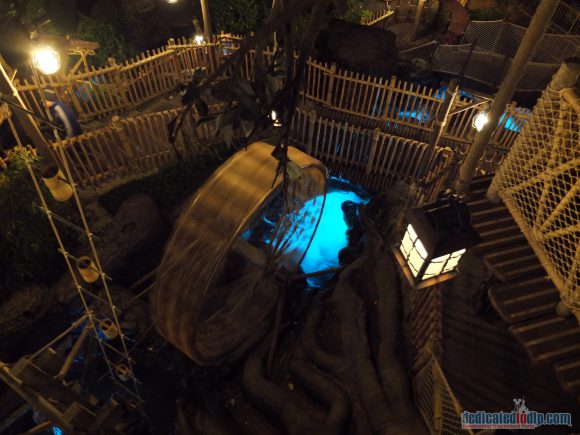 Climbing higher, the scenes from the film that meet you at each new level have been cleaned up and refurbished, with again the light being a big factor. For an attraction that seems to be low on guests priority lists, I'm glad that Disneyland Paris give it the attention it deserves, with pulsing low lights adding a great deal to the atmosphere.
It's not just the Treehouse itself, but the views over Disneyland park and further afield that it offers. Having foolishly not been up when I visited in March, this was my first opportunity to see the recently repainted it's a small world facade, lit up at night, from high up in Adventureland. That in itself is worth the ascent alone, and looking over to Discoveryland, then the Castle, a rare view of Indiana Jones and then across to Walt Disney Studios, I'm left wondering why more people don't share my love of this magnificent structure, and the unique experience it offers.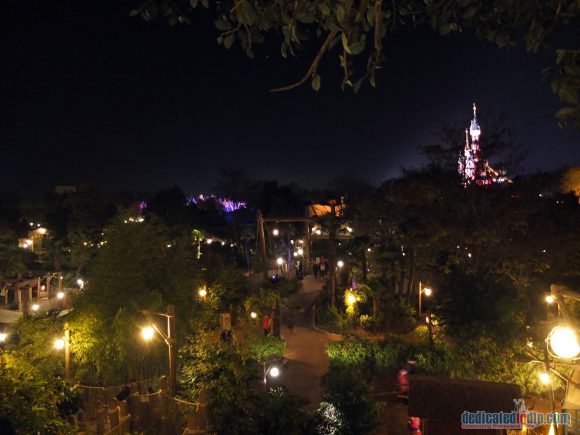 One of the hidden delights of Advetureland are the caves and tunnels beneath the Treehouse, not to be mistaken for the more well know caves over at Skull Rock, which I will talk about later. Intriguingly the official website doesn't even mention them, but be assured they are there, and you can even look down into them fro up the Treehouse, and vice versa. There is little to discover in the way of hidden treasures, but inside these caverns you will find walls and ceilings crafted to display the subterranean roots of the tree that was home for the Swiss Family Robinson.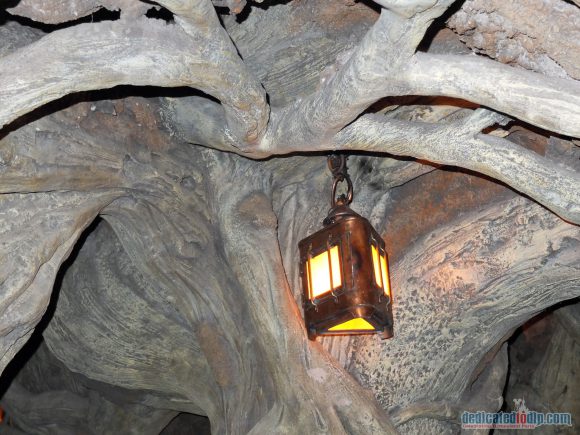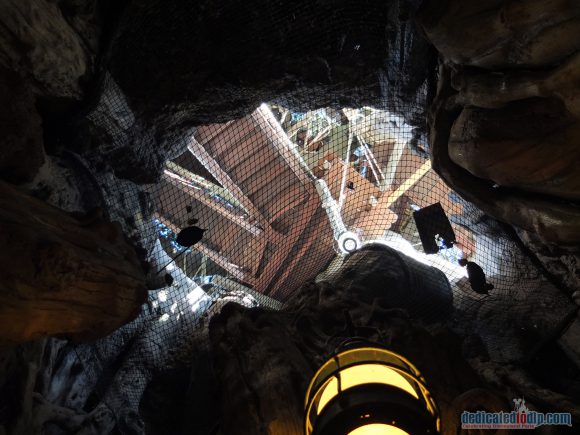 Attention to detail is a phrase that gets used a great deal when talking about Disneyland Paris, but above and below the ground, La Cabane des Robinson personifies that. With the new lighting it looks even more spectacular at night, so much so that I went up, and down, 3 times during my 4 day trip and look forward to showing it off to my wife and son in 2 weeks.
Adventure Isle Caves, Skull Rock and Le Pont Suspendu
I didn't explore the above ground Adventure Isle as much as I wanted to, though I did get to walk across Le Pont Suspendu (the wobbly suspension bridge), which was as ever enhanced by people jumping up and down, possibly myself included. I also gazed upon the newly repainted Skull Rock, but couldn't enter as it was being prepped for Halloween Soiree activities, unbeknownst to me at the time. What I did spend time in, and revel in doing so, were the caves and caverns below, which much like the Treehouse had been treated some all new LED lighting.
I must have spent a good 30-40 minutes walking around, and marveling at how great everything looked, after being refurbished and shown in this new light. Inside the caves every detail was shown off and there are parts that I've never knowingly seen before, like the throne protruding from the rock wall which I took great delight in sitting in, and the huge skull carved into the rock nearby. The treasure in Ben Gunn's Cave is illuminated better than ever and there is some audio in one part, that walk quickly and you'll miss it, but stay, ears close to the wall, and you'll be treated to a scene of piracy!
I did get lost in the caves, but that's part of the fun, and it's only on going back on myself, taking new twists and turns, that I saw everything on offer – or did I? Much like the Treehouse this is an area that I'm very much looking forward to sharing with my family next month, and I'm certain I'll see things I didn't on this trip. The whole of Adventure Isle has been returned to it's magical and mysterious best, and then improved upon. I'm happy to say that there were even queues for La Cabane des Robinson at times, but my one wish for guests visiting any part of Adventure Isle is please take your time and don't just rush through – great feats of engineering are waiting to greet you around every corner, you just to have slow down enough to see them.