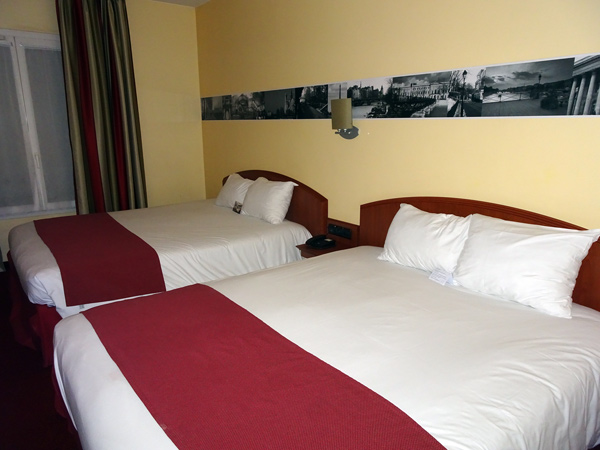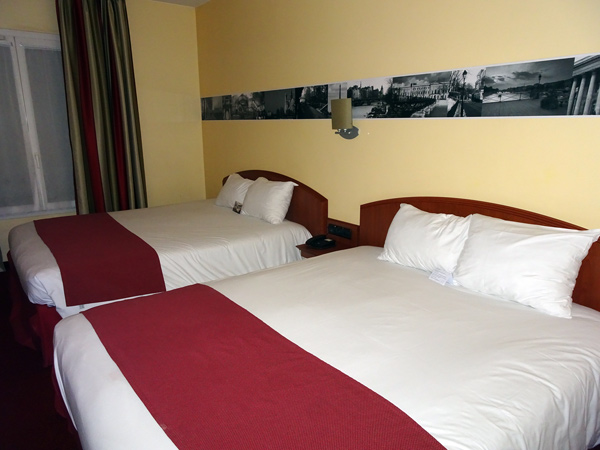 Disneyland Paris Hotel Review – Hôtel l'Elysée Val d'Europe
I'd seen the Hôtel l'Elysee before, but never gone in, let alone stayed there. So, I was very excited to  stay there on our last visit to Disneyland Paris at the end of July, for 4 nights. It was whilst searching for a good deal for an offsite hotel that a special 25% off deal appeared on my phone for the Hôtel l'Elysee, and after some crowd sourced research via Twitter, I went for it. The deal was so good that I'd have probably booked even if people hadn't been as positive as they were. This was back in January, so we had a good 6 months to wait and see what it was like.
We arrived around 2pm, and as our room wouldn't be ready until 3pm we left our cases with reception and took the train to Disneyland Paris itself. The location of the hotel is perfect for the train, being almost opposite the train station, albeit a walk of a few metres. We tended to take the free bus in the morning as they were frequent, but heading back to the hotel of an evening time we'd get the train, as they were more frequent and I've never liked the prospect of battling with others for a space on the last post Illuminations bus back to Val d'Europe. On our return they had a little trouble finding our key cards, but eventually did, though they never actually told us where the lifts were so that was something we had to ask, but really shouldn't have had to. Just for clarification, they are not in clear sight from reception so it wasn't as a daft a question as it may sound.
Up to our room we went and, as promised, our luggage was inside waiting. My first impression was just how big the room was, and with 2 large double beds there was still plenty of room to walk around, and there was a also a long desk along one wall. Unlike new rooms in refurbished onsite hotels such as Cheyenne and Newport Bay Club, there were no USB charging or UK plug sockets. There were plenty of French plug sockets though, so we had no problem charging several phones and other electronic devices, thanks to the adapters we always bring. The beds were very comfy and more on the hard than soft side, which is totally to my liking. There were also stacks of pillows, great for fussy people like me who like to pile them on top pf each other and sleep in a state of angled elevation.
We all slept really well, because although Hôtel l'Elysee is a busy family hotel, our room was pretty quiet, with sufficient soundproofing against the noise outside, which does include regular trains not too far away. The view from our room was one of trees and a grass courtyard in the foreground, reaching out to the buildings surrounding it. We never saw this view during the day as it was get up, shower and leave, but one evening we came back a little earlier than usual. On that evening, with our son in bed asleep, my wife and I sat in front of the big window, which actually opened fully, and enjoyed a drink whilst chatting, the sounds of an evening in Val d'Europe as the soundtrack. That was really nice, especially as the windows were so big that when open they have us the perfect height windowsill to put our beer glasses on. There's also something quite soothing about hearing the trains go by on a warm summers evening.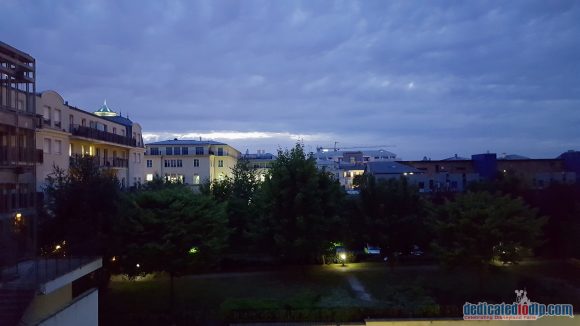 There is a second room that needs talking about and that's the bathroom, which was big, with lots of room to maneuver on a busy morning of Disneyland Paris preparation. The shower was powerful, and with hot water to spare. Shower gel is supplied, but it's attached to the wall, so don't think you'll be taking it home like in on-site Disneyland Paris hotels. It was very clean, and felt up to date and well looked after.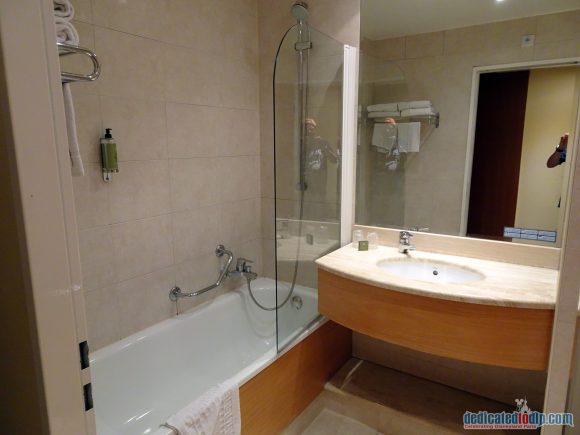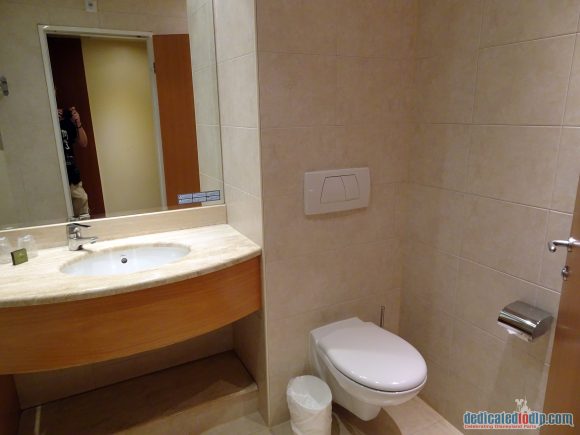 We never sampled the breakfast or tried the bar, though it did look very nice. Our stay in Hôtel l'Elysee was a very pleasant one, and whilst a bit of direction on check in would have been appreciated, that's a minor gripe which wouldn't stop us from staying there again. In fact I might even go as far as saying, that all things considered, Hôtel l'Elysee could be my new favourite off site hotel to stay in. Also worth pointing out that they are at the moment refurbishing the rooms. We got an old one, which makes me wonder just how fantastic the new ones are. Also, the refurbishment process did not in any way affect our stay – we couldn't tell it was going on. So Hôtel l'Elysee in Val d'Europe gets a very high recommendation from me – an almost perfect off site accommodation solution for a visit to Disneyland Paris.