First photo from inside World of Disney store in Disneyland Paris
It was recently announced that the new World of Disney Store in Disney Village, Disneyland Paris will officially open on Thursday July 12th. Just a few minutes ago the official Twitter account for Disneyland Paris @Disney_ParisEN tweeted the first photo of the inside of the store, and here it is (click to enlarge):
My first impression is wow, that looks absolutely gorgeous. From the illuminated film scenes, to the hidden Mickey wallpaper boarders and furnishings, this store looks like it has the perfect mix of class and magic. This is only one small part of the store and already I want to be inside, soaking up the atmosphere and trying to spot every one of their trademark attentions to detail. The two film images we see are from Peter Pan and Tarzan, which gives me great hope that World of Disney will be a more traditional store in it's look and décor.
According to Disneyland Paris the interior is a tribute to the 5 continents, travel & Disney and will feature exclusive merchandise. Those last two words are my Kryptonite when it comes to spending money in Disneyland Paris and go some way to making up for items I see with the dreaded generic Parks Merchandise on them – better start saving.
The outside looks just as good, and thanks to this photo, also from @Disney_ParisEN we can see that Mickey and Minnie stand either side of the entrance. These statues are from the old World of Disney store in New York City.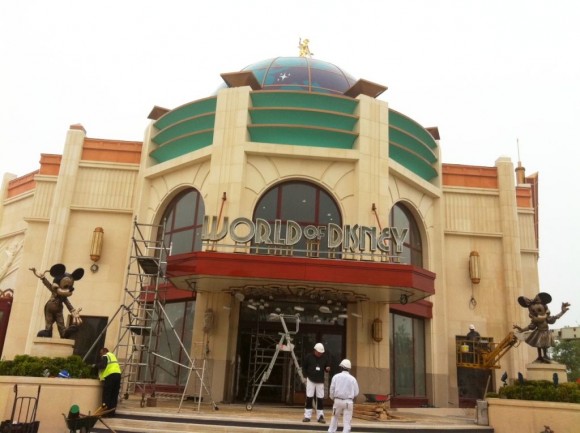 I love the font that has been used for World of Disney – it reminds me of an old cinema theatre, with it standing over what looks like a theatre entrance. Last night Disneyland Paris cast member @Magic__Live posted a picture of the final concept art for World of Disney, and as you can see, they've done a good job of sticking to that fantastic design.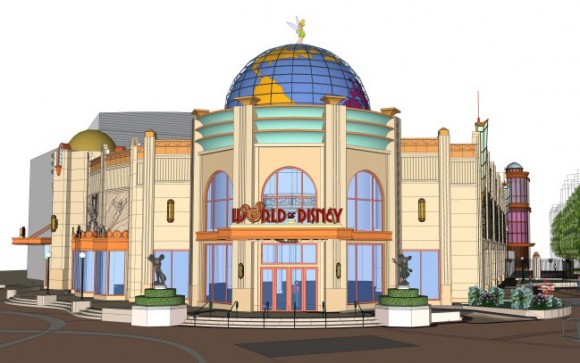 Oner difference you will notice is that in the concept art the O in World was to be a Mickey head sillouette, but as it stands now it is just a normal O. I actually think that's better and the Mickey head would have cheapened it. Having the Mickey and Minnie statues at the entrance is a far better having the iconic cartoon characters represented.
Not only does the globe that sits atop World of Disney rotate, but it also lights up at night, as we can see in this photo from last night, courtesy of the ever present @insidedlparis: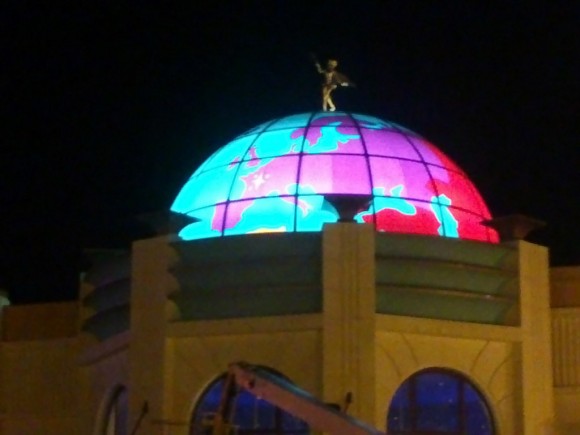 From a tepid start, my excitement levels have risen dramatically for World of Disney, mainly because it looks like the kind of building that has been given all the attention and care that I love in some of my other favourite places in Disneyland Paris, like Main Street USA, Pirates of the Caribbean and Phantom Manor. This is no ordinary shop, this is a showcase of Disney design and is an attraction in itself. With the promise of exclusive merchandise, and making that gap between the parks and Disney Village that bit smaller, World of Disney could turn out to be one the most important and successful additions to Disneyland Paris in years.