Disneyland Paris 20th Anniversary Trip Thoughts: Hotel Santa Fe
Our hotel of choice is usually the Cheyenne, as the theming is second to none, and as we are very much a sleep and shower family, we have no need to pay out for the luxury of the more expensive hotels. We also don't consider 15 minutes a long walk to and from the parks, and in fact like that as it takes you past the lake and along the river. This time we decided to go for the Santa Fe, for two reasons; 1) my son adored Cars and 2) we were on more of a budget than usual so the extra saving was welcomed.
As we approached Hotel Santa Fe, the boy was pretty excited to see the huge billboard featuring Lightning McQueen and Sally. This is far better than the old Clint Eastwood poster that used to welcome you, rather confusingly, to your Disney hotel.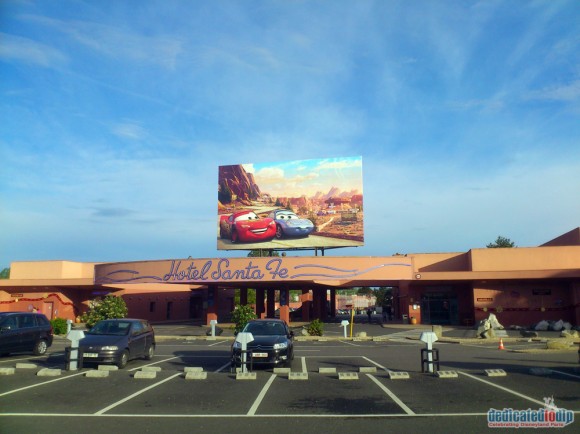 At this point it didn't look different from the last time I stayed in Santa Fe in November 2011, or for that fact in July 2005, the Cars billboard aside. We noticed all the Cars pictures on the walls and once we'd booked in, it was time to walk to our pueblo block, which was situated near the pathway that takes you to Disney Village. It was at this point that evidence of the refurbishments became very obvious,but not because the buildings looked great. Far from it.
There was scaffolding on quite a few of the buildings, including our own, where workmen were actually working on it as we entered. This is not a complaint, as I knew full well this would probably be the case and considering the state of the buildings when I'd visited 6 months previously I actually welcomed them. They may not look pretty for this visit but it meant they were in the not too distant future going to look really good.
Once we walked in through the door to our building though it all changed, and we entered the world of Radiator Springs, the fictional town featured in the Cars films, for those scratching their heads at that reference. The hallway carpet was the first thing we noticed, which was the first of many things to be themed with traffic cones.
On the doors were plaques featuring Mater and the number of the room, and we wondered if there would be different characters on different floors. As we got out of the lift to the 4th floor and walked towards our room, we realised that Mater was on the door of every room, including ours.
It being the day of  my son's birthday he immediately thought the 4 must be for him, and using that same logic I told him the 29 must be for me, as my birthday is on the 29th….of July.
Once inside the room we were treated to a whole range of Cars decorations, presumably inspired by Sally's Cozy Cone Motel. The mirrors, lights, curtains (forgot to take a photo of them), bedspread, chair, border and even a picture of Mater, all made the room feel very nicely themed, and more subtly done than these concentrated photos may suggest.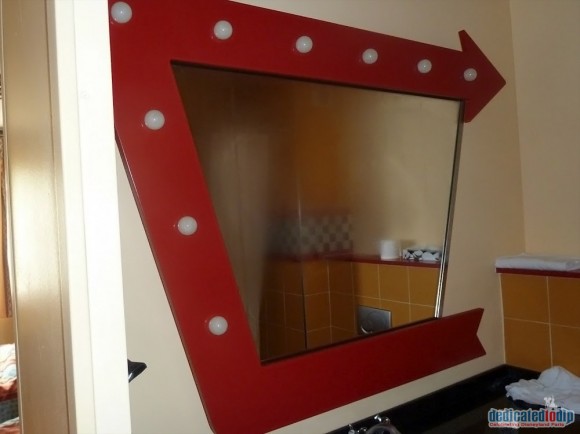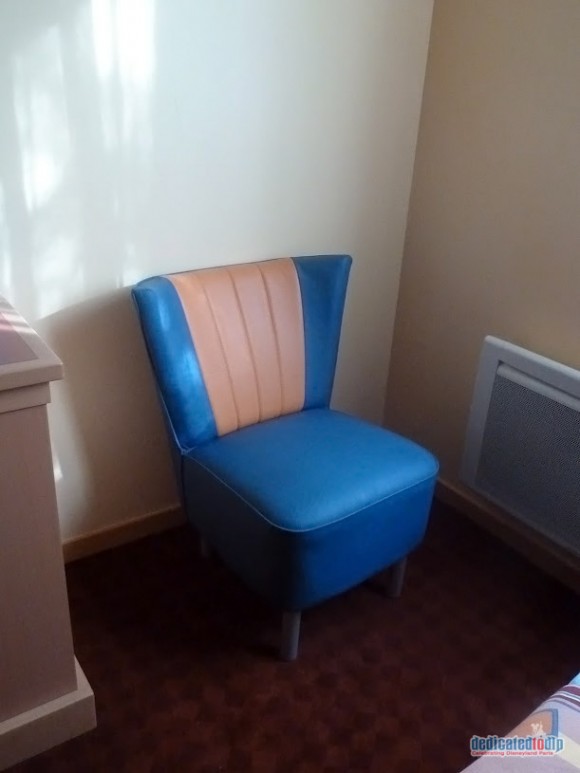 I didn't take a photo of the duvet cover but it's the same as the one I took photos of in November, which you can see here along with lots more photos from our November 2011 stay in Hotel Santa Fe.
As for breakfast, well they've changed things a bit so you queue longer getting to the breakfast room but then they monitor the amount of people going through. This means you can easily get to all the food without having to wade through 5 rows of people. It also means less people are going to sit down at the same time, so even though it was busy we always got a seat straight away and never had more than 1 or 2 people in front of us for juice, coffee and milk. All seemed so much more civilised than previous visits and the food was lovely and fresh.
My son was absolutely thrilled to be staying in a Lightning McQueen hotel and both my wife and I really liked it, too. The rooms were incredibly clean and all the furniture was new. When the exterior has been completed, Hotel Santa Fe is going to be a really fun place to stay, not that it isn't part way there already. I wouldn't hesitate to book Hotel Santa Fe again for future trips and look forward to seeing it once all the external renovations have been completed.