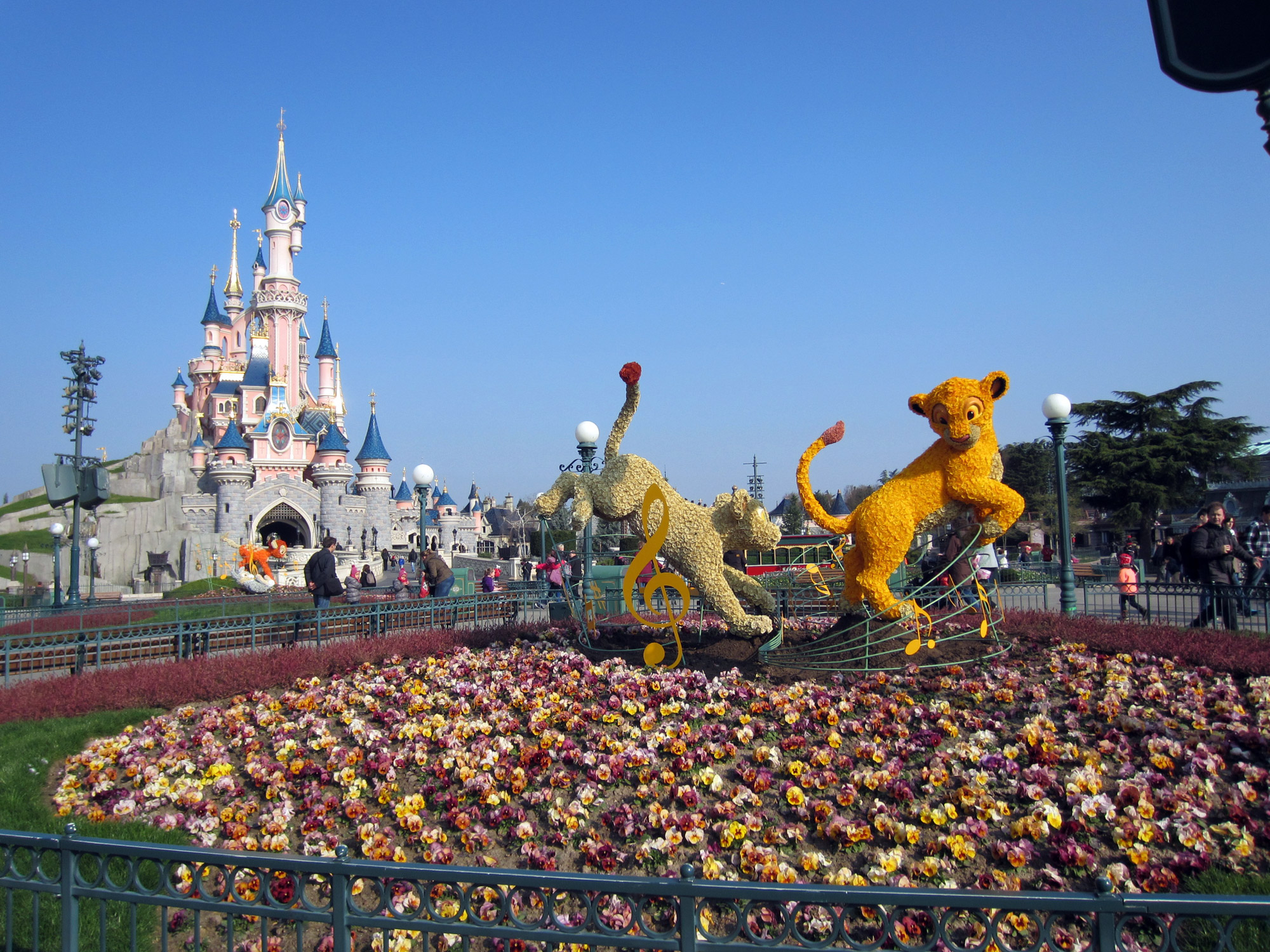 Disneyland Paris Photos: Swing into Spring
You've probably heard a few whispers here and there, maybe seen some concept art and some photos from the park, but Swing into Spring festival starts in 5 days, on April 5th in Disneyland Paris. Stacy from Bibbidi Bobbidi Boo has just come back from Disneyland Paris and sent me these photos.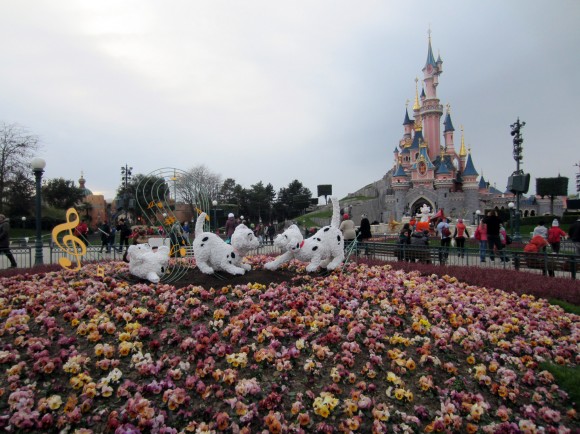 The main decoration in Disneyland Park are character topiaries and thousands of flowers. A full press release has still not come from Disneyland Paris, and one would assume it's strangely not actually coming, but we do have this from our friend InsideDLParis: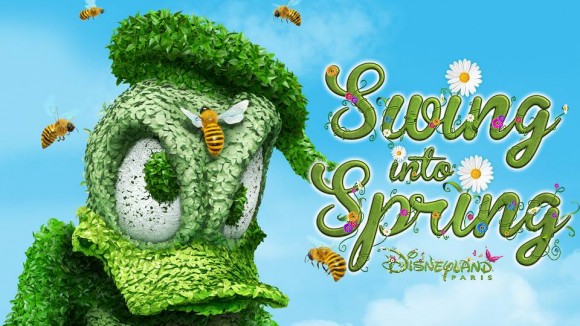 Remember when in December last year we told you that Festival des Fleurs (1997/1998) could possibly come back this year to Disneyland Paris!?
Well, many different ideas of Disney and rumours later, "Swing into Spring", a brand new Spring Festival is coming to Disneyland Paris and is starting in two weeks from now!

When entering Disneyland Park, Guests will be treated to freshly planted flowers (over a million each year) together with brand new decorations, fun Disney Character experiences and all painted together with the Magic of Live Music!

Mickey, Minnie, Donald, Daisy, Pluto and Goofy will be decorating the Park, starting with Main Street U.S.A. Station where they will star on beautiful portaits dressed in their Spring finest.

Town Square will be the place to enjoy Mary Poppins inspired topiaries, a beautifully decorated Springtime gazebo and Duffy's Spring Garden infront of 'the Boardinghouse' near Liberty Arcade.

Minnie Mouse will not be joining Duffy this season but will meet her fans in Frontierland, near Cowboy Cookout Barbecue, instead.
And when Duffy is not around, Russel from Disney Pixar's 'Up' will take his place.

As by magic, beautiful topiaries will appear on Central Plaza representing characters from the 101 Dalmations, The Lion King, the Aristocats and Bambi.
Small princesses will be happy to know that Rapunzel, from Walt Disney's Tangled, will be meeting and greeting them near Casey's Corner in front of a gigantic golden heart of the season.

Main Street Victorian Residents will invite Guests to sing and dance a long in "Welcome to Spring"
An uplifting new happening on and around the Town Square Gazebo upto 6 times a day. (Saturdays-Wednesdays only)
After they welcomed you to another beautiful day on Main Street U.S.A. you might even get the chance to meet some of them for a quick chat or picture.

The main event of Spring this year will be "Disney's Spring Promenade" (Wednesdays-Sundays)
Twelve minutes full of fun and excitement like never seen before on Central Plaza and the Royal Castle Stage.
Upto 5 times a day, more than 90 dancers and almost 30 Disney Characters will get out and celebrate the warmer weather!
Part of the Characters will be Mickey and his friends dressed up in their newest Spring costumes, incl. Clarabelle that made her debut last Halloween at Disneyland Paris.

Your best friends from Wonderland, the Hundred Acre Wood, Woody and Jessie from Toy Story, Stitch and Pinocchio join in together with Mary Poppins and Bert to celebrate the 50th Anniversary of Walt Disney's Classic: Mary Poppins!

The main theme of the show is inspired by 'Spring Fever' from Tokyo Disney Sea's 'Spring Carnival' and will be reinforced by the Jolly Holiday Band and the Swing into Spring Orchestra that will also play your favourite songs from Walt Disney's Mary Poppins.

Apart from occasional performances of Disney's Performing Arts, both Chaparral Theater and Videopolis Stage will unfortunately remain empty throughout the season.

Finally a fun brochure has been created for kids to go explore and find out more about the development of nature, ecology and playfully discover the largest garden in Europe.

"Swing into Spring" will run from 5 April 2014 – 22 June 2014 incl. with some of the events having a soft opening on 4 April 2014.
Gather your friends and family and come visit Disneyland Paris where everyone Steps in Time for a true Jolly Holiday!
Swing into Spring seems like quite a decent addition to Disneyland Park to give visitors to Disneyland Paris an extra few things to see and experience. I'm not a big one for flowers or characters so it would never be a big reason for me to book, but it's certainly nice to see them making an effort and I can already see from the online community that many like what they have seen so far. Why they are not going out of their way to advertise this is beyond me though. Could it be that either they don't think Swing into Spring is a big enough pull to bring people in, or is that no matter what they do in this time period it's too late for people to book trips? The annual passport holders will of course flock in to see something new, but that's not filling the on site hotels or increasing ticket sales. If they see the hardcore fans as the only ones who will book extra visits, then why not tell them properly, rather than small teases on social media. Are Cast Members now the premium channel of communication for fans to get information? It's all really quite baffling.
At least it will be a nice surprise for those visiting with no idea Swing into Spring is even happening, and therefore word of mouth will be good for the resort. I really hope any future celebrations and festivals will be properly advertised and announced well in advance. New shows are something Disneyland Paris fans have been begging for for a long time – this is the time to shout from the rooftops! With all these great new scenes to photograph, it would be a fantastic time to bring in full blown PhotoPass.
So, my question to you, the great collective of Disneyland Paris fans – are you excited by Swing into Spring? Will you book a trip especially to see it, or is too late for that now? If this is the start, I wonder how it will grow over the years?