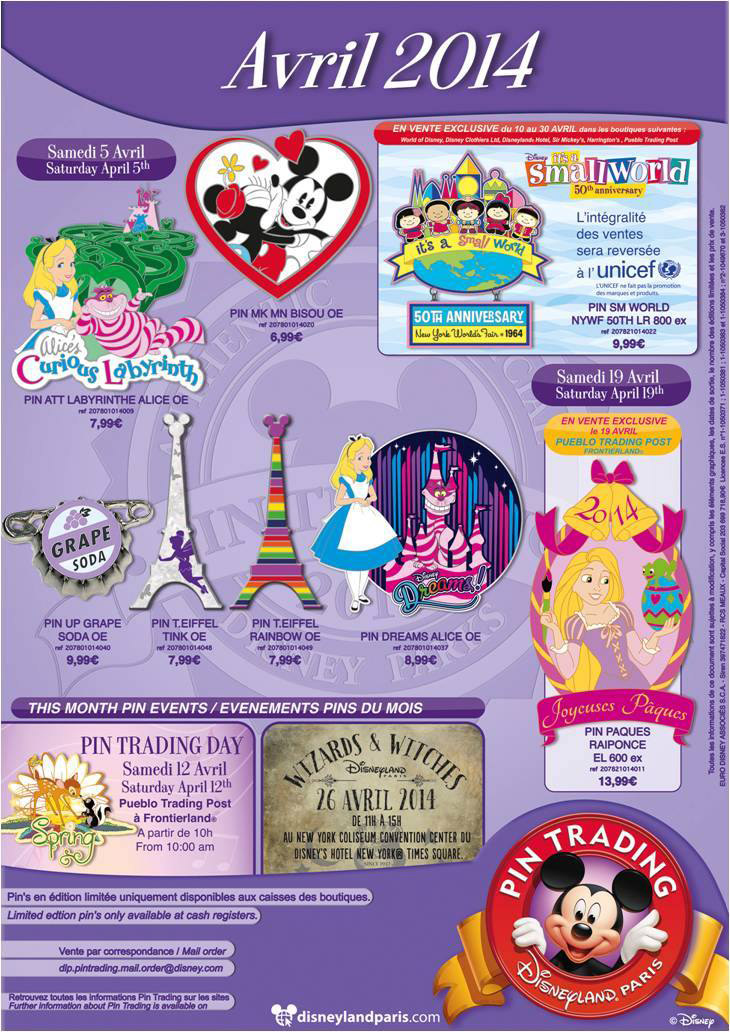 Disneyland Paris Pins for April 2014 – Attraction Pins Are Back! (and Other Good Pins Too)
I haven't been so active on here just recently as my mind has been elsewhere, and if I'm honest, after what we've seen in recent months I never expected the new pin releases to get me motivated. Well take a look at the Disneyland Paris pins for April 2014, because that is exactly what has happened.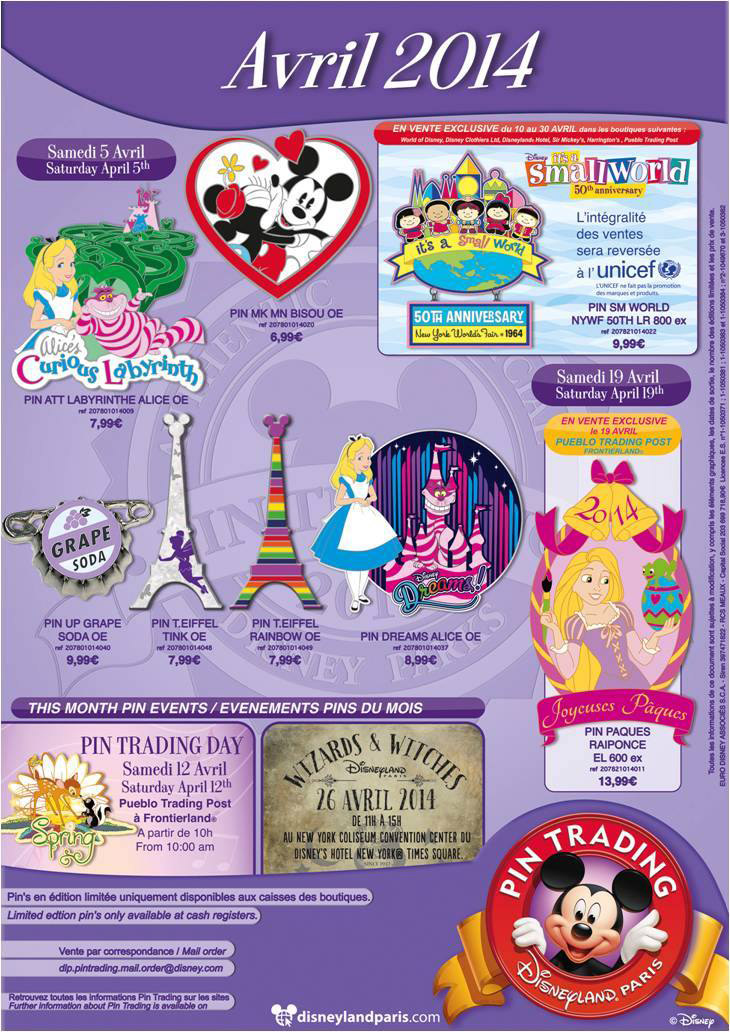 Attraction Pins
Not only have the Disneyland Paris attraction pins returned, but the Alice's Curious Labyrinth pin is particularly nice. The perception of depth they've managed to create is very impressive. It obviously goes very well with Spring and all the horticultural themed decorations being added to Disneyland Park. I just hope we get a new one each month and the best pin series Disneyland Paris has ever seen doesn't go on hiatus again.
it's a small world at 50
Limited to just 800, this could be the fastest selling pin in Disneyland Paris history. It's supposedly going to be available from 10th to 30th April, but let's be honest, this will probably sell out before the gates even open on the 10th. It's not anything revolutionary, but the homage to the World's Trade Fair where it first appeared is a really nice touch, and I'd love to have this in my collection – not going to happen though.
Dreams!, Towers and Grape Soda?
The Grape Soda pin – is this inspired by Up, or does Disney having a longer standing relationship with Grape Soda that I'm not aware of? Either way, it's interesting choice of pin, to maybe celebrate the 5 year anniversary of the film? More Eiffel Towers – not a fan, surely this series most be ending soon? The Dreams! pin doesn't do a great deal for me either – much preferred the live photo series, but it's good if you're a fan of Alice in Wonderland and visiting Disneyland Paris in April!
Kiss and Easter
The Mickey and Minnie kiss pin actually looks more like a Valentine's Day pin, but maybe they got caught up in the frivolity of Spring!? The Rapunzel Easter pin, sold only on the 19th April in the Pueblo Trading Post, will sell out in minutes and then be sold for a fortune on eBay. It's very colourful and looks big – I'be be interested to see what it looks like in real life.
Pin Trading
Pin trading must be doing well in Disneyland Paris as there are two events this month. There's the now regular trading say on the 19th at the Pueblo Trading post, but more interesting is the Wizards and Witches event on the 26th in Hotel New York. It sounds very Harry Potter – maybe they have been listening to the latest episode of the podcast? It would also have been a good theme for an event during the 20th Anniversary when the characters where in wizard outfits. If you go, tell me what went on, please!
A pretty good selection for April I think, as they seem to be catering for all collectors, which makes a welcome change.