Disneyland Paris Terrorific Night 1 Photos
Last night at Walt Disney Studios in Disneyland Paris was the first Terrorific Night and I've read some excited tweets of headless horsemen and all sorts of scary goings on. These photos from come from our good friend and one of the founding members of the Disney Breakfast Club on Twitter, Bert Snyers.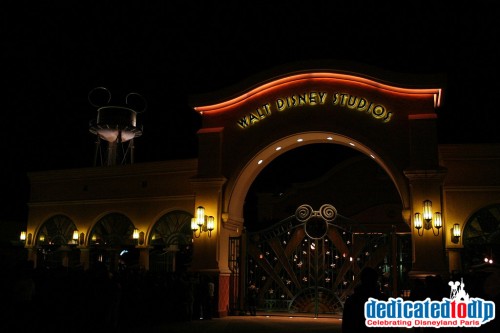 The entrance to Walt Disney Studios looks beautiful and doesn't Earful Tower look spooky there in the background? The lighting is quite subtle but very much suited to a creepy Halloween setting and gives off an air of 'Enter If You Dare'.
If you want to see what the guy with the chainsaw did at the Freaky Circus then I recommend looking at more of Bert's photos on Flickr – they are a bit too graphic to be posted on here but they certainly put the terror in terrorific!
Not sure exactly what is going on here, but it looks like some kind of Druid type character and maybe a ceremony of some kind. I'm going to be talking to Bert when he comes back from Disneyland Paris so we'll know more then. They certainly seem to have gone all out for the Terrorific Nights, and this is a long way from the sugary sweet Halloween festivities going on at the Disneyland Park.
I think this is a character, but could it be a guest? No, I'm sure it's one of the characters that was no doubt lurking in dark corners waiting to jump out and scare unsuspecting guests.
There's no doubt that Tower of Terror is a very striking building in the day, but at night time it takes on a whole new much more menacing persona. I tip my hat off to anyone who enters on either of the Terrorific Nights – it doesn't look like many people will be smiling in there.
Long time readers will know how much of a fan I am of the Backlot Studio Tram Tour, and it looks like the Dinotopia area was home to all manner of evil last night if that inverted cross is any indication of what went on.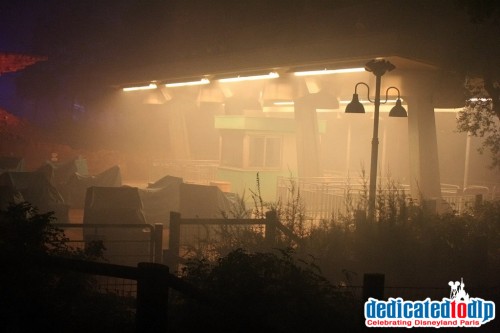 This last photos is of the Cars Rally ride which is evidently closed, but looking very spooky indeed. It's not the usual throng of excited children and Radiator Springs frivolity.
It looks like a big effort was made for the first Terrorific Night in Walt Disney Studios, Disneyland Paris. The atmosphere looks very creepy and the characters look very scary. We'll catch up with Bert soon and get the full story, but in the mean time you can check out all his photos here.