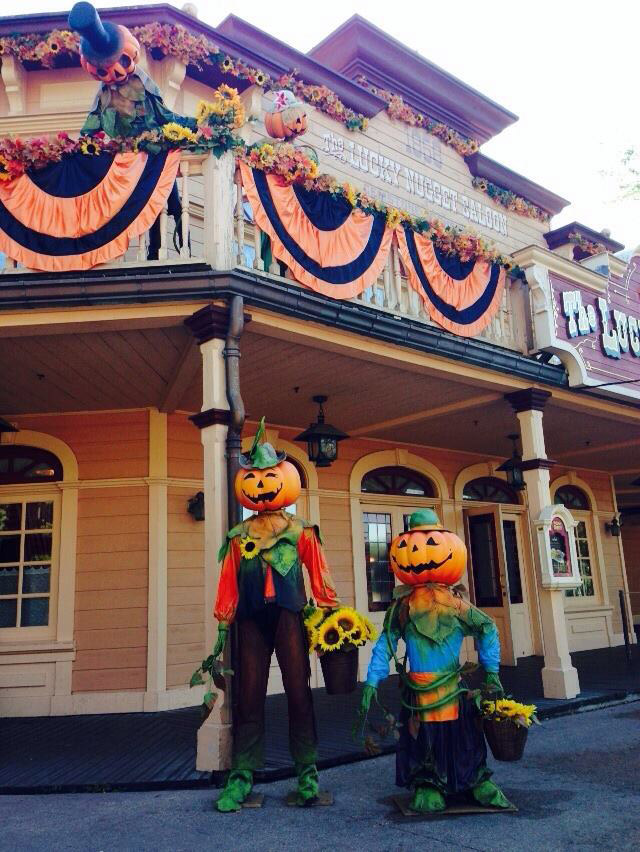 Disneyland Paris Photo Friday: Halloween Has Arrived – Here Come The Pumpkins
As we know from last Friday, Halloween could start earlier next year, but this year it starts on October 1st. That doesn't mean nothing happens until that first day of the Halloween season in Disneyland Paris, as mid September sees the start of the theming appear in Main Street, U.S.A. and Frontierland. All these photos come from the brilliant InsideDLParis (Facebook and Twitter) who allows me to use his images on Dedicated to DLP.
This first photo had me in awe this morning when I first saw it – the blue sky, lush green grass, scattered pumpkins and Sleeping Beauty Castle in the background – a photo you can get lost in. Also notice the silhouetted detail of Disney characters on the columns either side. There are less pumpkins on the Castle Stage than last year, and the big Mickey pumpkin is noticeably absent. Whether the stage will be used for something during Halloween, maybe part of the The Maleficent Disney Villains Promenade, I don't know, but I prefer the more minimalist approach this year. It is inspiring me to shape up my backyard a little, I'll be spending some time on WeedEatersCentral.com window shopping and daydreaming of potential projects for my yard.
Elsewhere on Main Street, U.S.A. the pumpkin character heads are back, but no ghosts, not yet anyway.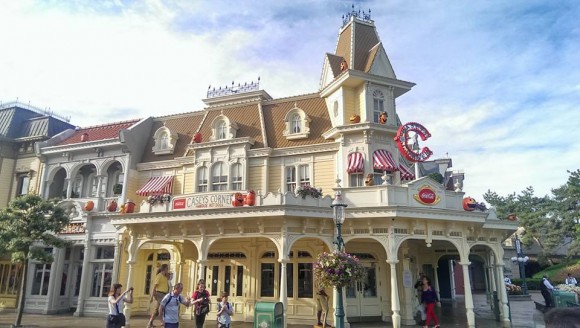 On to Frontierland, and while it is no longer splattered with orange paint and inhabited by pink witches, the pumpkin folk are out in force, and the harvest side of the festival is more evident. The drapes hanging from the buildings, The Lucky Nugget Saloon in this first photo, are orange and black, a change from the orange and yellow of last year.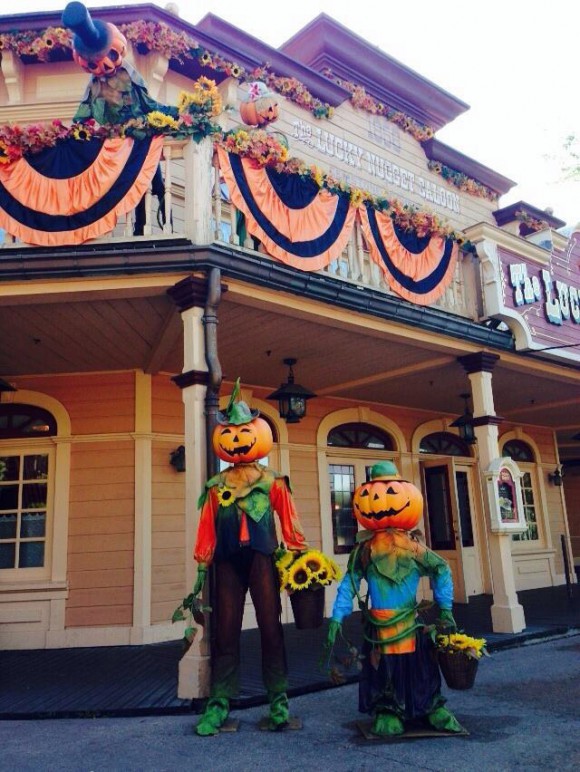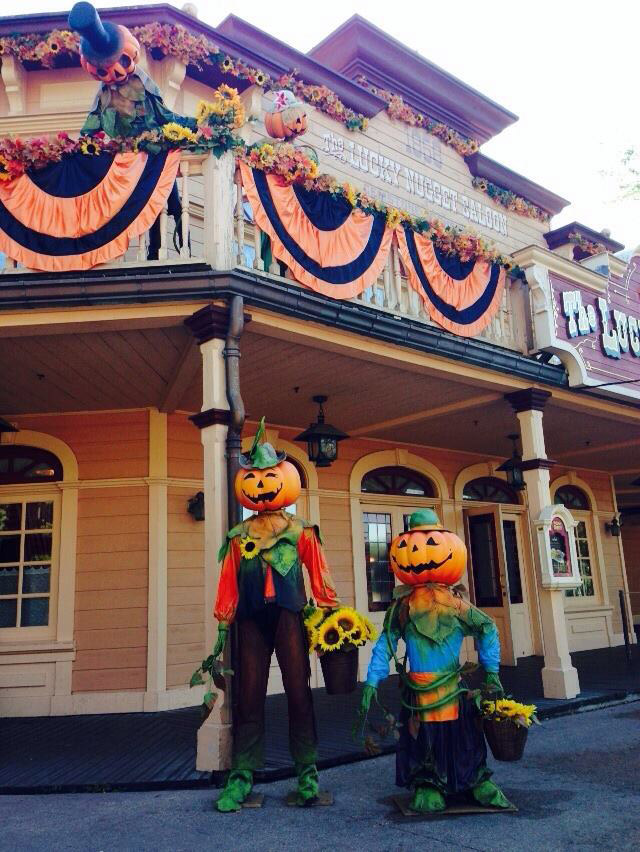 I read last year that part of the pumpkin characters is actually made of real living plants, and I can believe that looking at this couple outside Tobias Norton & Sons.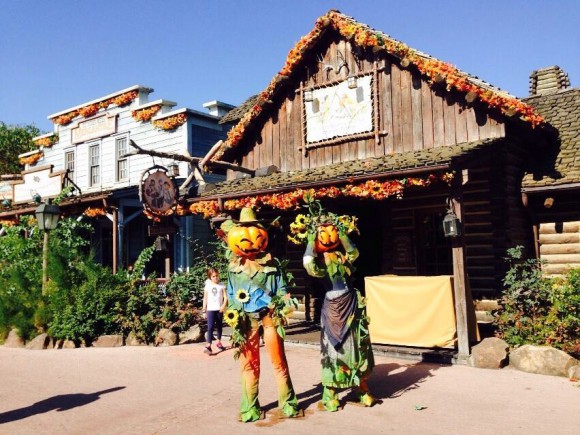 It's not just characters, as can be seen in this photo of the gorgeous sunflowers that look stunning against a gorgeous blue September sky.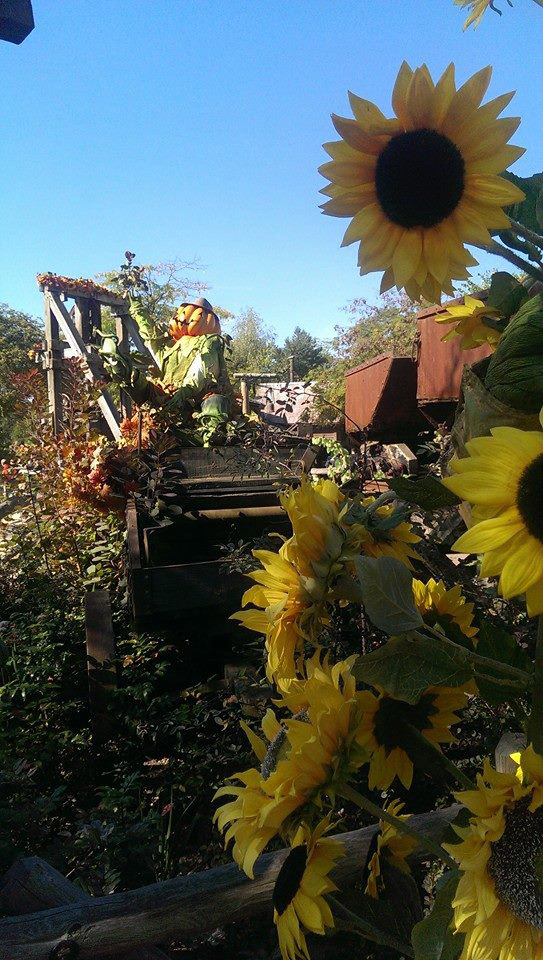 This guy is definitely part plant, part pumpkin and part man. He looks like the most chilled out pumpkin character in Disneyland Paris and will surely feature in many guests' photos.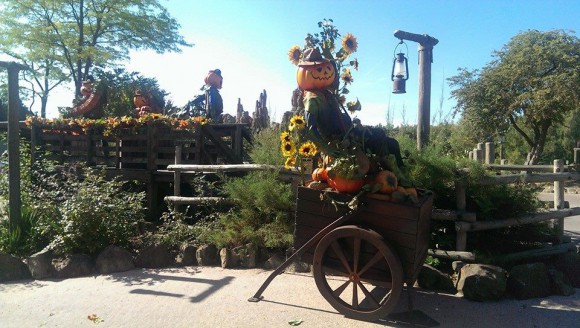 Halloween is always so well themed in Disneyland Paris and this just the start of what the 2014 spooky season has in store for us.