Disneyland Paris Restaurant Review: The Lucky Nugget Saloon with Puppet Shows
Back in April I wrote about my first visit to The Lucky Nugget Saloon, and liked it so much that it was a must when I returned to Disneyland Paris in August. Of course it wasn't just the fantastic food and decor that was on offer this time, as since my previous visit they have introduced the puppet shows, so I was keen to take in the added entertainment too.
Keen to get ahead of the lunchtime rush I insisted we get their around 11.30am, and it worked, we were the first there, and the only people there for a good 20 minutes. I had figured that with the added attraction of the puppet shows it would be very popular, but even an hour later there were very few people in the restaurant. That said, it's only advertised with a sandwich board outside, and my knowledge of it comes from being an active part of the online Disneyland Paris community. Seems a bit strange to add something of value and not tell people about it, but that's not so unusual for Disneyland Paris.
We had a trainee Cast Member taking our order, and though she had to rely on help from a co-worker, the process was dealt with effortlessly and in a friendly manner. They didn't have the chicken fillet burger that I'd had and loved so much previously, so I want for the fish and chips option, missing also the curly fries that I adored so much in March. My wife also chose the fish whilst my son chose the chicken nuggets and chips. The food came pretty quickly and was really tasty. I was almost glad they didn't have the chicken fillet burger as this showed me there is another option that I can enjoy just as much.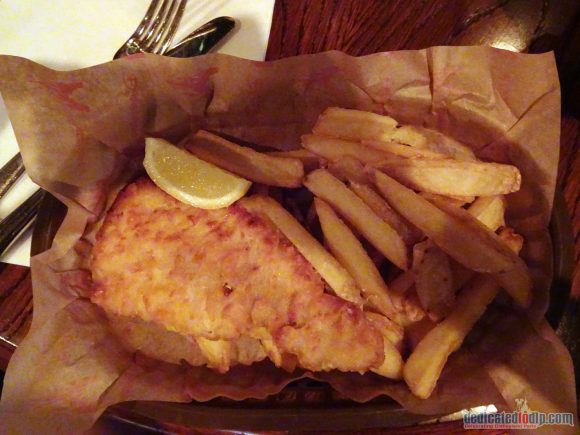 Soon after the food arrived the entertainment started, and our host came on stage to introduce the puppet show. Of the three available we got the one featuring Mickey, Minnie and friends called Mickey and Minnie's Lucky Nugget Follies. The host was actually a part of the show – not on the puppet stage itself, but to the side more in the role of a narrator, interacting with the Disney characters from time to time. The show itself was great fun, fitting in with the Thunder Mesa surroundings whilst also pulling inspiration from Phantom Manor with the spooky section. We were encouraged to clap along at times and even though there were very few people in the restaurant our host put in as much effort as if it were full.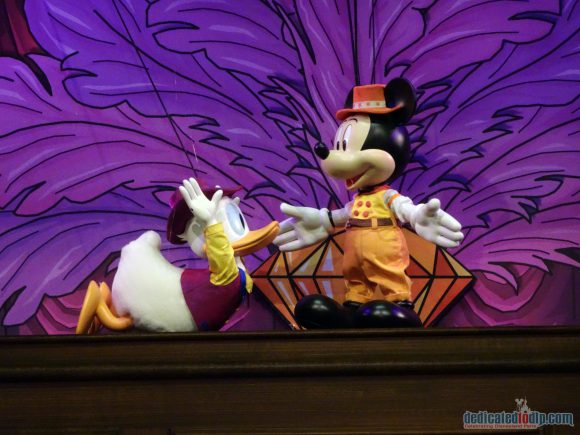 After the puppets on stage we got a female puppet on top of the piano to the left of the stage. Unlike the previous puppets which were controlled by strings, this was a rod controlled puppet with the puppeteer on stage with her. This character was a diva and sung a song that had us in stitches, again, with interaction from the host. I've been told the puppet is reminiscent with one from Avenue Q, but having not seen that show I'll have to take their word for it.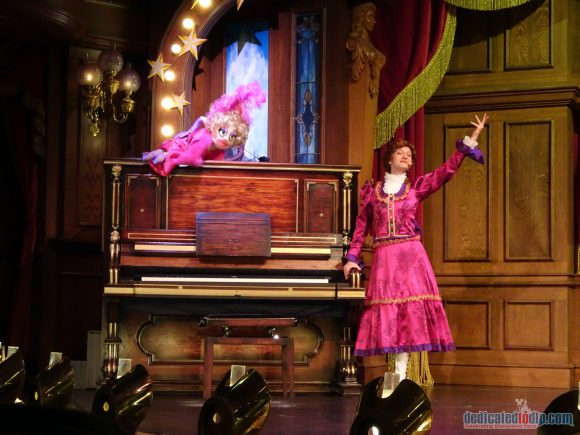 Last was a pianist who was out of this world, and I should mention he was a human and not a puppet. Once again there were parts for us guests to be a part of, with help from our host again. If it wasn't our last day and we had a date with Tiana and Naveen on our schedule I could quite happily have stayed there all afternoon. There are two more puppet shows that we never saw, one featuring Toy Story characters and the other original characters, so there is already a reason for us to return, along with the great food and setting. Everyone involved was superb but especially the host who was a part of the shows and brought all the entertainment together on stage.
I was already surprised that this is not advertised more to guests, but after seeing it I'm even more shocked. It might not be Mickey and the Magician level entertainment but nor is it trying to be, and for an added extra whilst guests eat, it's quite remarkable. Casey's Corner used to be our fave lunch destination as a family, but the Lucky Nugget Saloon surpasses that several times over and has taken it's place. It's a must visit eating destination for me in Disneyland Paris for every trip now.