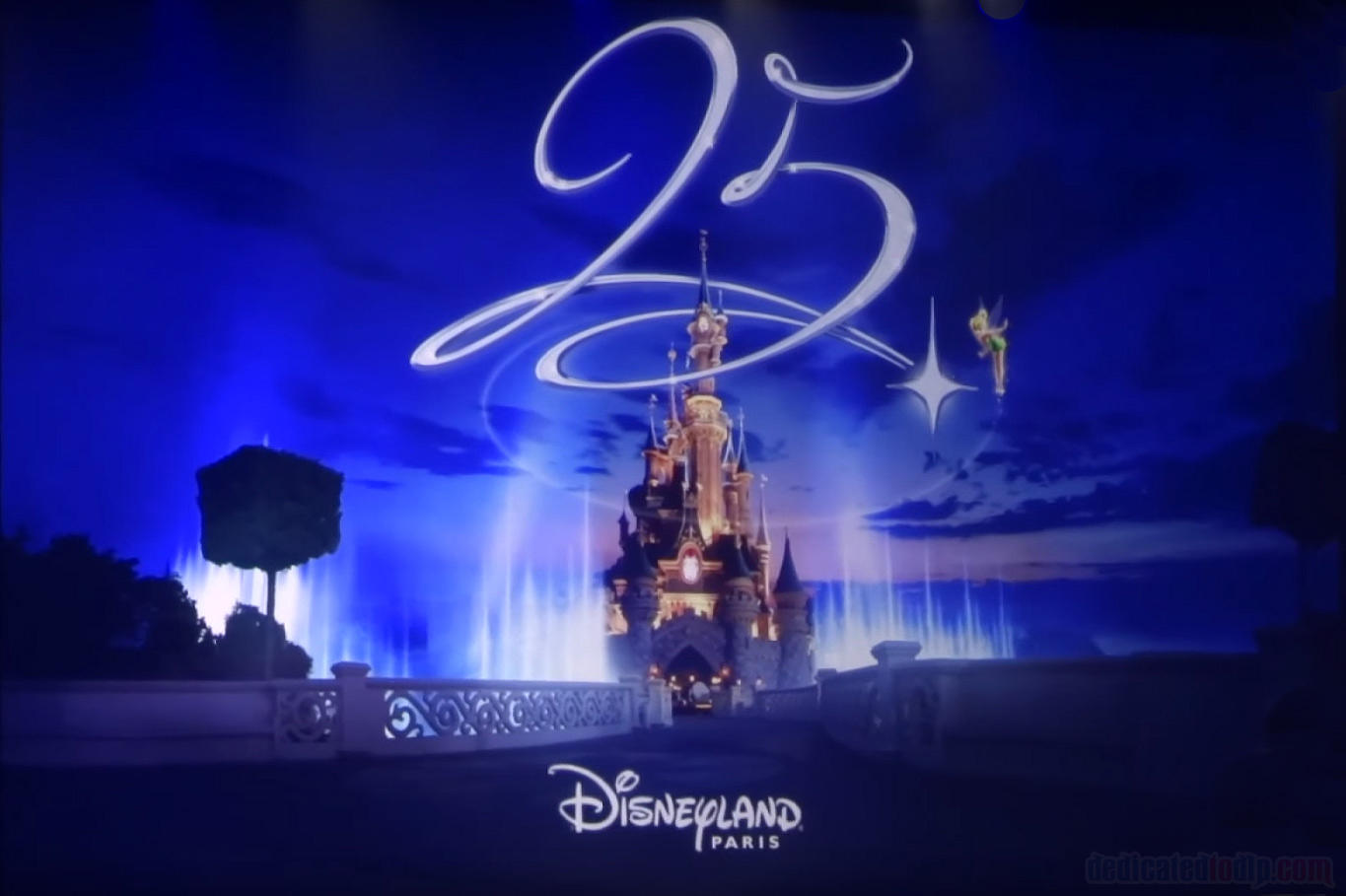 Big Disneyland Paris Announcement Coming – 25th Anniversary, Disney Village, New Hotel or Something Else?
Last night Disneyland Paris made an official tease on Twitter for a future announcement to happen next Monday.
Big announcements from Disneyland Paris are rare, and teasing them ahead of time is even rarer – could we be heading into a new era of communication? Maybe, or it could be that official announcements and the relaying of information from official sources are so few and far between that as a Disneyland Paris fan I get over-excited and expectations are heightened when they do happen. Interesting to note this comes from their corporate Twitter account and not the more fan friendly @disneyparis_en account which is focusing more on asking their followers if they are #TeamFunny or #TeamScary this Halloween, when not tweeting itself. So it seems they are targeting the more hardcore fans than the casuals, who will no doubt then talk about it on social media and fan websites, as I will do, and the information will then filter down to the mainstream audience.
Disneyland Paris 25th Anniversary
The most obvious subject for the announcement will be the 25th Anniversary, and given that the first details for the 20th Anniversary came out in early November 2011, the timing is pretty much perfectly in alignment with that. There has been little in the way of rumours of what to expect for this big landmark celebration, so all we have so far is what ED92 gave us back in June. I think all of this sounds plausiable, well, all apart from The Forest of Enchantment. DisneylandBerry last week tweeted that the Frozen sing-along would be back for Christmas as we knew already, but also that its run would be extended until March 26th. If this happens then The Forest of Enchantment almost certainly won't be back for April 12th when presumably the 25th Anniversary celebrations kick off, but maybe it could make a return for the summer season later on.
The parade at this point is a must, and there have been several clues over the months of that actually happening, from imagineers posting updates that they are working on it, to floats arriving in Disneyland Paris. The new version of Disney Dreams! is something I have championed for the past year, and given the new Star Wars Season of the Force in Walt Disney Studios and the rumoured change of Space Mountain to Hyperspace Mountain, I can see some synergy being put in place with live action films featured on a new version of the night time spectacular too. Everything else that was rumoured in that article is well within the realms of reality, and should be done, not could.
Disney Village Redevelopment
This is something of a personal wish, that I'm sure is shared by others too, but ever since the announcement of the new Vapiano and then the Five Guys restaurants being added to Disney Village at the end of this year, I've been hoping to hear some kind of announcement of a big new redevelopment plan for this area, and that this is just a part of stage 1. With the 20th Anniversary we had Meet Mickey and World of Disney, but the rumours so far make no mention of anything other than entertainment, and I think this announcement would be the perfect time to reveal plans for Disney Village, which can see stage 1 tie in with the 25th Anniversary, with maybe a 3rd addition opening around the date of the resort's Anniversary. Maybe that's asking too much, but with the rumoured closure of Cafe Mickey in later March, some kind off official word on this WITH big plans of what it will become would be both timely and depending on what it is, create some kind of buzz.
New Disneyland Paris Resort Hotel
It was back in March that rumours started to circulate about a new Hotel being built opposite Hotel Santa Fe, but we've heard nothing since. At the shareholder's meeting last week, discussed on Episode 86 of the podcast, it was announced that Hotel New York would close down for refurbishment after the 25th Anniversary, followed by Disneyland Hotel. Would this not be the perfect time to counter the negative connotations of hotel closures with a new hotel announcement? Given the rumour that it would be a modestly priced hotel, it would also be very timely of them to announce a new lower priced hotel option given the increased holiday costs many are assuming from the news that breakfasts will no longer be a part of the cost of staying on site. Obviously the new hotel wouldn't be ready for the 25th Anniversary, but it could be announced as a project kicking off at the time of the celebrations.
Something Else?
The Disneyland Paris 25th Anniversary is the most likely topic of the announcement, the Disney Village redevelopment is on my wish list and the new hotel is an outside possibility, but could the announcement be something else entirely, or contain maybe the 25th Anniversary and something else that will be announced as starting with those celebrations? What that could be I'm not sure – new attraction plans? While we have a lot of refurbishments going on which will revitalise a great number of attractions around Disneyland Paris, Ratatouille opened over 2 years ago, could they have been working on plans for something new, and of so, what could that be and where could it go? I don't really think so, but you never know. And so the floor is open to all of you – what do you think the announcement will include and what are you hoping for? We will be recording a special episode of the podcast next Tuesday, so any thoughts you lovely people have may will be discussed on that.