Disneyland Paris Pins for January 2015 – A Big Selection of Good!
Happy New Year everyone! Now, let's get on to pins, and the first releases in Disneyland Paris for 2015.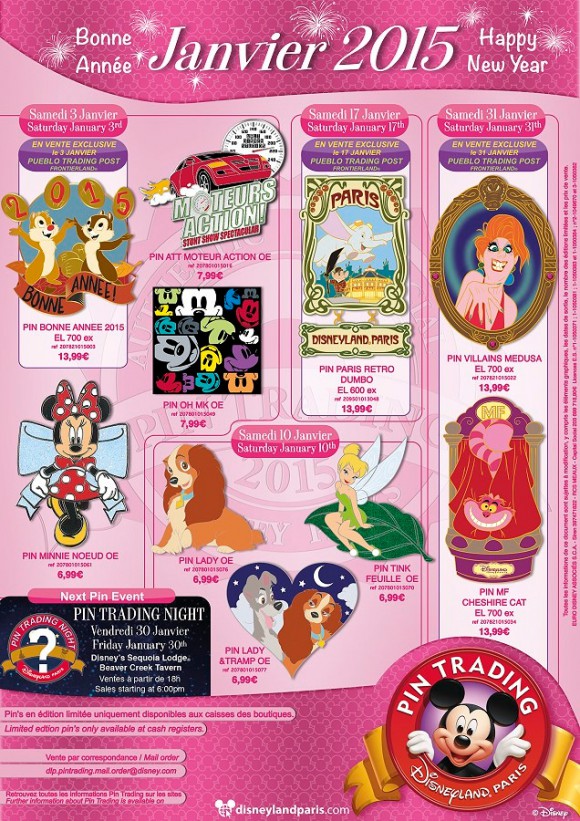 Apologies for the generic post title, but it's such a varied selection that no character or franchise specific title will do this month justice, so I didn't even try! First and foremost, we have an attraction series badge, and it's the recently revitalised Moteurs…Action! Stunt Show Spectacular, which if you didn't know, has big stunts back again. Nice pin, and at just €7,99, this series continues to offer great quality at a relatively low price.
By contrast, the 4 limited edition pins released in Disneyland Paris this January are all €13,99, limited to 700 pieces each and sold exclusively in Pueblo Trading Post. I haven't talked about this before, but if all these LE pins are going to be sold only in Pueblo Trading Post going forward, then it needs to have better opening hours, as it seems to be closed more than it is open. Of all the limited edition pins the Medusa and Dumbo pins are most appealing to me, though I also know Cheshire Cat has a lot of fans.
I wonder if Lady and the Tramp is due a DVD release or anniversary of some kind this month, otherwise two pins from this film seems a bit random. The Tink pin from the same release day of January 10th is nice in that the presence of a leaf scales her to the right size as she appears in films.
The OH Mickey pin is from an existing merchandise range and the Minnie pin is just a little odd. Is that a huge bow behind her back that she's tying round herself or is she going gliding? Overall it's a decent set of releases this month, with enough diversity to grab the attention of many different collectors.