Disneyland Paris Photo of the Day: 18th November 2011 – Space Castle
Apart from liking the actual attraction, the other reason I miss La Cabane des Robinson being open is because it makes a great location to take photos from. Back in July 2005 I took this photo from atop the tree which makes Space Mountain 2 and the Castle look like they are near each other, in spite of them being in different lands and separated by quite a distance.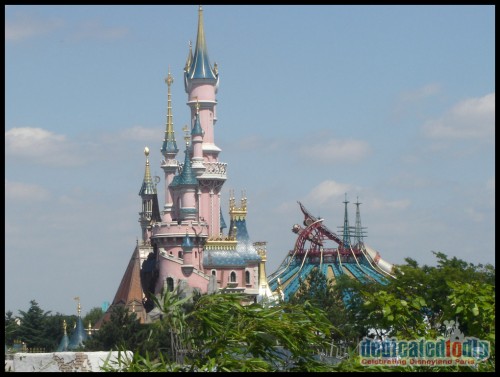 Last week I wanted to take a similar photo and was recommended by Cast Member Thomas that the suspension bridge was a good place to take a photo from. Well, it seemed to be every child's, and some adults too, quest to make the bridge bounce as much as possible by jumping up and down on it. That is why the photo I took is not as sharp as I'd have liked, but I did my best.
With the bridge and treehouse being quite close I didn't expect the photos to be that different, but as you can see the Castle and Space Mountain 2 are on different sides from one photo to the other. When I go back in May next year I will ascend the tree again and try once more to take a photo like I did in 2005, with a better camera and in hope of a better quality photo that I can enlarge, frame and mount on the lounge wall.