Disneyland Paris on The Gadget Show
The reason Disneyland Paris was featured on The Gadget Show was as a destination to try out two compact camera with interchangeable lenses and see if they could give quality results up to the level of a DSLR, but with the small size of a compact camera.
The show is Season 14 Episode Episode 8 and the Disneyland Paris segment is 8 minutes in if you can find it. It used to be on YouTube and the Channel 5 website but has since been removed. If anyone does find it then please let me know and I'll add a link or embed the video in this article.
The two cameras being used for this were the Olympus E-PL1
and the Sony NEX5
. Two cameras that I am aware of and have considered in the past, and with that in mind it's an experiment I was very much looking forward to seeing.
There were to be three tests; Landscape, Portrait and Action, with the Lanscape test being done at St Pancras Station. It soon became evident that the menu system of the Sony was over-complicated and the lack of tilting screen on the Olympus was limiting. On arrival in Disneyland Paris it was portrait time and Le Château de la Belle au Bois Dormant (Sleeping Beauty's Castle) Walt Disney Studios got some screen time, and it being a sunny day it looked stunning. The third test was the action shot which saw Big Thunder Mountain and Flying Carpets Over Agrabah as the featured rides to test the cameras. The Sony looked to be making good use of it's 7fps where as the Olympus lagged behind with just 3fps.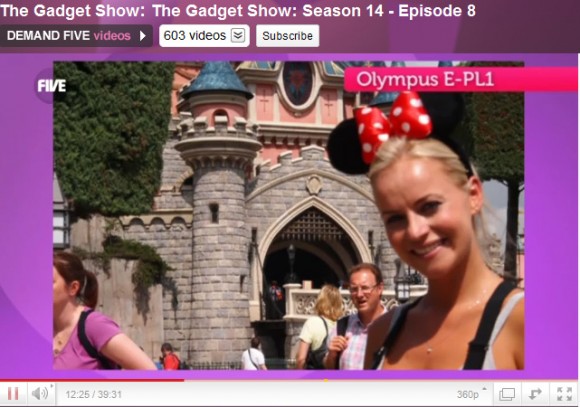 The segment wasn't overly long and not much of the resort was featured. I had my notepad ready to watch the Gadget Show so that I could write this blog post, as someone who's interested in both cameras and Disneyland Paris I thought it was ideal. However, I was underwhelmed by their analysis of the cameras – I thought the whole point was to see if they had the quality of DSLR but the size of a compact? They never compared the quality to a DSLR nor the size to a compact. So while we saw that the Sony was a clear winner against the Olympus, I'm still none the wiser as to whether the results were DSLR quality or not!
Still, it was nice to see Disneyland Paris featured on one of the 5 main UK television stations. It doesn't happen often, unless it's on something like Holiday Showdown, where the family who chose Disneyland Paris really didn't show off the best parts of the resort, but that's another blog post for another time!