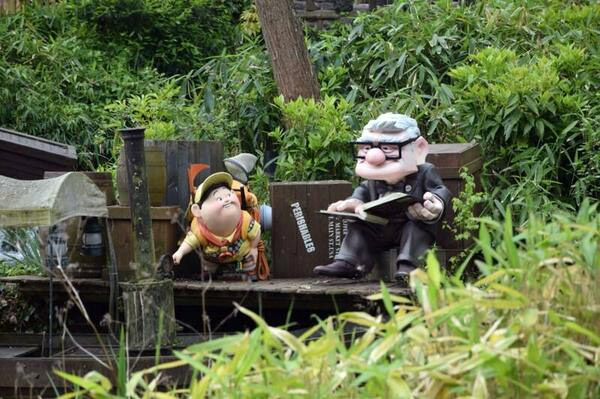 Disneyland Paris News: Carl and Russell From UP Invade Adventureland
Big news in Disneyland Paris yesterday, and thanks to our friend @InsideDLParis we have photos of these new additions to Adventureland. Namely Carl Fredricksen and Russell from the film UP, who can be seen near Colonel Hathi's Pizza Outpost.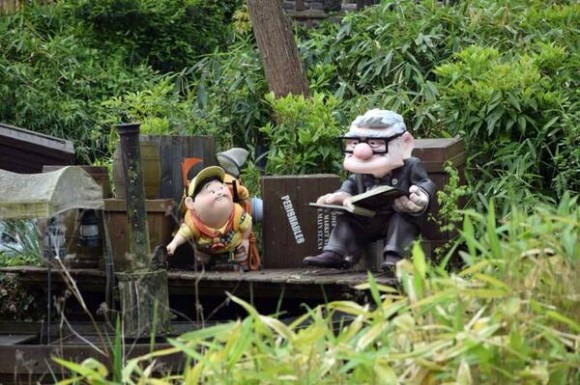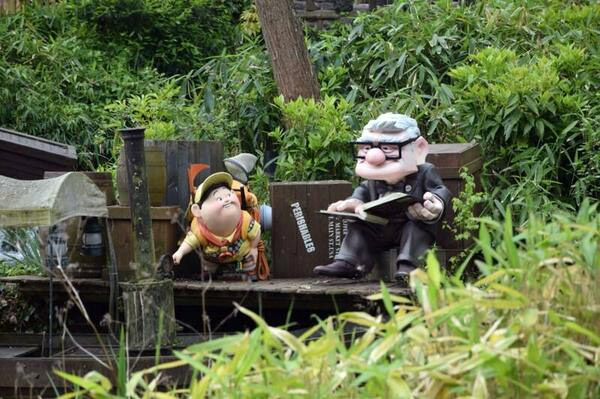 On the one hand, there's the question of why they feel the need to add characters to such a nice area in Adventureland. Surely there are enough characters all over the resort that we don't need to spoil such a beautiful area of natural beauty with man made models of characters from the film UP. However, this is a Disney park, and more than ever before people are expecting to see characters. I realise just because people want characters everywhere that's what they should do, but they are quite subtle, and their story does fit into where they are placed in Adventureland.
I know for sure that when I bring my son, he'll be thrilled to see them, and will excitedly point them out to me. But should Disneyland Paris just be catering for the fickle tastes of children? After all, it was Walt himself that declared that Disneyland would be for people of all ages. I think, however, that quite a large proportion of adults will be happy to see these new characters too, as the number of people visiting Disneyland Paris and wanting to see areas without characters is on the decline. Disneyland Paris in the past few years has been very focussed on adding character experiences, replacing a theatre and post attraction experience with meet and greets for Mickey Mouse and Princesses respectively.
While some will see Carl and Russell in Adventureland as somewhat of a travesty, could this just be the start? Can we expect to see more characters added to areas of the park that, in the minds of some, need something to make them more appealing? How long before wee see Tarzan added to one of the trees in Adventureland, or Woody and Bullseye to Frontierland? We already have Wall-E and Eve in Discoveryland, but now Disney own Star Wars, surely R2-D2 and C-3PO can't be far behind. Will it even get to the point where we see characters added to Main Street, U.S.A.?
I think, if done well, these additions could add something to the resort that the majority will enjoy, and it could even become a quest to find and photograph them all. Overuse of these character placements could end up looking tacky and spoil the landscape, but we have to trust that it will be done in a tasteful and fitting way.
My question to you, oh faithful readers, is do you like the addition of Carl and Russell, and do you want to see more characters in the parks?