The Disneyland Hotel in Disneyland Paris is Getting a Big Update – What Will Change?
One of the many news items revealed at last Friday's InsidEars launch is that Disneyland Hotel is getting a renovation in 2020 and it doesn't sound like it's just a bit of TLC. It was announced that designs have been shown to incumbent CEO Catherine which she called amazing. This comes off the back of renovations and rethemes to all the other on site hotels (I still don't class Disney's Davy Crockett Ranch as on site even if Disneyland Paris do, as it's further from the resort than all the off site hotels!):
Hotel Santa Fe – Cars
Hotel Cheyenne – Toy Story
Sequoia Lodge – Bambi
Newport Bay Club – sailing themed Mickey and Donald etc.
Hotel New York – Art of Marvel (in progress)
So what will become of the Disneyland Hotel, which at the moment doesn't have a single film theme such as Santa Fe with Cars, or Cheyenne with Toy Story, but features subtle touches from films like Peter Pan and Pinocchio. It's such an iconic and already elegantly styled building, that unless they changed the exterior, very few, if any film franchises would suit it. Changing the exterior is a huge no no, and isn't something Disneyland Paris would ever consider, but maybe Mary Poppins could slide in and feel at home.
I'll admit it, I'm not the biggest Mary Poppins fan, though I did gain a greater appreciation for it after watching Saving Mr Banks, and promised to watch it again, something I'm yet to do a few years on. The new film will certainly revitalise the Poppins brand, which although remains a favourite with hardcore Disney fans, isn't a film that new generations rush to see. But is that enough? Personally, I don't think so, especially when talking about the theme for the flagship hotel at Disneyland Paris. If indeed it were to be the focus of one film, or series of films, they'd need to be far wider reaching than Mary Poppins. I'd bet that Disneyland Paris regrets their decision to go with Bambi for Sequoia Lodge, a film that I'd imagine hardly anyone cares about these days and is certainly among the duller offerings produced by the Walt Disney Company.
What about Star Wars? Marvel has a themed hotel coming with Hotel New York, and Star Wars has a much longer track record of mainstream success at the highest levels, would it not make sense to have the biggest hotel in Disneyland Paris rethemed to the biggest film franchise in entertainment history? I know, you are thinking that Star Wars and the Disneyland Hotel do not match at all, and I've already stated that they won't change the exterior. But maybe, we could go with something like the Theed Royal Palace in Naboo, from the much-loved Phantom Menace. Yes the main buildings have domed roofs, but some of the outer buildings have more traditional stylings that would fit with the Disneyland Hotel, and besides, adding a few domes wouldn't change the look that much. Then, and wait for it, we could have Jar Jar Binks meet and greet opportunities, most suitably in Inventions – amazing.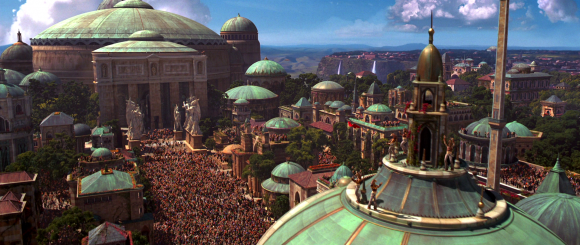 Okay, so by this point, and I'd think possibly before, you'll have realised that I'm not being totally serious with the Star Wars suggestion. I actually think Disneyland Paris will stay with the current idea of showcasing a selection of films and characters, but rather than just a touch up here and there, the interior will be updated hugely. It'll keep the same luxurious feel, but will be far less dated and will be vibrant rather than muted in the colours and designs used. Could they follow suit with the Art of Marvel Hotel and have an Art of Animation, which I guess is not too far from what they have now? One problem is that in Walt Disney World a Hotel exists of the same name and is a value Hotel, not something Disneyland Paris want to see their pride and joy positioned as, even if only by association.
It's hard to imagine what could be classed as amazing, without too much changing, but then that's why Disneyland Paris have a staff of designers that constantly raise the bar and I just write about it on this blog. Maybe there will be massive changes, that at this stage and to my uneducated mind seem ridiculous, but in 3 or 4 years time will be seen as revolutionary and turn the Disneyland Hotel into even more of a must stay location when visiting Disneyland Paris. I don't expect to see any big announcements, albeit the one from last Friday, until The Art of Marvel Hotel is unveiled, but until then, as always, it's fun to speculate. What are your thoughts Disneyland Paris fans, what do you think they will do to Disneyland Hotel and what films will be featured?