Disneyland Paris Merchandise Wish List
On Tuesday 30th September there will be a Shareholders Club conference that will present the Merchandise Strategy of Disneyland Paris. If you are a member of the Shareholder's Club then you will have had an invite and you had until the 19th to confirm your attendance at the conference which takes place at Hotel New York. In their words:
This conference will be animated by Florence Roussel, Director Merchandise Product and Hélène Chaupin, Senior Manager Product Development. It will be held only in French and will be followed by a questions & answers session.
I'm very interested to see what comes out of the meeting, so if you are going, then please report everything that is said – thanks! In the meantime, I thought it would be interesting to talk about the kind of merchandise I'd like to see added, and also what all of you want too.
Disneyland Paris Clothing
I personally find the clothing on offer to be quite garish and in your face. So many of the t-shirts seem to have huge Mickey Mouse images on them, and often in bright colours too. No doubt there will always be a market for these, but there are also those of us who like something a little more classy. I remember years ago getting some lovely cotton shirts with small embroidered Mickey logos on the pocket – the branding was so subtle, and the quality so good, I wore them to work for years.
Not everything has to be suitable for the office, but some originality and design improvements wouldn't go amiss. Look at these t-shirts on offer for Disney Dreams!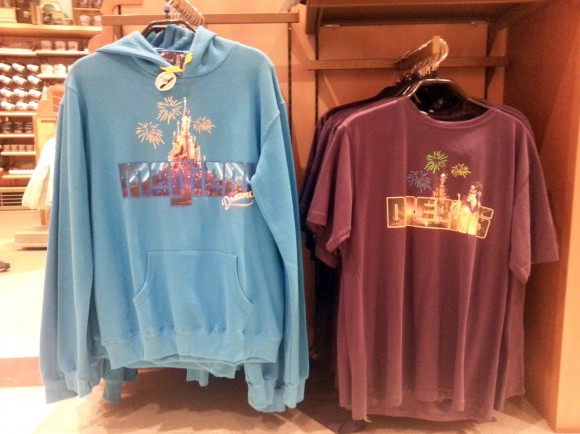 Now looks at these classic attraction t-shirts being sold on the US Disney Store: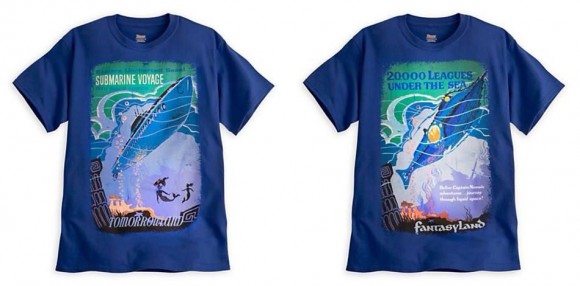 Now I know we are going from one extreme to the other, but imagine those classic t-shirts tailored for Nautilus and sold in Disoveryland. Designs of this ilk would be much preferable than than overly cartoon pieces of clothing we see all over the resort, or at least as good as, sold alongside.
Attraction Specific Merchandise
This ties in with the above t-shirts designs, and Tower of Terror does it really well. I came away with a Tower of Terror keyring, bell and Stitch statuette the last time I visited, but need more. I would pay way over the odds for a classically designed CineMagique t-shirt, or a replica mobile phone akin to what George has in the film, with that familiar ring and maybe some of his quotes from the actual film. They could do so much with the wonderfully themed attractions they have, but the merchandise we get is for the most part lazy and forgettable.
Disneyland Paris LEGO Kits
I know I've said it before, but it would be remiss of me to not mention it in an article like this. Get Disneyland Paris merchandising in a room with LEGO and lock the door until they agree to release some kits of Sleeping Beauty Castle, Pirates of the Caribbean, Phantom Manor, to name but a few. Come on, it's a license to print money. Not only does it mean you have exclusive product to sell in the Disney Village LEGO Store but you have LEGO kits that will without doubt appeal to both kids and adults alike.
Euro Disney Retro Range
I trawl eBay looking for old Euro Disney branded items. and judging by how often I'm outbid and how much they end up going for, I am not alone, not by a long way. This doesn't have to be a massive range, but it's nice to remember the beginnings of the resort and retro is always in vogue. I for one would love something like a replica of the opening day ticket, maybe personalised with my name or photo. Would I prefer the original? Yes, of course, but the last one of those went for £200 on eBay, so for £10 I'll gladly buy a reproduction.
Lilliput Lane Disneyland Paris
For those unfamiliar with Lilliput Lane, they make miniature reproductions of famous landmarks and buildings, from real life and fiction. They have in the past made a series of the familiar buildings from long running British soap opera Coronation Street. I like the Disney Traditions series of ornaments, but I can get them on a high street jewelry and gift store back home. Why not instead offer a series of miniature Disneyland Paris attractions instead? Imagine getting Phantom Manor and Big Thunder Mountain to represent your own Frontierland, or Pirates of the Caribbean and Skull Rock for Adventureland? Of course the pièce de résistance would be a miniature reproduction of Sleeping Beauty Castle, to display in material contrast next to your LEGO version.
Disneyland Paris Music
This is both the most obvious and baffling of everything I've talked about. It was back in April 2013 that a Disney Dreams! soundtrack was talked about, but 18 months on and nothing. Of all the questions I get sent from Disneyland Paris fans, asking about A Dreams! CD is by far the most popular. I can only think there must be rights issues, but surely it's one worth sorting out? While vendors selling Light'Ears don't fair well I can imagine if they sold the soundtrack after each of the nightly Dreams! performances they'd be going back with empty carts and sacks full of money.
It used be that we'd get a CD single with every piece of new music, but not only do we not have anything for Dreams!, but last year's new Halloween song, Vive La Vie, hasn't been released either.
Then there's the music you hear when walking around the different lands. I long to be able to buy The Sounds of Main Street, U.S.A. on CD, or The Atmosphere of Frontierland. Throw the whole set in a nice boxset and you'd have a premium music collection that would be pride of place in any home.
I could go on, but I thought I'd throw it open to you lot, and here are a selection of the answers you came back with to the question of what Disneyland Merchandise would you like to see sold in the resort.
Daniel Davies: A Disneyland Paris Monopoly board game
Bianca Cocquyt: Girlie shirts in bigger size's. Cause that XL isn't an XL
Hannah Arnold: More attraction based housewares, I love my phantom manor blanket but I could use a star tours one to go with it
Missy Ravenswood: Phantom Manor playset, dolls, figurines, headband
Jackie Blyth: Full sets of dinnerware so you have them all nicely packed for carrying home also might be cheaper
Holly Vizer: Proper ear hats that you can have embroidered with names! Decent Dreams merchandise!
Aveen Gavaghan: More rare character stuff – One of my favourite Disney characters is Mufasa, I always thought the Disney parks would pretty much sell something of every character so I was surprised to find they didn't
Cafe Fantasia: Kevin Kidney's Mad Tea Party Tea Cup Set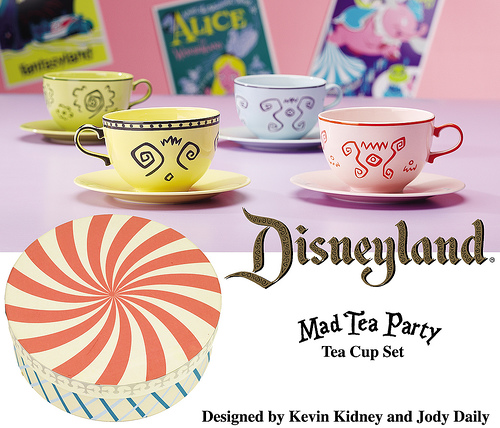 Emily Holgate: More books in English about the parks!
Kelly: Suzie and Purla soft toys. They are at Auberge and my daughters love them. So sad to find they couldn't take one home
Some great suggestions there, and in particular I want a Star Tours throw, that tea set and Disneyland Paris Monopoly. One thing is for sure, there is a high demand for a bigger variety of merchandise and for Disneyland Paris to think outside the box a little more. The meeting is just 3 days away, let's hope a new direction for Disneyland Paris merchandising comes from this.