Disneyland Paris in 2014: The Facts, The Rumours & The Wishlist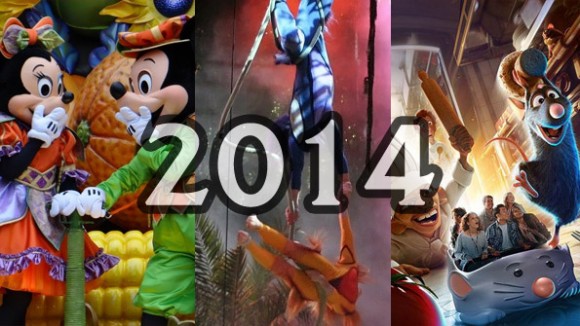 We're almost one month into 2014 so I thought it was about time we looked at what is coming up for the rest of the year – what we know, what we have heard on the grapevine and finishing off with what I want – my wishlist.
Disneyland Paris in 2014: The Facts
Ratatouille: L'Aventure Totalement Toquée de Rémy
I created this website in September 2010, and the new Ratatouille attraction, restaurant, shop and themed area is by far the biggest thing to happen in Disneyland Paris in that time. We know it's coming this summer but as yet not an actual month or day. The word going round is that advertising will start going up in Walt Disney Studios much like there was for Crush's Coaster and the rest of Toon Studio back in 2006. We've not had a new ride of this magnitude since Tower of Terror, and anticipation is building by the week, for what promises to be the most advanced and spectacular attraction in Disneyland Paris history.
Flora's Boutique
Gone is Town Square Photography which closed it's doors for the last time this Saturday just gone, In its place will be Flora's Boutique which will by all accounts sell French inspired souvenirs. I'm really disappointed to see Town Square Photography go as it was the most uniquely themed shops in Disneyland Paris, with so much character and history. I get that the way we take photos has changed, but I still think they could have kept it and used it first and foremost as the hub for full blown Disney PhotoPass. If mobile phones are the way a lot of people take photos then embrace that too, and include charging points and phone accessories. I really don't want another souvenir shop as we have so many in the resort already, but let's see what the outcome is – I may end up liking Lily's Boutique.
Refurbishments
We know a lot is on the cards from the What's New, What's Next Event last year, and that has already started. The Indiana Jones attraction closed for major works last week – both the loop and the temple are being replaced. The Newport Bay Hotel is having major works done too, with the other hotels next on the schedule of planned improvements. If I didn't know better I'd say this is part of making Disneyland Paris look better than ever for the 25th Anniversary, which is still more than 3 years away.
Halloween and Christmas
Both these big seasons had new additions for 2013, which both proved very popular to guests. I wonder if we will see changes or new floats added to either of the cavalcades, or whether we'll see seasonal additions to Dreams! like we did with Disney Dreams! of Christmas. Whatever does happen, from what we have seen in 2013, Halloween and Christmas are must visit celebrations in Disneyland Paris, which get better every year.
The LEGO Store
I'm not sure whether I should say anything as I don't want to jinx this troubled shop, but it will definitely be opening in Disney Village in 2014, and possibly in February. When it finally does open it will bring some much needed life to this rather tired area of Disneyland Paris, and hopefully clear the path for the next bit of rejuvenation.
Disneyland Paris in 2014: The Rumours
Captain EO
I wan't sure whether to put this in the fact or rumours section, but I've not seen this actually confirmed by Disneyland Paris, though it has been by people connected with the resort. Word on the street, well the interweb, is that when it closes next month nothing will take its place. I think I'd use the area for meet and greets, maybe theme the area for Star Wars and have people meet characters from the films there.
Spring Festival
This sprung up two weeks ago when people got wind of a flower festival in Disneyland Paris, which is said to be part of a bigger Spring Festival. These same whispers have alluded to another special 'happening' during this season and some new music too. This screams cavalcade to me, and after the success of the new Halloween and Christmas cavalcades I'm all for this. If this does come to fruition it means we have most of the year covered by seasonal celebrations leaving no need for unpopular marketing celebrations such as the New Generation Festival. Of course big landmark dates should still be celebrated, such as the 25th and 30th anniversaries.
The Tarzan Encounter
The return of this show has been rumoured so many times that if it does come back there will be a big void in the Disneyland Paris online community! The only official word we have from Disneyland Paris is that they can't confirm it's coming back, but we've had lots of people saying different things since that. If it does come back, then a summer with both the new Ratatouille launch and the return of Tarzan to the Chaparral Theater would be the best summer ever in Disneyland Paris.
Disneyland Paris in 2014: The Wishlist
What's New, What's Next 2.0
Last year's Event saw a whole new level of openness and communication to fans, and it's something I'd love to see happen again this year. We learned so much about what was planned in Disneyland Paris and also had the launch of The Art of Disney on Demand. It really was a ground breaking event that needs to be repeated.
Official Disneyland Paris Blog
I think a blog is very much overdue. We have the Twitter and Facebook pages which give us some insight, but bigger feature articles about current happenings, developments and the resorts history would be welcomed with open arms by the fans. Disneyland Paris gets the odd mention on the Disney Parks Blog, but really it's time for its own dedicated version.
Shows
If Tarzan comes back this is covered to a certain extent, but we need shows back in Disneyland Paris. They are such a big part of the history of the resort and we've some amazing shows over the years – remember The Legend of the Lion King and Mickey's Winter Wonderland? If big shows are a no no, then how about some little ones like we used to get in Frontierland/Halloweenland during Halloween, or even some streetmosphere like we used to have in Walt Disney Studios? Let us have shows, of some kind, somewhere 🙂
New CD
Whether it be Dreams! or a cavalcade compilation or both, I want, and we need a new CD release in Disneyland Paris. We've seen so much new music introduced in the past couple of years and we could have more on the way – let us buy it, please!
I think we can all agree that 2014 will be an interesting and exciting year for Disneyland Paris, but now its your turn! What are you most looking forward to, what do you want and what have you heard?