Happy 24th Birthday Disneyland Paris – 24 Things I love
As the title may suggest, Disneyland Paris opened its doors to the public 24 years ago today, on April 12th 1992. I personally didn't visit until 2002, but in the my 14 year love affair with Europe's #1 tourist attraction I've experienced a lot of magic. In no particular order, except #1, here are 24 of the many things I love about Disneyland Paris.
#24 – Pirates of the Caribbean
Did you really think I could start off with anything other than the single greatest attraction in Disney Parks history? By all accounts the best version of Pirates too, and having ridden it in both Tokyo and Paris, I can say that's true of those two at the very least. The ultimate combination of setting, atmosphere, smell, music and ride experience – it's the one attraction I absolutely must do each and every time I visit Disneyland Paris.
#23 – Arriving on the Eurostar
I get on in London, go through the tunnel, checking for water leaks the whole way through, and then I'm in the French countryside. There's a farm to the left with a sign in French, people driving on the wrong side of the road to the right, and little else for the next hour or so. That's okay though, as these are all signs that I'm in France, and that's where Disneyland Paris is, my happy place. We are just minutes away and I see it, Space Mountain on my right – my first view of Disneyland Paris, and in just a few minutes I'll be back in the magic.
#22 – Pins
I don't collect as many as I used to, but every now and then a pin comes out that I absolutely must have, like the Last Trip to Endor pin released last month. I buy the ones that mark a special moment or experience, and the pins for hotels I've stayed in and attractions I've been on. Some in frames, some in my pin bag and others scattered around the house – Disneyland Paris pins is a never ending collection, and habit.
#21 – Meeting Characters
This has always been a casual, if there's no queue, not that bothered kind of thing for me. That was until my last trip, and now I understand just how magical a really good character meet can be, with fantastic interaction that is different every time. Every character meet is different for every guest, and each memory unique.
#20 – Disney Dreams!
Introduced 4 years ago for the 20th Anniversary, Dreams! (must include the exclamation mark) is a show that piques every sense and elicits happy feelings like very few things on earth. I tried to persuade myself I didn't need to see it on my last trip, but who was I kidding? Out of Inventions I rushed to immerse myself in this multi sensory masterpiece once again.
#19 – Inventions
Well as I mentioned it in the previous point it'd be rude not to feature the greatest dining experience in Disneyland Paris, which combines the most delicious and grand spread of food on the resort, with arguably the best character interaction too. If that's enough, and you are very lucky, you can look from your table down Main Street, U.S.A – perfect.
#18 – Disneyland Paris Brochure
Walking past a travel agent and seeing the new Disneyland Paris brochure in the window, like me I know you can't resist going in and grabbing a copy. Yes we know practically every single piece of information contained inside, but it's like a magazine, available to everyone, about our special place – amazing!
#17 – Music
Every single piece of Disneyland Paris music will bring a memory, of a moment in time spent in Disneyland Paris, and it's usually an incredibly happy one. Dancin' (A Catchy Rhythm) takes me back to my first ever visit, when I became enchanted with this magical place, whilst Chante, C'est Noel reminds me of Christmas 2003, being absolutely freezing, but signing along as the festive parade went by. I have a huge collection of Disneyland Paris music, a collection that I hope one day will once again grow with some new releases.
#16 – Sophie
No stay is complete with watching Sophie count down the 10 things to know before you go, in the must infectious and endearing over the top enthusiastic manner imaginable. Turning the television on to see her waxing lyrical about the place I love is one of the very first things I do, and Disneyland Paris wouldn't be the same without her. SORTED!
#15 – Seasons
I love the recent move towards seasons rather than annual celebrations, and now I've experienced Swing into Spring I can hand on heart say that I love them all, and am glad they are all very different, offering a variety of shows, parades and characters. This year I've done Spring, am set to visit again in summer, and once more for Halloween. As someone who doesn't go as often as I'd like, that's a record for me!
#14 – Yellow Bendy Buses
While I usually like to walk from my hotel to the parks, and vice versa, there are always occasions when I find myself taking the bus. What awesome buses they are too – with huge wrap-around branding now featured on them and the thrill of standing on the disc in the middle that connects the two parts – like a mini attraction itself.
#13 – Carrier Bags
I know that probably sounds like quite a strange one, but after buying far too much merchandise each time I visit, invariably I come home with a suitcase full of carrier bags. However, there's that early morning getting my lunch ready before work where I reach for a bag to put it in, and there's Disneyland Paris smiling back, and a little piece of magic comes to work with me.
#12 – Flowers
I wouldn't say I'm the world's biggest lover of flowers, but I do appreciate how well the flower beds are kept at Disneyland Paris and what they add to the resort, both as an aesthetic and as part of the ecosystem. I do wonder where are all the bees go though, as I have rarely ever seen one there.
#11 – Madames et Monsieurs
None of us would wait if didn't have to, but sometimes you do, and when it's waiting for a parade or Dreams!, it's nice to hear that familiar voice come over PA and tell us how long, in a variety of languages. Am I the only one who sometimes hears volovants instead of vous les enfants?
#10 – Extra Magic Hours
Stay on site or have an Annual Passport and you get two hours before the park is fully open to enjoy a select number of attractions and characters with far fewer people around. We normally head straight to Peter Pan as that has monstrous queues even for Fast Passes later in the day. Now I'm all in for character meets, that may change in the summer.
#9 – Disneyland Park at Night
Is it the most beautiful Disney Park during the day? Undoubtedly, but at night it takes on a whole new and equally as magical personality. Look down Main Street with lights each side, or across to Discoveryland to see the lit up Space Mountain and Orbitron, or take a walk through Adventure Isle on a summer's evening. You almost won't recognise the Park you know and love so much during the day.
#8 – Parades
Over the years they have given us some of the very best songs, and even though it takes me a while to stop missing the previous one, I always end up liking the new one. Great scenes with waving characters, and performers dancing and having fun with guests. When I visited in May last year I didn't see the parade, by choice, and it was something I regretted once home. Nowhere else can you see so many films and characters depicted in one 20 minute slice of upbeat entertainment.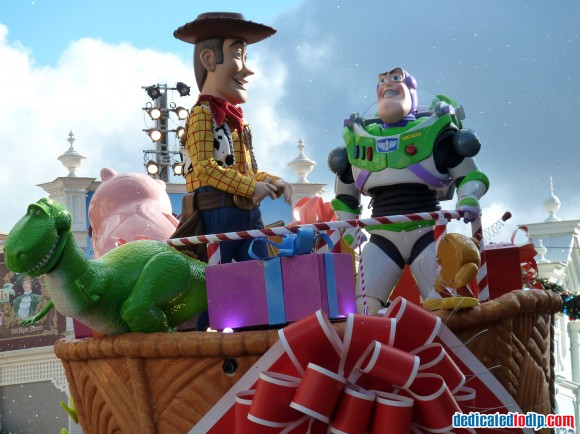 #7 – Hidden Treasures
I don't want to go into too much detail in case some of you don't know all of the hidden treasures around Disneyland Paris, but if I have one piece of advice for you it's to take the guided tour. It's absolutely fascinating, and you'll see the Parks in a completely new light, and be looking at things in a way you never have before. On the surface Disneyland Park is a wonder of design, but dig a little deeper and you'll be amazed.
#6 – It's Goofy, Wake Up!
Other character voices may be used too, but whenever I've stayed onsite in recent years my alarm call has been Goofy talking me to wake up. I have a body clock that gets me up between 6 and 6.30am each and every morning, but I still can't resist programming a wake up call just so I can hear Goofy's voice.
#5 – Escapism
In Disneyland Paris the rest of the world doesn't exist. I can disappear into a fantasy world of the past, present and future and leave my worries at the gate. I can relax in a bubble of magic where I won't see mobile phone shops every three buildings and don't have to battle with commuter traffic on the motorway every morning. It's the ultimate getaway where nothing can interfere with my quest for happiness and fun. In Disneyland Paris nothing else matters except having a good time, and getting a good spot for the parade.
4 – Lake Disney and Rio Grande River
More often than not when staying onsite, it's Hotel Cheyenne or Santa Fe for me – the Wild West or the desserts of New Mexico. The walk to the parks doesn't take that long and I do love to walk along the Rio Grande River, saying hello to the ducks (bonjour les canards) as I pass, and marvelling at the huge fish that dwell in Lake Disney. Panoramagique hovering over the lake is a sight to behold in itself, especially if you catch it just as the sun is rising, or setting.
#3 – Friends
Over the years I've made a great many friends, both online and offline, through Disneyland Paris. Whilst many of my other friends still raise an eyebrow when I talk about recording a podcast or writing an article, I know there's a community of like minded people who appreciate the happiest place on earth just as I do, and are happy to chat ad nauseum about whether Pirates of the Caribbean should have Jack, or what scene from Dreams! should or shouldn't change. Thank you all for keeping me sane, or maybe keeping me away from the sanity that is standard everyday non Disneyland Paris life.
#2 – Cast Members
As much as I love the characters, the attractions, the design, the food and everything else that makes the headlines, it's the Cast Members that are the glue that hold Disneyland Paris together. There's the ones that say hello as you enter, the ones that wave at your child making them feel like the most special person in the world, the ones that dance and make you smile while you are waiting for the parade in the rain and the ones that take your photo so you can all be in it. Without them Disneyland Paris would grind to a halt, and without them there would be magic.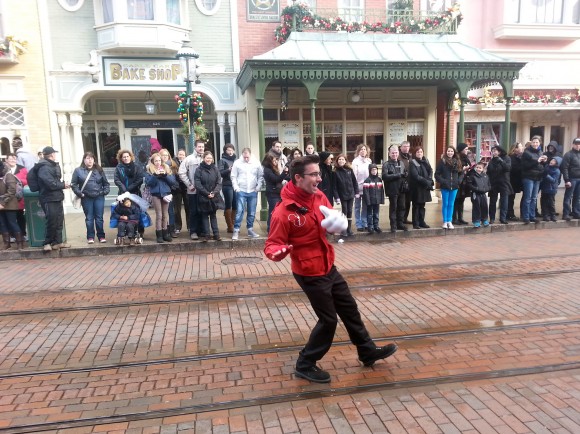 #1 – I'm Home
There is almost no greater feeling in this world, than walking through the turnstiles of Disneyland Park, breathing in the air as you look down Main Street, U.S.A and saying I'm Home. You don't say it in your head, nor do you say it quietly, you say it out loud and proud – I'm Back, I'm Home!
It would have been easy to just reel off a list of my favourite 24 attractions, characters and shows, but I decided to delve a little deeper. Hope you enjoyed it, and Happy Birthday Disneyland Paris – here's to another year of magic making.