20 Questions with a Disneyland Paris Fan – Stacey Brady
1. When did you first visit Disneyland Paris?
9th – 11th December 1998 – The engagement trip. We booked a special deal for £99 p/p for 2 nights but it was via coach.
2. How many times have you been in total?
3 times
3. What's your first memory of Disneyland Paris?
Sitting in front of the castle watching the world go by.
4. What's your favourite attraction and why?
I haven't got one favourite, there's no many to choose from but if I could only visit one attraction it would be It's A Small World.
5. Where do you stay when you visit Disneyland Paris?
Our first visit, in 1998, was at Newport Bay Club. In 2010 we stayed at Sequoia Lodge & our most recent trip in November 2011, we stayed in the Santa Fe. Whenever we go on any holiday we don't like staying in the same place more than once as it makes each visit merge into each other. Next time I think we may try either the Cheyenne or Hotel New York.
6. Where's your favourite place to eat?
We discovered Plaza Gardens on our last visit and loved it. Lots of choice and very very nice food. For quick service we like Colonel Hathi's
7. What you do first when you get to Disneyland Paris?
Take a leisurely stroll down Main Street as Main Street is my favourite area of the Parks.
8. Pins, Vinylmations or neither?
Vinylmations. I bought a few Muppet ones for my husband on our 2010 trip, but they were stolen along with our daughters buggy. So on our recent trip I bought him a couple of Star Wars ones & I bought myself a Toy Story & Animation Series #1. I have also bought a Furry Friends which was one of the few that were in good condition.
9. Do you want to see the Captain Jack Sparrow brought to the Disneyland Paris Pirates of the Caribbean like they have in Walt Disney World and Disneyland?
No, they should keep it as the original ride.
10. Is there anything in Disneyland Paris you have never done that still would like to do?
I would love to stay at the Disneyland Hotel. It's a bit out of our budget though.
11. Before you do you plan yours days or just see what happens when you are there?
I usually plan where we are going to eat but every time we've visited the restaurants we wanted to eat in have been closed so we end up just following our noses. We usually go to Disneyland Park on the first day, Walt Disney Studios on the second day, Disneyland Park on day 3 then half a day at the studio & half a day at Disneyland Park on the last day.
12. What piece of music or song do you most associate with Disneyland Paris and why?
Chante, C'est Noel. We always go at Christmas and Jess (my daughter) still sings it now (it's April)
13. If you had to make someone a fan of Disneyland Paris by showing them 5 attractions/buildings/shows – what would they be?
Pirates of the Caribbean, Crush's Coaster, Toy Story Playland, Playhouse Disney Live, Town Square with the Christmas Tree.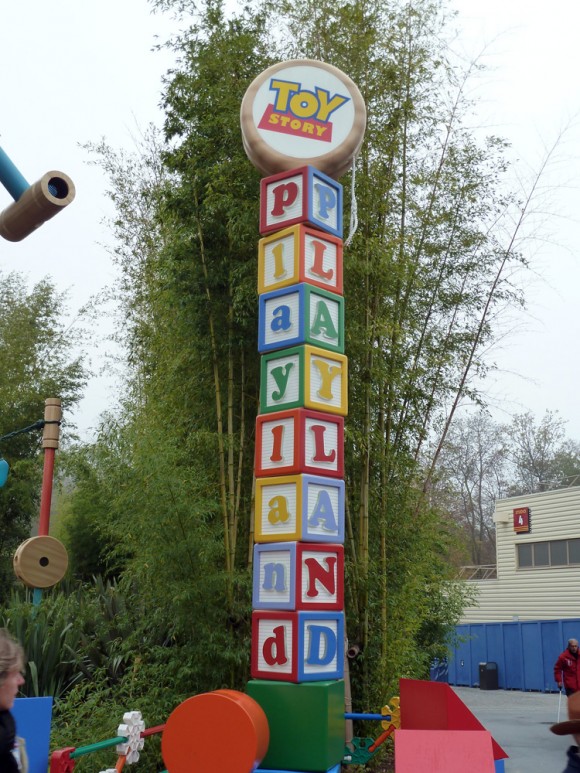 14. If you could add one new attraction to Disneyland Paris what would it be and where would you put it?
Splash Mountain. My favourite ride in WDW, it's definitely missing a water ride.
15. If you could spend one night anywhere in Disneyland Paris, except the hotels, where would it be?
I would spend the night in the castle so I could see out over the whole park.
16. Are you planning to visit Disneyland Paris during the 20th Anniversary Celebrations, if so when?
Yes, we're hoping to go in November again although I would like to try it at a different time of year when it's a bit warmer.
17. If you could be a Cast Member for a day in Disneyland Paris, where would you work?
I would be in one of the parades, maybe as Mary Poppins.
18. Is there anything you dislike about Disneyland Paris or would change?
On our last trip we noticed that not as many characters just wandering around, so I would add more of those. And less restaurant closures in November.
19. What's your single greatest memory of Disneyland Paris?
Just the look on Jess's face when she saw the parade for the first time. The sweetest thing ever..
20. In no more than 20 words I love Disneyland Paris because…
You can leave your troubles at the door and it's such a happy place.
Want to be featured in 20 Questions with a Disneyland Paris Fan? Just email the answers to the questions, which can be found here, to dlp@dedicatedtodlp.com and let everyone know what you love about Disneyland Paris and why it's the happiest place on Earth.