Disneyland Paris News: Disney's Enchanted Christmas 2015 – Everything you Need To Know
Every year the news of what will make up Disney's Enchanted Christmas in Disneyland Paris is something I look forward to reading about, eager to see what my favourite time to visit the resort has in store this year. The details are on the Dutch version of the official news website, but not the English one yet, so with the help of Google Translate, let's see what we have to look forward to.
Royal Christmas Wishes
Last year Magical Christmas Wishes was the tree lighting ceremony, but this year Wishes means something else entirely:
At Royal Christmas Wishes see all your favorite Princes and Princesses on Castle Stage appear! Aurora and Phillip (Sleeping Beauty), Belle and her Prince (Beauty and the Beast), Ariel and Eric (The Little Mermaid), Snow White and her Prince (Snow White and the Seven Dwarfs), Cinderella and her Prince (Cinderella), Rapunzel and Flynn (Rapunzel), Tiana and Naveen (The Princess and the Frog) and Jasmine and Prince Ali (Aladdin). They are all there to celebrate the festive Christmas festivities! Three times a day at Castle Stage.
The info in Dutch says Rie for that last sentence, and I'm thinking maybe they left off the D and it should be Drie, meaning 3, which would be three times a day. Regardless, a bunch of characters appearing on the Castle Stage sounds like a fantastic idea, and who better to be in front of the Castle than Princes and Princesses. It'll be interesting to see what they do on the stage and if they stick around for photos and autographs.
Disney's Christmas Parade
During the Christmas season, you can admire the wonderful Christmas parade in Disneyland Park. None other than Santa Claus in his sleigh come together with Pixie and Mickey and his friends. Three times daily down Main Street, USA
This we know all about, and the rumours is apparently not happening and we won't we have another float coming in the form of Winnie the Pooh and Friends. Starting off as the Christmas Cavalcade a few years ago, this has been getting bigger and better every year.
Frozen is Back
the magic of winter without frozen is not publicity! Last summer, more than 500,000 guests have enjoyed the Frozen Sing-along and this winter the show is back! The show, in a beautiful ice landscape, combines singing and dancing with each other where the guests can participate. The famous sisters Anna and bring Elsa, along with their loyal friends Kristoff and Olaf, the show to life and give the experience Frozen live an extra dimension. In the show the following songs are sung: "Do you wanna build a snowman?", "In Summer", "Love is an open door" and "Let it go". The sing-along will be available from 14 November in Chapparal Theatre.
Facing the Sing-along at Cottonwood Creek Ranch, guests are invited to visit the market which is inspired by the Kingdom of Arendelle. Go here for the photo in the sphere of Frozen. Girls can be transformed here into Disney princesses for a day!
Finally, Anna and Elsa run several times a day through the park in a special carriage at: Frozen: A Royal Welcome. Frozen Sing- along, six times a day, twelve times a day on weekends Frozen: a Royal Welcome, three times a day
I loved all of this when it was part of Frozen Summer Fun, my thoughts you can read here. Add in the extra dimension of Christmas, which is somewhat synonymous with icy landscapes, and could Christmas Winter Fun be even better?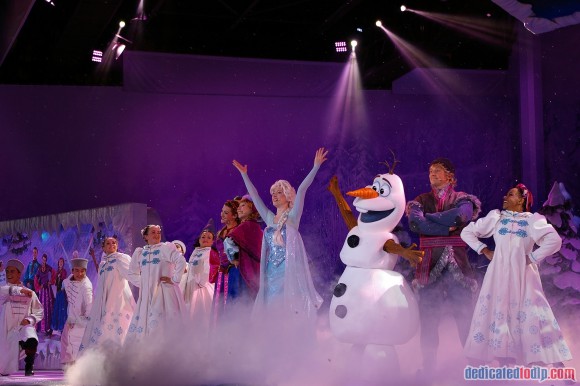 Merida "braver" than ever in Frontierland
Merida, known for her strong character, red wavy hair, her skill with bow and arrow and her remarkable gift to let her family turn into bears … . Guests able to have a photograph with Merida in the Disneyland Park!
Presumably this will be in her same location in Frontierland, and I know of some people in particular who will be overjoyed she is staying, being huge fans of Merida. Her scene maybe gone from Dreams! but at least she can still be met as a character.
Three visits from Santa
Santa Claus returns this year to Disneyland Paris for up to three special visits. Guests can meet Santa Claus and get a photograph in Meet Mickey Mouse, where he has his own lodge. Santa Claus is here to meet until December 25th. Of course you can see Santa in his sleigh in the Christmas parade surrounded by Huey, Dewey, and Louie! Santa Claus finish off the evening with Mickey's Magical Christmas Lights where he nightly alongside Mickey and Minnie the lights on the big Christmas tree fires.
This we knew was coming, a relocation of Santa Claus, as Arenedelle has taken over his usual location in Frontierland. I'm intrigued to see if they add any Santa theming to Meet Mickey Mouse, especially in the photo loaction room, usually Mickey's magician dressing room.
Mickey's Magical Christmas Lights
On Town Square is a tree of up to 24 meters high. At the end of the day, just before the evening show Disney Dreams! of Christmas, are the thousands of lights on the Christmas tree and across Main Street, USA ignited during Mickey's Magical Christmas Lights show, orchestrated by Mickey, Minnie and Santa Claus! Twice a day
When this was first rumoured I expressed my disappointment that it was changing from the utterly brilliant Magical Christmas Wishes, but what I am pleased to read here is the bit about the Lights show, orchestrated by Mickey, Minnie and Santa Claus, which indicates that the characters will just be there as an aside to the light show that I loved so much in the previous two years, and will not be the focus. At least that's my hope. If you want to see Santa and the characters then Town Square is the place to be, but if it's the lights on the tree and down Main Street, USA, with the accompanying music you want, then you can be anywhere in view of those – that's what I'm hoping remains from the previous incarnation. I'm very interested to see how this is done, and it has a lot to live up to from Magical Christmas Wishes.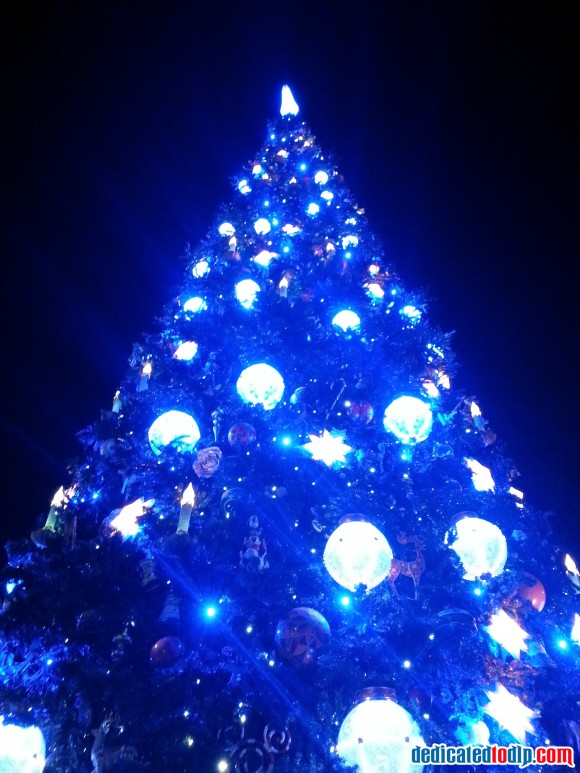 Disney Dreams! of Christmas
Disney Dreams! or Christmas is a fantastic evening spectacle full of fireworks, projections, special effects and fountains that takes place and for the Sleeping Beauty Castle. Castle transforms into a shimmering winter decor, in which Olaf the snowman from Frozen takes you to a magic show full of classic Disney characters with amazing effects and funny Toy Story version of the fairy tale The Nutcracker. And of course the smash hit "Let it Go" sung by Elsa from Frozen not missing!
I wasn't that impressed with the Christmas version of Dreams! last year, but then that was before I caught Frozen Fever thanks to the Frozen sing-a-long that was the feature part of Frozen Summer Fun. Maybe now I drink the Arendelle Kool-Aid I'll enjoy it a lot more. Last year saw a different version of Disney Dreams! of Christmas than the previous year, so it'll be interesting to see if this year it has changed at all from last year.
There is no mention of Disney Magic on Parade which is rumoured to be returning during the Christmas season this year, but then that's not part of the Christmas entertainment so entirely understandable. Likewise Mickey's relocated meet and greet location. There is nothing in the press release about character meets, but one would assume Sandy Claws will be back again, and he had a fantastic meet and greet location in Frontierland last year, with Phantom Manor in the background. There are rumours of the bunnies coming back after their visit to Disneyland Paris in Spring, and with Christmas outfits they will look super cute and be very popular. Add in the possibility of Marie and Pooh coming back again, and maybe some we don't even know about and there will be lots of opportunities to make use of PhotoPass+.
Overall it sounds pretty spectacular, when you consider how incredible Christmas in Disneyland Paris was last year, and now we have added Frozen entertainment and market area, new Castle Stage character happening, a new tree lighting ceremony and a rumoured extra Christmas Parade float. Add in all the decorations, which along with the snow, turn Main Street, USA into a winter wonderland, and dare I say it, but Disney's Magical Christmas for 2015 could be the best ever in Disneyland Paris.