20 Questions with a Disneyland Paris Fan – Naomi Clarke
1. When did you first visit Disneyland Paris?
Early July in 2013!
2. How many times have you been in total?
Only once for a total of five days, however I'm going again over Halloween this year which I am very excited for. This trip also means a lot to me as I was meant to be going with my Mum who sadly passed away in January, therefore this will be the last Christmas present (as she bought the tickets as a Christmas present) I will ever receive from my Mum.
3. What's your first memory of Disneyland Paris?
Driving through a officey sort of place which seemed very boring and dull, however just over the tops of these grey buildings was the top of the castle! Me and my best friend were crying and screaming with excitement at this point. It was also great to finally get to the Newport bay hotel and realise that I was finally on Disney turf. Me and my friend basically ran to the lobby whilst screaming 'everybody wants to be a cat' at the top of our voices with our suitcases rattling behind us and bags,pillows and blankets piled on our shoulders.
4. What's your favourite attraction and why?
I love the tower of terror because it's so immersive. You truly feel you are in an old run down hotel. I also love the cast members that work in it as they are very enthusiastic and, In all honesty, terrifying! When I went on it I was talking to me friend who started sniggering, I turned round and a cast member was smiling at me creepily about an inch from my face. This happened again a few minutes later but with two of them!
5. Where do you stay when you visit Disneyland Paris?
I have only stayed at the Newport Bay Club Hotel, but next time I will be staying at the Hotel Cheyenne.
6. Where's your favourite place to eat?
Blue Lagoon definitely! I love the atmosphere and the fact you can sit beside the ride! The food is also the best I have eaten in the park, and trust me, I ate a lot of food when I was there.
7. What you do first when you get to Disneyland Paris?
In July I first went on Rock n' Roller Coaster because my friend wanted me to first try her favourite ride, but next time I go I hope I can first go straight to Main Street.
8. Pins, Vinylmations or neither?
Neither.
9. Do you want to see the Captain Jack Sparrow brought to the Disneyland Paris Pirates of the Caribbean like they have in Walt Disney World and Disneyland?
Nah, I think the ride should be left as it was originally made.
10. Is there anything in Disneyland Paris you have never done that still would like to do?
The Indiana Jones ride because it was closed when I went. I would also love to stay at the Disneyland hotel and eat at the Auberge De Cendrillon restaurant, but I am way to cheap for that. Additionally I would like to go to the Princess Pavilion, but I'm just worried I would feel awkward talking to them and standing in a queue with lots of tiny kids.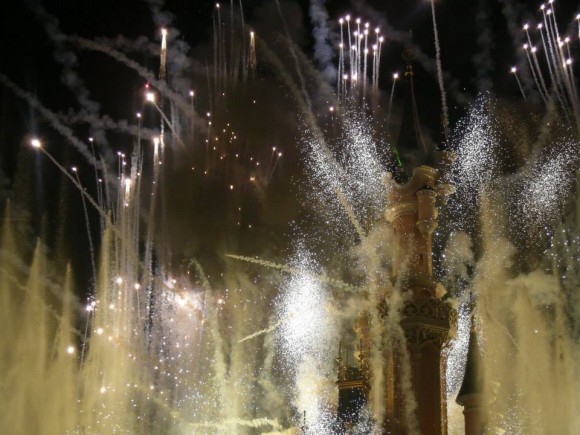 11. Before you go do you plan yours days or just see what happens when you are there?
Just see what happens, I never really plan days out.
12. What piece of music or song do you most associate with Disneyland Paris and why?
Once Upon A Dream just because the castle is Sleeping Beauty's.
13. If you had to make someone a fan of Disneyland Paris by showing them 5 attractions/buildings/shows – what would they be?
Definitely the Castle, Main Street, U.S.A., Disney Dreams!, Big Thunder Mountain and Crush's Coaster.
14. If you could add one new attraction to Disneyland Paris what would it be and where would you put it?
I would add a Splash Mountain and theme it so it would fit in with adventure land as I think that land is a little emptier than the others in the Disneyland Park.
15. If you could spend one night anywhere in Disneyland Paris, except the hotels, where would it be?
The main castle! You then have a great view of the whole park. Also the inside of the castle is beautiful.
16. Are you planning to visit Disneyland Paris when Ratatouille: the Ride opens?
I am going in October but not for Ratatouille, so it's just a plus that it's open when I'm there.
17. If you could be a Cast Member for a day in Disneyland Paris, where would you work?
I would be a face character, preferably Merida or Anna, and do meet and greets in Fantasyland or outside the castle.
18. Is there anything you dislike about Disneyland Paris or would change?
The huge mobs that surround the characters when they come out. I hate the way parents send their kids to the front and then push themselves through saying they need to get to their child (I saw this happen so many times when I was there) I wish they would find a way to force people to move back so the characters have more if a space to do their thing and therefore allow everyone to have a better experience in their meet and greets.
19. What's your single greatest memory of Disneyland Paris?
Meeting Tweedle Dum and Tweedle Dee when they pulled me into the meeting area by my plaits and then acted out the poses on mine and my friends t shirts. This was when I felt the Disney magic as it was an experience that we felt was just for us.
20. In no more than 20 words I love Disneyland Paris because…
It is so perfect, beautiful and a brilliant escape from the stress life brings.
Want to be featured in 20 Questions with a Disneyland Paris Fan? Just email the answers to the questions, which can be found here, to dlp@dedicatedtodlp.com and let everyone know what you love about Disneyland Paris and why it's the happiest place on Earth.