Disneyland Paris Rumour: Ratatouille The Ride To Open On July 15th 2014
Earlier today fellow Disneyland Paris fan site DLRP Express found an article in a newspaper owned by the Belgium press group Sud Presse which proclaims that Ratatouille: The Ride will open on Tuesday 15th July 2014. This is very close to the previous rumour of July 14th, but as a few people have suggested, maybe there is a press/dignitaries opening on the 14th and then it's open to the public on the 15th.
Last week rumours circulated that there would be a soft opening for Cast Members on Monday 23rd June, with a soft opening for park guests for Saturday 28th June. These dates would seem to tie in with that public opening date, though would it leave enough time to sort out any bugs that cropped up during that period? What it does mean is that the most advanced ride in Disney Parks history could be open well in time for many people's summer holiday stay in Disneyland Paris.
The area itself is really coming along now, as can be seen from these photos taken just the morning by @InsideDLParis.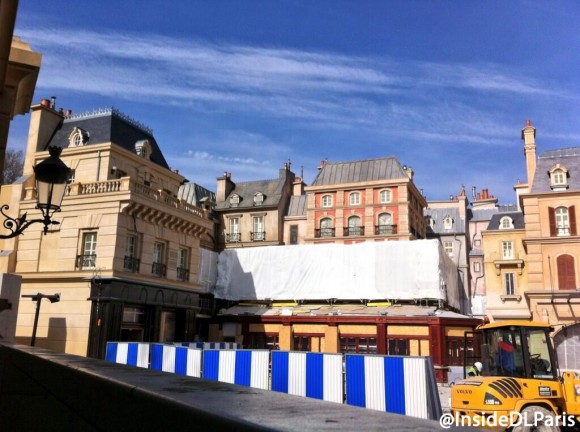 Of course it's going to put the most of Walt Disney Studios to shame, so I'm hoping a facade redevelopment plan is on the cards for the rest of the park. Ratatouille: The Ride at one point seemed a long way off, but if this date is true then it's a mere 130 days until it opens. Now we just need an official announcement by Disneyland Paris themselves and for them to start hyping up the opening both on site and in their marketing. It's the most exciting thing to happen in Disneyland Paris in years – be proud and tell the world!
Please remember, this is just a rumour and the source of the information has not been confirmed, but in the absence of any official news of the opening, all we can do is speculate.