Disneyland Paris News: Halloween 2014 Presentation

Earlier today,  some of the French fan sites were invited to a special presentation to talk more about Halloween 2014 in Disneyland Paris.
Maleficent's Court
So what did we learn that we didn't know before? Well let's start off with Maleficent's Court, which was the most speculated upon of the new announcements from a few weeks ago, simply because we weren't totally sure what it entailed. We do know a little bit more now, namely that the brambles in the courtyard of the Castle will move with the wind, and that the whole structure weighs 3 tons. We can get some idea of what it will look like from this photo of the concept art taken by @DisneylandBerry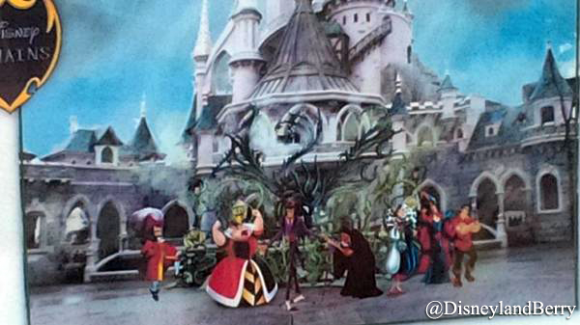 Here is a further piece of concept art courtesy of DLRP express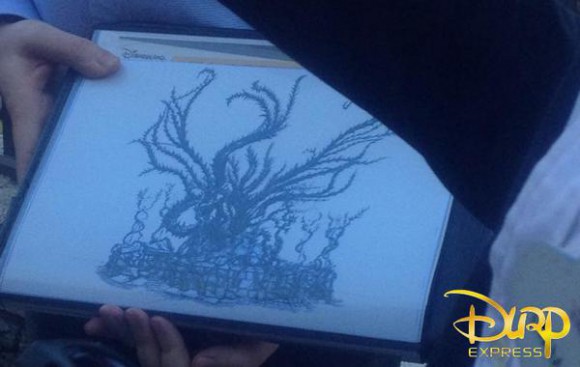 I was imagining it would be bigger, and involve the Castle more, but then this is only pre-production artwork so the final thing could be quite different. (UPDATE: It's actually 12 metres high, which is pretty huge – so that piece of artwork was deceptive after all). I like the sound of there being wind assisted movement, which will make the brambles seem much more life-like, rather than just a rigid set. I wonder if there are any animatronic elements should there be no wind?
I think for fans of characters, to have the Castle as a backdrop, and not just the usual view from the front, is going to make for some pretty amazing photos. Add in the PhotoPass+ photographers and everyone in the group can be in the photos, which is an added bonus. PhotoPass+, after a few delays, is said to launch in October, and hopefully on the first day of the month to enable people to make use of it at the Halloween season launch.
We still don't know if there is any kind of show element, or whether it is just a meet and greet. Maybe there will be a few minutes of posing and being their villainous best, before allowing guests to stand with them for photos.
The Maleficent Disney Villains Promenade
News on this is that it will take two quick strolls around Central Plaza, and then presumably meet and greet with guests, as that part we know from the press release. As for characters, they will be Gaston, Cruella, Dr. Facilier, Maleficent and others who Dream of Power! So, another meet and greet, with more villain characters. We know Maleficent will be a part of both, but will her friends be the same for this and her Court? One would hope they will be different so as to give people two different experiences.
Characters and Parade
Here are the character confirmations for Halloween 2014 in Disneyland Paris:
As part of Mickey's Halloween Celebration (the cavalcade/parade), Daisy Duck will be Miss Harvest. Whether that means we will see her with some sort of crown or sash, only time will tell.
Marie and Winnie will be at the Boarding House on Main Street, U.S.A. Marie from the Aristocats is not a common character in the Parks so that will thrill character hunters, and Winnie always has his fans. I'm going to guess they will alternate, as they don't really go together.
Stitch will have a new outfit when he is present for meet and greets at Minnie Costume Couture, which is located near Casey's Corner off Main Street, U.S.A. We have no clue as to what his costume will be, but he's always a fun character to meet, even for someone like me who is usually not bothered about characters.
The photo location for Jack & Sally (Nightmare Before Christmas) has changed, though not too far. It will still be in Frontierland but will now be located so that you will have Phantom Manor in the background of the photos. This is a smart move and will give the photos an even more spooky Halloween look. The concept art for their new meet and greet can be seen below in this photos from @InsideDLParis and DLRP express respectively:

Disneyland Paris News: Halloween 2014 Jack & Sally Photo Location

The name of the new float in Mickey's Halloween Celebration will be Raise the Rafters, which I have absolutely no ideas about, beyond maybe it will be noisy. Any guesses from anyone out there?
It would seem that a lot of the new additions for 2014 are character based, which has been a trend for entertainment in Disneyland Paris over the last few years, and judging by the lines to meet them, a popular and well received one. The cynic in would could moan that I'd like to see more shows and something a bit more elaborate than just meet and greets, but Halloween was already pretty fantastic in 2013, so to have extra entertainment for guests, no matter what form it takes, can only be a good thing and offer people more during the stay in Disneyland Paris. If I visited with my family then my 6 year old would maybe be interested in photos, as long as the queue wasn't long. Otherwise it means less queuing on attractions while other guests wait in line – works for me either way.
Halloween 2015 – September Start?
That is the other piece of news that came out of the presentation: the Halloween season could start in September next year, much like it does in America. I'm all for this if it means I can enjoy the excellent Halloween season in the less busy and warmer weeks leading up to October. Of course this would be a solo trip for me, as my son would be in school, but great for those without children. I'm a huge fan of the season system that Disneyland Paris has adopted over the past few years, and to see those seasons extended to leave less gaps gets my full support. We just need to sort out that period between the end of Christmas and the start of Spring.