Hotel Santa Fe is a 2-star, on-site hotel which is popular with those who want to stay on property whilst also keeping to a modest budget. The D2DLP team has stayed at Santa Fe many times, so it is safe to say that by now we can create an honest review for future guests who might want to know the ins and outs.
Located on the Rio Grande River, the Disneyland Paris one, Hotel Santa Fe is situated directly opposite from DLP's other 2-star budget hotel, Hotel Cheyenne. It's is around a twenty-minute walk along the river from the parks, which is largely accessible for guests who require wheelchairs and for families who take pushchairs. Of course, Disney also runs a frequent shuttle bus service between the hotel and the parks, for those who prefer a ride.
The hotel is also conveniently located directly next to a petrol station which is handy should you wish to purchase drinks, snacks and other items that you might have forgotten to pack.
On most of our stays at the Santa Fe, the check-in has mostly been both timely and friendly. Staff, like at all Disneyland Paris on-site hotels, clearly take pride in their work and usually go above and beyond what you would expect from reception staff elsewhere. Generally, we have found check-in to be a little slower during the school holidays (as to be expected), or if a number of guests arrive at once from a coach trip for example. The reception area itself resembles the original Route 66 décor and somewhat lacks the Cars theming, which was only added in 2012, well after the initial opening. In the reception area, a small TV corner can also be found which is beneficial for those who might want to wait with younger children during the check-in process.
Be sure to get your map when you check in. It will help you navigate and find facilities, such as the gift shop (called the Trading Post), Starbucks, the Rio Grande Bar, Arcade Room and of course, your own room! There are over 1,000 of them in Hotel Santa Fe, so stay alert!
On our trips to DLP, we tend to fly out incredibly early (frequently leaving home for the airport at around 4 AM), so upon arrival we try and grab a couple hours of sleep before heading into the parks. However, if you find yourself staying on the ground floor, the windows to some rooms can be incredibly close to the walkways or car parks, meaning if you are a light sleeper, you may struggle to sleep during the day. For this reason it may be a good idea to request a quieter room on the first floor.
The Rooms
As for the rooms themselves, all rooms at Santa Fe are standard. So, whether you find yourself in the Mater building or the Sally building, you will have an almost identical room to everyone else. The only real difference the assigned character buildings have is in their location. We've never found one to be more accommodating than the other, but imagine little Cars fans' excitement should they find themselves assigned to the McQueen building.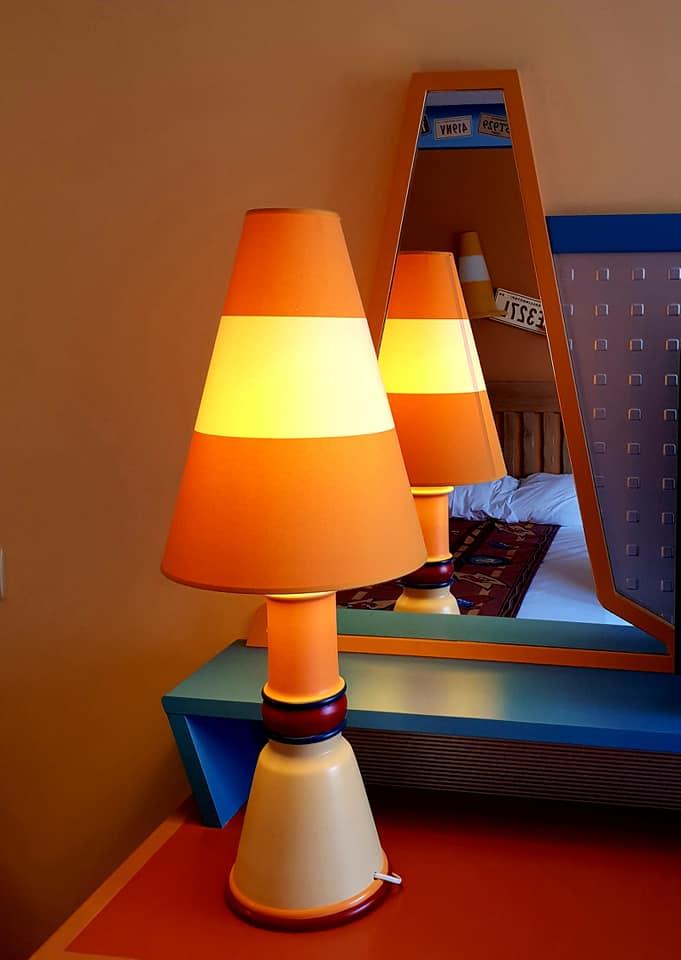 Our personal favourite part of the rooms at Santa Fe? The bathroom – always! The mirror in particular: a drive-thru style arrow with retro bulbs. The rest of the room also has fun Cars-style theming. Some other favourite elements are the traffic cone-lamp and the metallic decor on the walls, which are reminiscent of a car workshop. If you have young children or are a Cars fan in particular, you will undoubtedly love the room. However, the vibrancy and in-your-face theming may be off-putting for some. Nevertheless, we recommend you give it a go and don't let the décor put you off – you may be pleasantly surprised when you arrive.
Rooms feature two double beds, a free-of-charge safe, a shower, tub and small wardrobe space, as well as a large amount of drawers for storing clothing and other items. In winter, rooms can be kept toasty and warm by the small heater. However, in summer, the Santa Fe leaves much to be desired, as there is only a small ceiling fan and no AC system – not particularly great when France is experiencing a heatwave!
Hotels at DLP do not feature a kettle in the room and this is very common in French hotels. You are able to hire a kettle but this requires a deposit and must be returned to reception on departure. However, if you are planning on bringing your own travel kettle, the garage by the hotel's reception provides instant coffee, sugar, tea etc which is incredibly handy.
We've never experienced an issue with cleanliness at Santa Fe. However, on a recent trip there was a problem with a stuck bath plug, meaning you couldn't have a shower without the tub filling up. After calling the reception to explain the issue, it unfortunately took over an hour for someone to arrive. On that particular occasion, we had arrived in the evening (around 8 PM) meaning we were desperate to relax after around 8 hours of travelling. Luckily, it was a quick fix and remains the only room issue we've ever encountered.
Whilst you are staying, we highly recommend having breakfast at La Cantina. It is the perfect start to the day for people who prefer to sit with a coffee in the morning rather than heading straight to the parks. The breakfast on our last visit was a continental-style buffet with a selection of meats, cheeses, yoghurts, toast, pastries and hot foods such as beans, sausages and eggs. This will no doubt have changed once the hotel re-opens. Bear in mind that the breakfast area can often be quite crowded and you should expect to queue, especially during school holidays. Do not allow this to put you off, as it's always to be expected during peak times.
In the evening, La Cantina boasts an all-you-can-eat menu featuring Mexican cuisine, which we would also recommend. We have never had to wait for a table in the evening on the occasions we have visited the restaurant.
With regards to other on-site amenities, the hotel does have the aforementioned Starbucks, with the entrance accessible through the reception area and also externally. You can pick up some DLP merchandise in Starbucks on occasions, particularly the Disneyland Park and Walt Disney Studios mugs. They can run out though so get in there as soon as the store opens if you're set on getting one. Alternatively, you could try Starbucks in the Disney Village. Like all Disney hotels, you will also find an on-site Disney boutique, handy if you're after any ears or pins before venturing into the parks for the first time.
Our Verdict
Overall, we have had excellent experiences at Santa Fe and particularly find it suited to families who need to keep costs manageable, but still want the magic of staying on DLP property. The theming and location make it a fun, convenient place to stay.
If you're looking for an on-site budget hotel full of fantastic Disney vibrancy, we can certainly recommend the Hotel Santa Fe. It is reasonably priced and usually comes in ever so slightly cheaper than the Hotel Cheyenne these days. For the price and 2-star rating, Hotel Santa Fe certainly ticks all the boxes.
However, if you are more demanding in terms of comfort, we recommend upgrading to the Cheyenne or Sequoia, if possible. This is particularly true in the hotter months, when a lack of air conditioning might be an issue for some people.