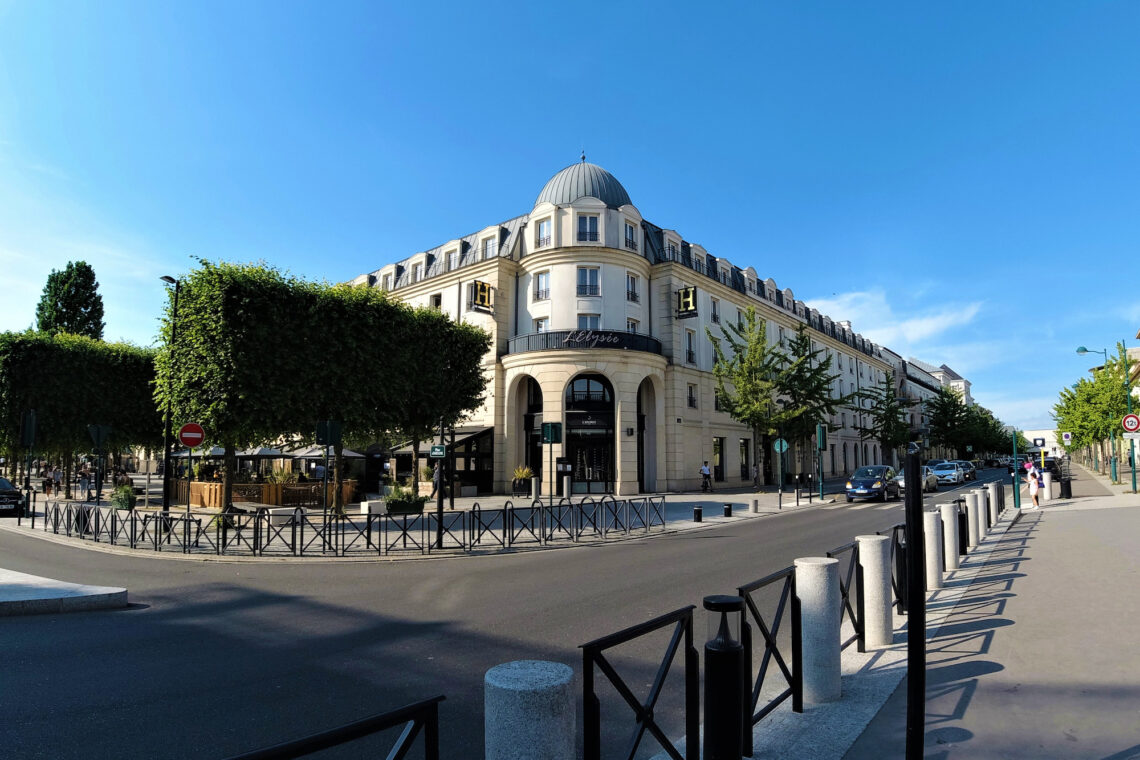 Hotel l'Elysée: Four Stars at a Down-to-Earth Price
Looking to relax and unwind after a long day of fun at Disneyland Paris? We found a solution just mere steps (and a quick RER ride) from DLP. Hotel l'Elysée has it all: modern comfort, classic sensibility and a focus on top-notch service. Read more to hear our take on this gem of a boutique hotel that may just be perfect for you!
The Val d'Europe area is home to several DLP "partner hotels", and we think that Hotel l'Elysée is the most eye-catching of them all. Built in 2002 just 50 meters from the RER train station, the elegant Haussmann-style building eludes that "heart of old Paris" style. Meanwhile, a complete renovation in 2017 brought a sleek modernism and comfort to the interior that has helped to make it a four-star lodging.
This elegant hotel is nevertheless a comfortable space that really caters to families enjoying a Disneyland Paris holiday. We sat down with the General Manager, Camilla Cuccuru, who explained: "We are an official partner of Disneyland Paris and that is very important to us. You may be surprised to know that 80% of our guests are leisure travellers, most of them going to Disneyland for at least one day. The city of Paris and other attractions are also very close, so most people do a mixture."
Cuccuru says that during the last year, it was children that the hotel missed most. "We've always been a place for families. Because of our position, family members from around the world could meet up here for a multi-generations holiday. We really look forward to that again."
So, what makes the Elysée so appealing?
Reception
The welcome was warm and all the reception staff spoke excellent English.
At check in, you receive a key card to your room, which also serves as your key to use the elevator. This extra bit of security is a nice touch.
Besides an appealing modern decor, the reception area boasts a comfortable seating area with a large television and daily newspapers available. There are also four internet connected tablets available for guest use.
The restrooms on the ground floor are also worth a look, as they are furnished with entertaining disco lights and certainly earn a Beth out of 10.
The Rooms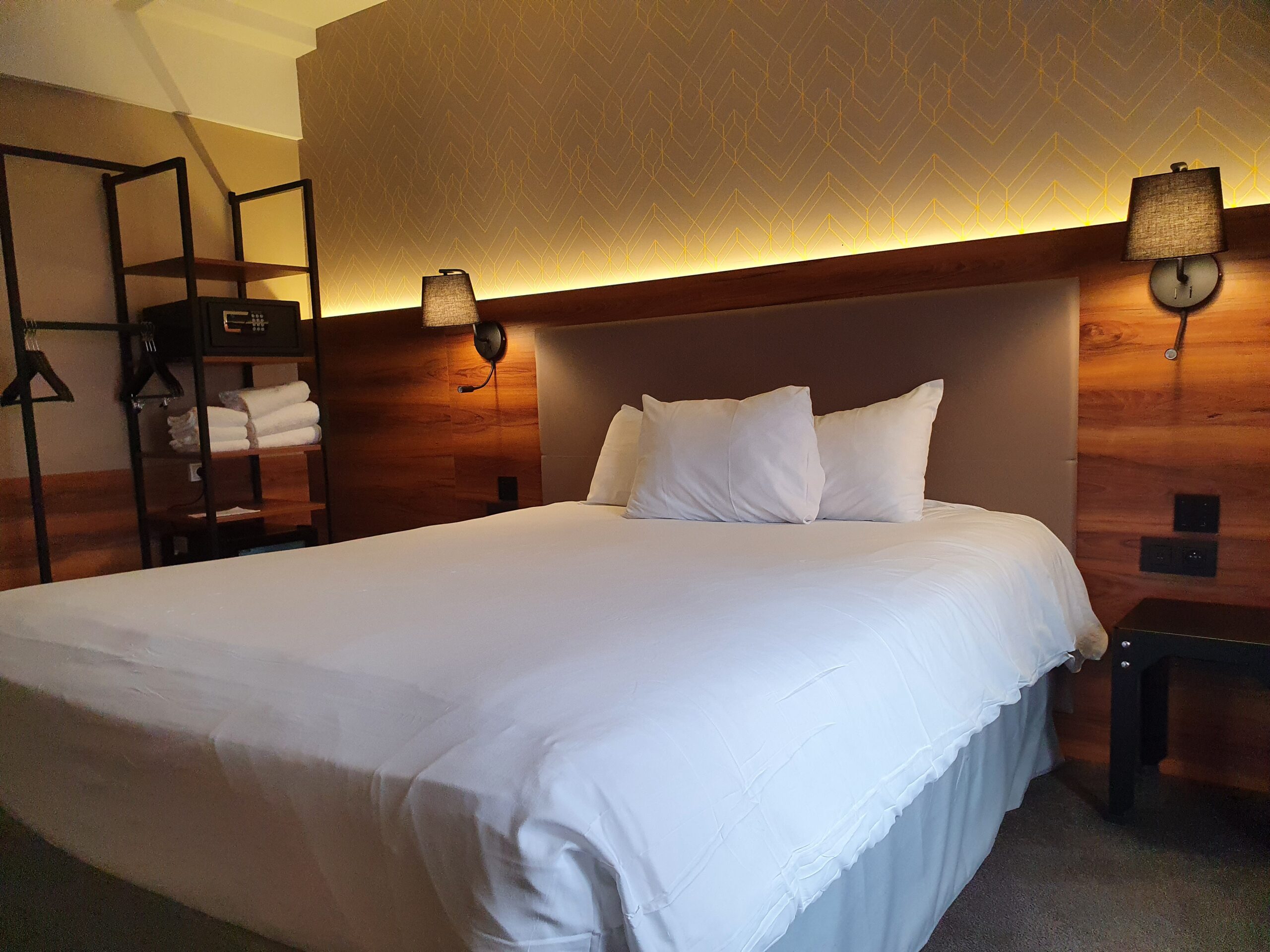 The Elysée has 152 rooms, all air-conditioned. There are four junior suites, located in the corner tower of the hotel. It also features several rooms with connecting doors, ideal for families and larger groups, as up to eight people can be accommodated. The decor is chic and modern, but comfortable, featuring wood tones and fabric-textured walls. The lighting is particularly pleasing, featuring a combination of lamps and LED ambiance illumination over the headboards.
Classic rooms are a spacious 24m2 and furnished with either one or two beds, accommodating up to four people. A courtesy tray with a boiling kettle and supplies for making hot drinks is provided, as well as a small refrigerator. There is also a safe, closet space, iron and mini-ironing board.
The bathroom has a full-sized tub and shower, integrated magnifying mirror and hairdryer. Soap and shampoo are provided in large, multi-use bottles. Other toiletries are available upon request.
Premium rooms come with extra amenities, such as robes and slippers, bottled water and a Nespresso machine. Again, these are available with either one or two beds. The Premium Triple rooms have a large chair that folds out to a twin-sized bed.
The above-mentioned junior suites have a king-sized bed in a sleeping area that includes a large flatscreen television. The separate corner salon area has a couch that folds out into a double bed. This salon also has a second, slightly smaller television.
There are handicapped accessible rooms available upon request. These feature roll-in showers in the extra-large bathrooms, as well as extra room for maneuvering with mobility devices
Dining Options
The hotel restaurant is called "Le George" and is also where breakfast is served. The space is a perfect start to your day, as it is quiet, airy and located around a central greenhouse, which we loved. Breakfast hours are from 6:30am to 10am during the week and 7am to 11am on weekends and holidays. Typically a full buffet, current health measures limit the offerings. In our interview, Cuccuru expressed her hopes that things will soon change and she will once again be allowed to offer a more varied breakfast menu. That said, if you want to get your fill of lovely pain au chocolat, croissants and very tasty French bread, you'll be very happy. We also found the fresh fruit salad to be quite good. In addition there are cold cereals and yogurts on offer.
At lunch, hotel guests can either eat in the dining room or out on the terrace from noon to 2 pm. Dinner is served from 6:30pm to 8:45pm. A €9 children's menu is available and seemed very popular!
"Le Diplomate" is the hotel bar and hosts happy hour from 4pm to 6pm. They serve drinks, snacks and tapas from 11am onwards and we particularly recommend the fun flavoured gin & tonics, but the whole drinks menu is worth checking out.
Special Features
As the Elysée is a Disneyland Paris Partner hotel, you can book this hotel through the official DLP website. Your package will include park tickets. There is a dedicated shuttle to take you between the parks and the hotel, which should take less than 10 minutes.
A nice touch is that you can request extras for special occasions: romantic decorations, in-room champagne or even a birthday cake. Offers and fees vary.
The Downside
Nothing is perfect. While this hotel is an oasis of calm and sleek glamour with a cozy twist….there is not a hint of Disney magic in the decor. Also, there is no pool, arcade or any kind of recreation area. For some people this may be a deal breaker, especially if you're coming with children. Younger tots may be happier with a stay in one of the lower-level on-property hotels, such as the Santa Fe or at a more themed and immersive partner hotel such as the Dream Castle.
The Upside
On the other hand, adults looking for a break from the intense Disney atmosphere of the parks just might find this is their favourite place to stay. Besides being peaceful and elegant, it is ideally located! Not only is DLP an easy 5 minute RER train ride away, just across the street is one of France's largest shopping malls with 190 stores and 30 restaurants, enough to keep you shopping (and eating!) until you drop. Best of all, it has a huge Auchan supermarket, where you can find snacks, sunscreen and any other bits you may need.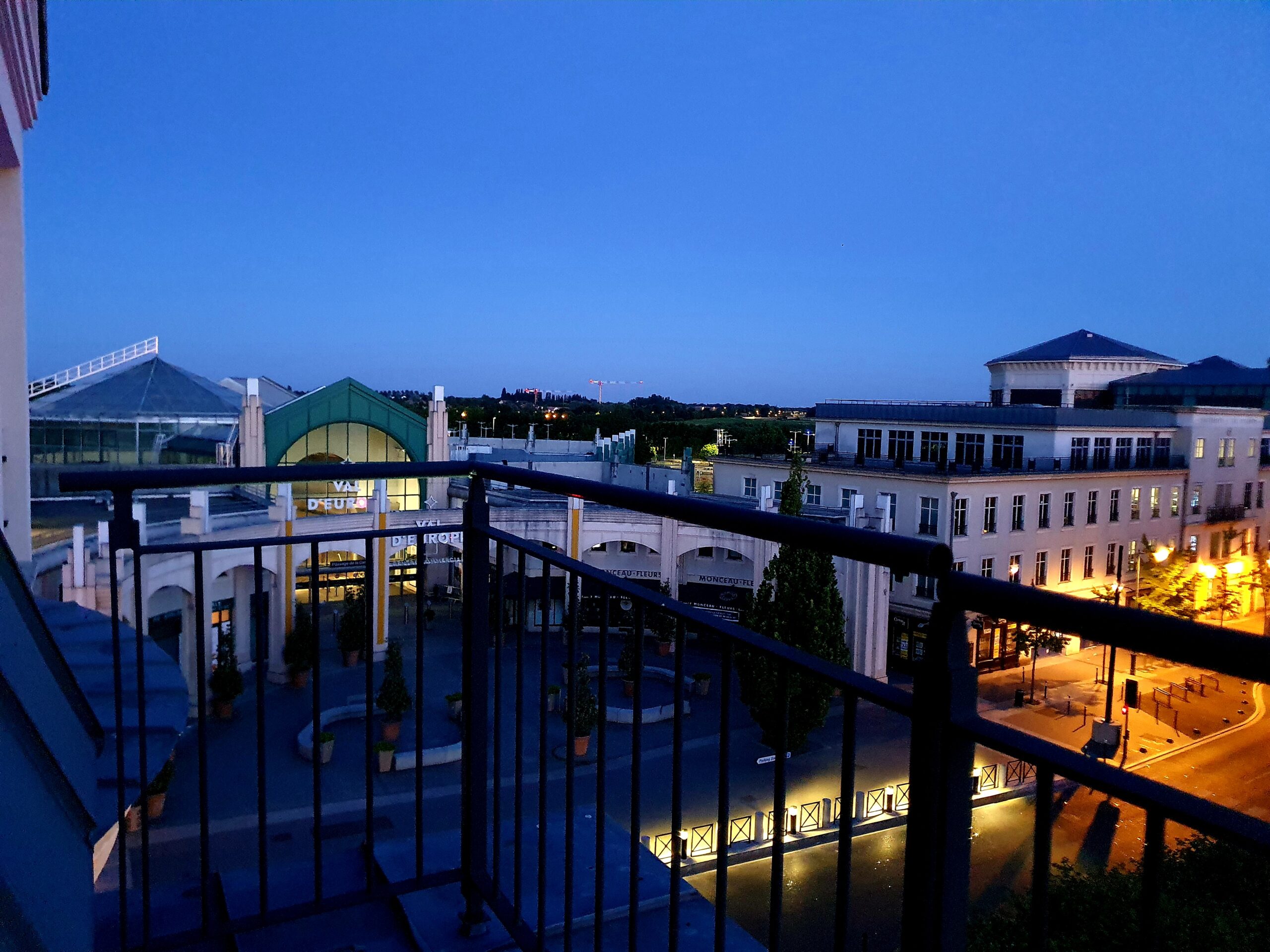 Our Verdict
Hotel l'Elysée is a charming boutique hotel with excellent service. The setting is tranquil and the rooms are modern and very comfortable. With prices starting at €99 per night, great deals can be had and you can pay a very reasonable price for a luxurious stay. We recommend this hotel for adults and families with older children who won't be looking for Disney theming in their accommodation. Teens in particular will love the Elysée, as it is sophisticated without being stuffy and they can easily go on their own to the shopping center or even over to Disneyland Paris.
Our six-night stay was completely paid for by our reviewer and no upgrade or special services were provided by the hotel, except for the offer of complimentary breakfast. Thanks to the Hotel l'Elysee for their kindness and to Ms. Cuccuru for taking the time for an interview.