Live from DLP's 2021 Soft Opening: Back Among Friends
Dedicated to DLP is live today from Disneyland Paris, as the first of two soft-opening days started this morning ahead of the official reopening on June 17. Beth is on location for all of us who can't make it, sharing the magic, showing the love, and meeting up with old friends!
Broadcasting live on Facebook from Fantasia gardens this morning, Beth walked up to the turnstiles of Disneyland Paris and couldn't quite believe she was actually there again. The sun shining, the fresh colours popping, families bounding together, it was a dream coming alive again after another long lockdown. The comments of the viewers were telling a similar story. "Aww this is such a moment
"Thanks for streaming x" said Catherine. "Crying with happiness at this, so emotional xx" wrote Arlene. "Great to see this amazing place open again can't wait to be there in November," posted James. "DLP is truly Magical and changes our Lives for Better," commented Luis Miguel from Spain, "there we can become Children again, that's why DLP is so Magical!"
There were even some former cast members chiming in. "Good morning from me and The Main Street Quartet, said Stephen who had been singing here from Euro Disney's opening to 1995. "We are thrilled to see the park open again! Thanks for giving us a walk-through."
It wasn't long after Beth entered Main Street U.S.A. again that she bumped into an old friend of hers, David Duffy, who just happened to become the new Vice President of Entertainment at Disneyland Paris late last year. It was a joyous setting for their first face-to-face meeting since 2003, and for David it was indeed a whole new world after he saw Disneyland Resort in Anaheim, his previous workplace, close in mid-march 2020. "I'm really moved to be back in a Disney Park filled with life," he told Beth, adding that he arrived in Paris after DLP had closed once again.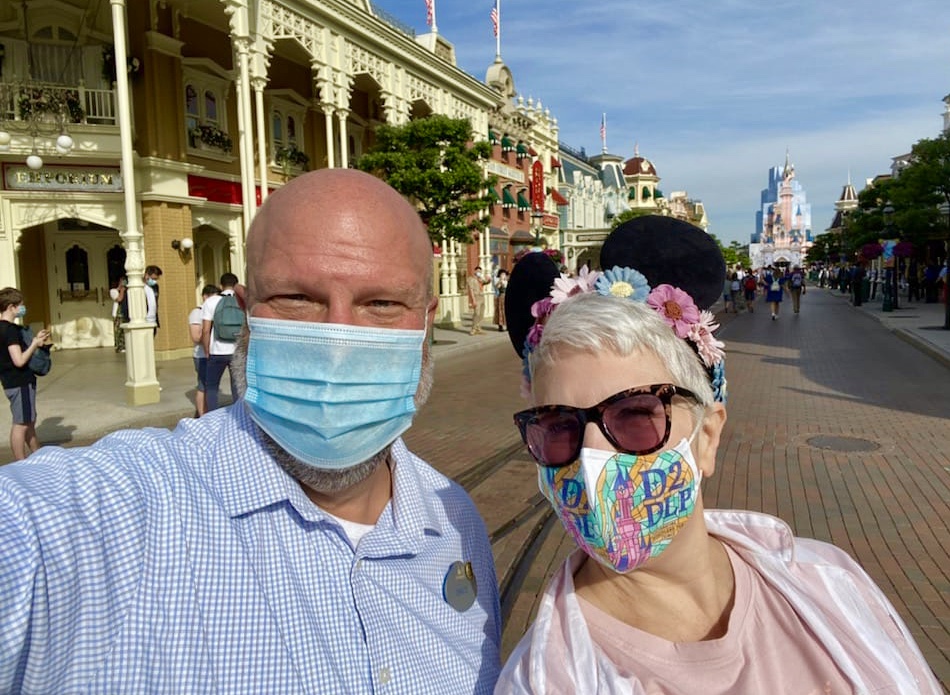 Over on another corner, the ever-amiable Giona Prevete was meandering on the palpable sense of community, and his coming retirement as DLP Ambassador. "I really want to enjoy my final six months! I've loved this time as ambassador, not even having the position during Covid ruined my tenure. I'm happy to be there for the DLP community and help keep the magic going." Giona is however very eager to see who among DLP's Cast Members will be the new pick "and what kind of unique flair they will bring to the position!"
Disneyland Paris President Natacha Rafalski was taking it all in on Central Plaza, greeting a line of well-wishers for all the hard work she helmed during the closure. Work that is far from over, as the completely cladded castle behind her exemplifies, a refurbishing project that will leave the unveiling until shortly before the Park's 30th Anniversary next April. These re-encounters with passionate magic-seekers must be the highlight of her year, and it shows in the interest she gives everyone, asking where they came from, how their lockdown was. The mark of a great leader is listening, as former Walt Disney Company CEO Bob Iger wrote in his biography The Ride of a Lifetime.
Hearing the land and area music as a background to Beth's live streams evokes a strange mix of nostalgia and happiness in almost anyone whose been to DLP more than once. It sticks with you, becomes part of your DNA, and especially after a long period of distance comes back as a long-lost friend. You just pick up where you left off, and simply soak in the camaraderie.
We'll have more on the Reopening again tomorrow, but for now, enjoy a collection of images from day one of the soft opening.