Disney's Hotel New York – The Art of Marvel is opening!
Since it was announced in 2017, DLP fans have been eagerly awaiting the news that Disney's Hotel New York – The Art of Marvel is ready for opening. The wait is finally over, as Disneyland Paris has confirmed that this newly refurbished and reimagined hotel will open on June 21st!
Disney's Hotel New York opened on April 12, 1992 alongside the rest of the resort. It was initially designed to reflect the feeling and architecture of New York City, but by the mid-2010s it became apparent that many of the internal and external features of the hotel needed desperate attention.
In 2017, it was announced that the Hotel New York would see a long period of closure in order to address these issues, but one aspect of this refurbishment left some fans divided: the Marvel retheme. At the time of the announcement, concept art for the future of the hotel was in limited supply, and focused on the more drastic changes to the theming, sparking many heated debates on social media.
On January 7th, 2019, Hotel New York closed its doors, ready for the refurbishment. Initially, it was planned that the hotel would reopen as Hotel New York – The Art of Marvel during the year of 2020. However, due to the coronavirus pandemic, Disneyland Paris announced that the opening of the hotel would be delayed with no further date of opening given.
Alongside the news of the parks reopening on June 17th, news broke today that HNY – The Art of Marvel would be opening June 21st, with the booking line open from May 18th. To celebrate, Disneyland Paris announced that an exclusive launch offer would be made available to guests: for bookings made before 29th July 2021 with an arrival date until March 2022, guests can take home an exclusive Marvel print by artist Matt Ferguson, as well as a complimentary non-alcoholic drink of their choice in one of the hotel's bars.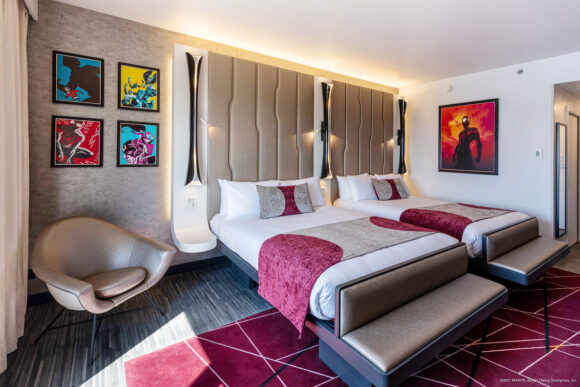 It has been confirmed that the hotel has 471 Superior Rooms, 65 Empire State Club Rooms and 25 Suites, which are dedicated to Spider-Man, the Avengers or other Marvel Superheroes. The hotel has also kept its 4 star status, the same rating as its former self and Newport Bay, which sits just across the lake. This leads us to wonder, what will the pricing look like?
One thing that we do know for sure is that many other changes have been made to the hotel. For example, guests will be able to access a Selfie Spot with Spiderman at the 'Super Hero Station' and also access Marvel Photo Stations which showcase décor and art from the many movies within the Marvel franchise. In fact, Disney's Hotel New York – The Art of Marvel will have one of the largest collections of Marvel artwork in the world, with more than 350 items on display, including 50 exclusive and never seen before pieces of artwork: the way to a Marvel fan's heart, for sure! As well as this, younger (and bigger..) children can enjoy the Marvel Design Studio, where guests can learn to become comic book artists.
Another transformation can be seen in the hotel boutique, which Disneyland Paris has confirmed will be more of a 'museum shop' inspired by Tony Starks 'Wall of Armor'. Here guests can purchase copies of the artwork displayed around the hotel.
A big factor which can influence choosing a hotel is the onsite food and beverage options. The Manhattan Restaurant will serve Italian dishes under the chandelier of Asgard, with online reservations a possibility. Downtown Restaurant will be buffet-style* dining where many of the dishes are prepared in front of guests: this is to make reference to Chinatown, Little Italy and American classics. Regarding bars, the Bleecker Street Lounge will evoke a downtown Manhattan loft: it will serve both alcoholic and non-alcoholic drinks inspired by Doctor Strange. Finally, the Skyline bar will offer cocktails alongside American bites and treats. Most excitingly, this bar will offer 'panoramic' views featuring the New York skyline with added Marvel twists.
Whilst there are many other changes to expect, the most interesting are the changes which make guests' stays more convenient. For example, guests can now pre-register seven days prior to their arrival at the hotel to reduce waiting time. Guests will only need to pick up their Magic Pass at the reception before heading straight to the parks, as room numbers will now be shared by email or SMS – more time to enjoy the parks while rooms are being prepared! In addition to this, Super Hero Station time slots can be also booked via mobile. As well as this, in-room experiences have received a digital upgrade. For example, a TV hub with a new interface will be more immersive and fun for guests. As well as this, guests will also be able to access a free digital press library which has more than 5,000 press titles in more than 60 languages.
So with all this in mind, we now look ahead to June 21st when Hotel New York – The Art of Marvel opens its doors for the very first time. We can't wait to book our first reservation: be sure to check the 'reviews' section soon to see what we think!