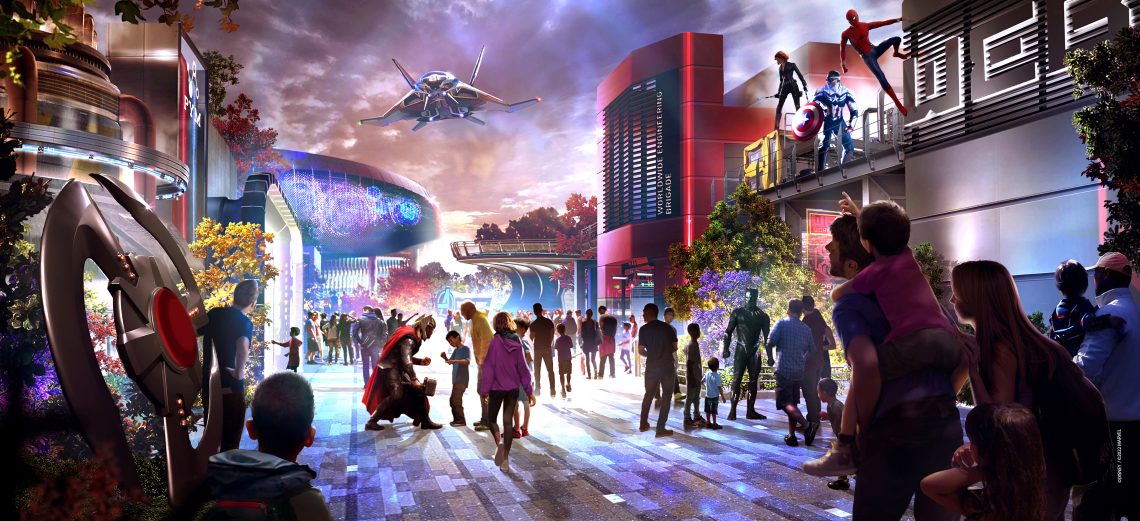 Marvel Avengers Campus Opening 20 July 2022
The wait is almost over folks! Disneyland Paris has officially announced the opening date of the resort's first phase of its largest expansion plan, and of course it's Marvel Avengers Campus.
With the promise to empower guests to take an active role alongside Earth's Mightiest Heroes and live out their own heroic story, Marvel Avengers Campus will open its gates on the 20th of July 2022, in an entirely reimagined universe dedicated to discovering, recruiting and training the next generation of Heroes.
Two thrilling attractions will welcome guests, Spider-Man W.E.B. Adventure and the Avengers Assemble: Flight Force indoor coaster with Iron Man and Captain America.
Opening as part of the 30th Anniversary celebration of Disneyland Paris, Marvel Avengers Campus is the next key milestone in Walt Disney Studios Park multi-year transformation plan, with the coming years set to include a brand new lake, Frozen Land and more. With Marvel Avengers Campus and Disney Hotel New York – The Art of Marvel, Disneyland Paris is poised to be the ULTIMATE destination for Marvel fans to live an immersive experience among their favourite Super Heroes.
PYM Kitchen and Stark Factory will be the main eateries providing recruits with the sustenance needed for their missions, and a couple of other food options will also be on hand.
With surprise live-action stunts and heroic encounters, including Spider-Man, Iron Man, Captain Marvel, Black Panther, Black Widow, Thor and Loki, recruits will get to become part of the Marvel universe. Sam Wilson as Captain America, Ant-Man and The Wasp, Okoye and the Dora Milaje from Wakanda, will also make their first appearance at Disneyland Paris! These diverse set of Super Heroes will be ready to defend the Avengers Campus, which could surely lead to action on the rooftop and all over the campus. Recruits definitely want to hang out there to see what happens.
Recruits will have the opportunity to meet Spider-Man, Iron Man or Captain Marvel in a new dedicated building unique to Avengers Campus in Disneyland Paris, the Training Center.For the first time in a Disney Park, a dynamic "freeze frame" video sequence, created by DisneyPhotoPass™ with 27 cameras all around the action, can capture these meetings with Captain Marvel or Iron Man and turn them into unforgettable moments. These special encounters will be available for booking through the Disneyland Paris mobile app.
New recruits of all ages will be able to encounter heroes outdoors throughout their visit in more interactive and exciting ways than ever before. They will get the chance to train with Black Panther's loyal protectors, the Dora Milaje, and learn from the warriors of Wakanda on what it's like to be a member of this elite royal guard.
Also, a sleek new high-tech Avengers vehicle will roam the Campus throughout the day dispatching the Heroes in style! And, of course, up on the QuinPad, the gleaming Quinjet will also be the focal point of special missions.
Saving the world can also be fun as recruits will have a chance to try on their best dance moves during an interactive dance-off with Star-Lord and Gamora from the Guardians of the Galaxy. The Gateway Portal will also give recruits the chance to capture the moment when they meet one of the many Super Heroes of Avengers Campus.
"F.R.I.D.A.Y." the famous Artificial Intelligence designed by Tony Stark himself will be watching out and interacting with the Earth's Mightiest Super Heroes. Uploaded to the building façade ofAVENGERS ASSEMBLE: FLIGHT FORCE building–the Avengers Headquarters –she will also welcome recruits to the Campus, monitor it for threats, and signal the arrivals and departures of Avengers. F.R.I.D.A.Y.'s presence will be exclusive to Disneyland Paris.
Of course D2DLP hopes to be part of the revealing action so stay tuned as we get closer to the date! For now, enjoy some of the concept art released by Walt Disney Imagineering to help get your energy levels up to GO!