Marvel Avengers Campus: The Preview
Are you are an enthusiastic new recruit who already has their Marvel Avengers Campus tickets in hand? Perhaps you're waiting to hear more before you commit to training with Marvel superheroes at Walt Disney Studios Park? Or is all of this flying straight over your head like a Quinjet moving at top speed?
Well, don't be bothered, because the D2DLP Squad has you covered. Tony Stark awarded us a sneak peek at this new addition to the Paris Disney parks during an exclusive premiere press event, and conference, on July 9 and 10, 2022. Apart from experiencing most of the attractions, food, shops and shows of this immersive new area (within the constructs of what we previously knew to be Walt Disney Studios park it almost feels like a new land, even if it technically isn't), we also heard directly from the dedicated creative team responsible for making it all happen what went into developing the campus. So without delay, let's get you briefed on your future missions!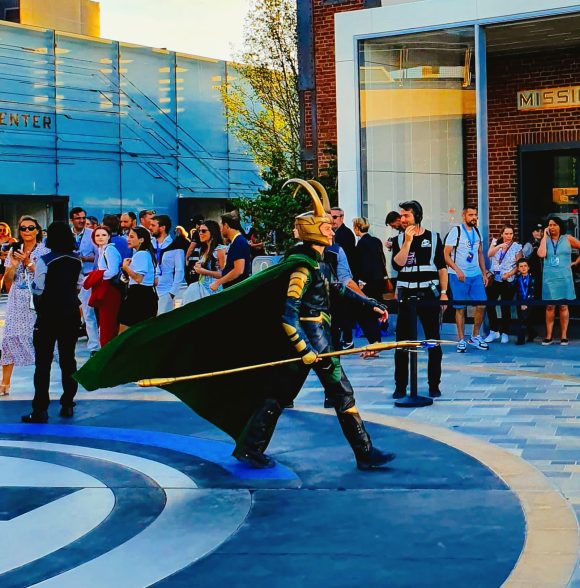 First of all, you are NOT known as a "Guest" at Marvel Avengers Campus. You will be a "Recruit" and that's how all Cast Members will address you! The minute you step into this highly detailed division, the goal is to get you feeling like an asset inside the Marvel universe. In fact, all the CMs working in MAC were specifically chosen to enhance your experience, to fulfil their role as enablers helping YOU become an Avenger yourself. One CM in the Mission Equipment shop spoke to us about how competitive the selection process was and how happy she was to be a part of it all. From the moment you enter Marvel Avengers Campus, you'll be struck by the authentic street ambiance of the scene laid out before you. The mix of aged brick buildings and hyper modern cement-meets-brushed-steel structures fits in with the story that the whole area was created by Tony Stark on the site of a car manufacturing complex his father had set up back in the 1940's. Hints of this past can be seen everywhere, if you glance around with a keen eye. There are small touches, such as the painted advertisements on the brick walls, and bigger, more obvious notes, like S.H.I.E.L.D. founder Peggy Carter's old office, hidden in the back corner of one of the restaurants!
At the end of the street, the Quinjet looms above it all and is a real showstopper. A pet project of Scot Drake, Creative Executive with the Marvel Global Portfolio of Walt Disney Imagineering, it is a must-see for every recruit. Our only peeve is that you can't get close enough to admire every tiny detail on the ship, like you can for example with the Millennium Falcon at Galaxy's Edge. Right beside the Quinjet platform rises the huge facade of the Avengers' Paris headquarters building. What was formerly Rock'n'Roller Coaster Starring Aerosmith is no longer even vaguely recognizable. F.R.I.D.A.Y., Tony Stark's A.I. personal assistant, controls the massive LED panel, lighting it up and addressing the recruits with much needed mission information. It is a huge element of the space and adds to the techno-immersive feel.
Located within the building marked QG Avengers (Quartier Général) is of course Avengers Assemble: Flight Force. The name is a bit clunky and people so far have a tendency to call it the "Iron Man Coaster" (despite the presence of Captain Marvel as well), but we'll see what sticks. But no matter what you call it, this revamp of the 20-year old Rock'n'Roller Coaster is truly inspired. High point of the ride's pre-show experience is an encounter with the amazing Iron Man animatronic. It is fully electronic (the first EVER!) and has 43 functions, aimed at making you feel like Tony Stark is inside that exoskeleton, right in front of you. The building is fabulous and the pre-show is amazing, but the coaster stayed as is, a Vekoma-built classic with 3 inversions. They added a new skin over the old ride vehicles and installed screens around the track, as was done for Hyperspace Mountain. Then again, we all knew we weren't getting an all-new attraction and the retheme really makes a fresh cut, and a fun one at that. Who doesn't want to zoom along with Iron Man and Captain Marvel as they save the world from Kree missles while trading sassy banter? We ended up doing this one 4 times in a row because we were pretty obsessed with the queue. So don't Premier Access or Single Rider this one. You do NOT want to miss the sights and sounds of the normal waiting line.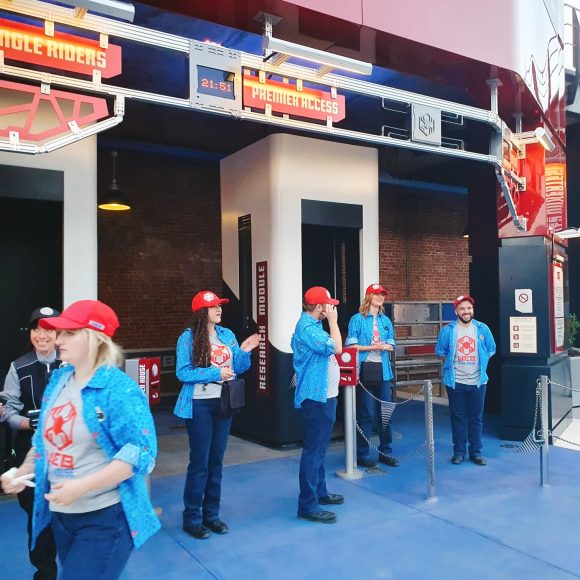 The second big attraction is Spider-Man W.E.B. Adventure, a high-tech shooting game that makes Buzz Lightyear Laser Blast look SO 20th century! The technology behind it is brilliant and intuitive: all you do is put on your WEB vision glasses, move your arms like crazy and you are slinging webs just like Spidey, destroying those pesky Spider-bots infesting the building. It really is just that simple. Our arms got pretty tired though, so we recommend you train with some push-ups and light weights before visiting this attraction (low-key serious about this!). The pre-show is also a stunner, as it features a holographic Tom Holland in his iconic role, although with a French dub, setting up the experience for the recruits. Be sure and pay attention to the colour of the Spider-bots you take aim at, as the rarer shades are worth more points. We'd give more hints but silence is 'golden'. Of course, this being Chapek's Disney, you can enhance your W.E.B. (Worldwide Engineering Brigade) Adventure experience by paying more and investing in a W.E.B. Tech Power Band to help you improve your score. (At €40 as the base price, you probably want to know if it is worth it – but that is a separate article which will be coming soon).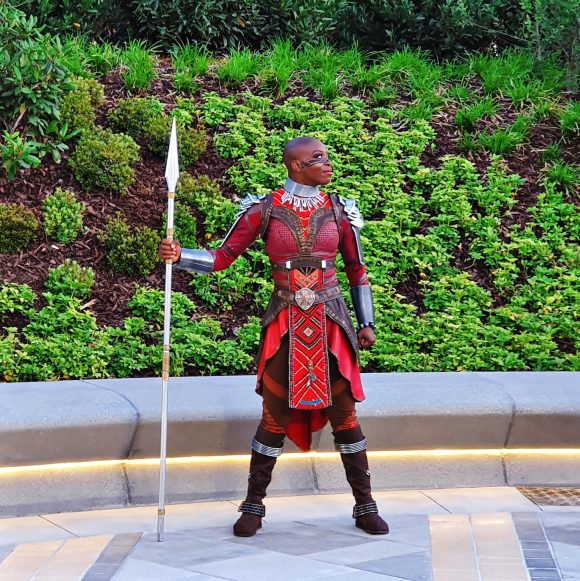 A major new element at Marvel Avengers Campus is the Training Center. This impressive glass-walled building is where you can have a "Heroic Encounter" (what used to be known as a meet-and-greet) with your favourite Marvel superheros. The waiting area is sleek and comfortable, with benches…to sit on! No more standing folks! When you're called, you are ushered in for your "training session" with your hero. Photopass Photographers are present and if you have the PhotoPass + Premium, you can even get a dynamic 180-degree freeze frame video sequence (captured by 27 cameras) to commemorate your meeting, a first for any Disney park! They need to be pre-booked with a virtual queue in the Disneyland Paris App when you enter the Walt Disney Studios Park. You can choose between Spider-Man, Iron Man or Captain Marvel with up to 6 guests per booking, but only one hero per day. Be sure to have your park tickets or Annual Pass linked to the Disneyland Paris App and allow notifications. The CM on duty assured us it will be much better than the old Lineberty system. Fingers crossed!
Best of all, the Training Center is not the only place to see and interact with Marvel characters. The Imagineers worked hard to make MAC dynamic and immersive, and one innovation was to turn the rooftops of the land into stages for various superhero sightings and stunt shows. So remember to look up, because Iron Man could be surveying you from the Quinjet platform. Or you just might catch Captain Marvel and Black Panther throwing down Taskmaster and his minions! We loved this show and felt it added so much to the place-building. Characters abound at ground level, as well. Seeing Black Panther's loyal guards, the Dora Milaje, proudly march across the campus and then start up a training session was very impressive. A few brave souls from the public were even invited to join in. We were also thrilled to see Star-Lord Peter Quill and Gamora walk up and start gathering a crowd for a little retro dance-off. It was however a bit of a hard sell to the press/preview public, but let's hope future recruits remember to bring their dancing shoes.
This being a functioning campus for Avengers and their recruits, it is not uncommon to walk into legends such as Thor, Loki, Doctor Strange, Captain America, or Captain Marvel. The unscripted interactions between Thor and his brother are priceless, making the area really come alive. The Avengers Campus at Disneyland in California is full of this type of chance encounter and we hope that the Paris version will follow its tradition and keep the area full of surprises. Our best advice: don't forget to hang around over by the Gateway Portal near the front gate of the campus. This will be a prime spot for impromptu Heroic Encounters.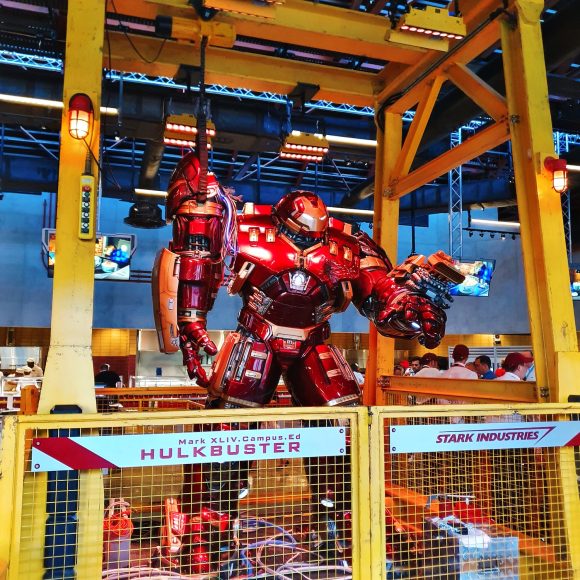 Super Feeders
If you need a nutritious refill, or simply want to fill your feed with dish pics, there are multiple food options at Marvel Avengers Campus. The first and most pricey is the buffet over at the PYM Kitchen. Even at €42 per adult, this one is going to be very popular. Get your reservations in the app as soon as you can, if you dream of eating very tiny and very huge food items. That PYM tech is crazy! We didn't get to eat here during the press preview, as it was reserved for the real VIPs (not us, anyway. lol) but we had a quick look in and it seems amazing. This will definitely be a place to try at least once, if you are a Marvel fan/foodie.
We did get to eat twice at the indoors quick service restaurant Stark Factory. The old Blockbuster Café location is now home to a Hulkbuster! It features 3 kinds of pizza, served in generous slabs at €14 euros. There are also three different pasta bowls, as well as salads, including a solid vegan option featuring quinoa and tofu. The pizza was very tasty and the caramel/milk chocolate Thunder Cake (€5) is also an attraction to check out.  We highly recommend this option for getting out of the weather and having a rest, as it is decent value for money (by DLP standards) and no reservations are required. We certainly  hope that preordering on the app will eventually become an option, but no word on that for the moment. This is also where, with a bit of poking around, you can find the office of Peggy Carter. If you are a fan of the original Captain America storyline, this will be your fave spot for photo ops!
There is also a new menu over at the Super Diner (formerly the Café des Cascadeurs). It features Reuben sandwiches for children and adults, as well as a vegan option for both. We didn't get to try these, as the location was not open, but it is all renovated and will be open for the Annual Passholder soft opening days.
Besides the above three options, there are two food trucks. One specialises in Asian noodle bowls, the other has NYC style hotdogs, sold from a truck that looks oddly familiar. But maybe we are imagining things. Anyway, at least there are some good places to pick up a quick bite in a land that is no doubt going to be very busy and very popular.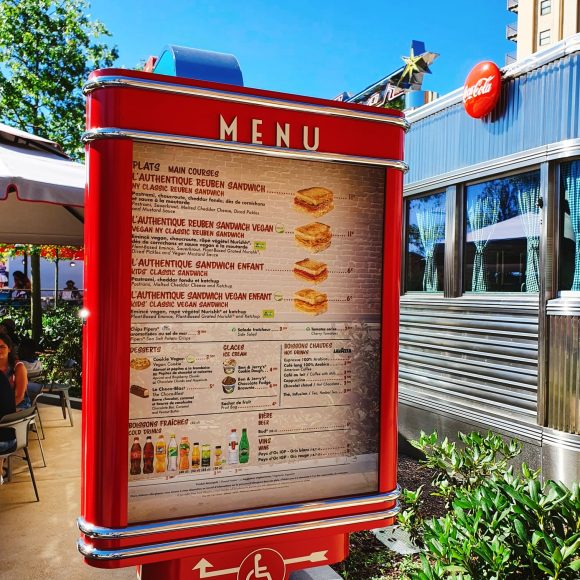 Merch right up!
This brings us to our last stop: Mission Equipment, the only shop on campus, although a large one, containing all things Marvel. Located at the exit of the Spider-Man W.E.B. Adventure, the main entrance is just across from the Training Center, and it sports a similar high-tech glass facade at the doorway. Some highlights for us were the remote control Spider-bots and the W.E.B. Tech Power Band mentioned previously. To enhance your Power Band, you can also buy hero-themed add-ons to boost your score even further. (We were tempted by the Iron Man themed one, which creates cool effects on screen when you are on the ride, but our credit card was taking a nap.)  We also enjoyed the Avengers Glow Badge, which lights up with multiple colours. In short, there was a lot of cool merch, so be sure to allow plenty of time for shopping.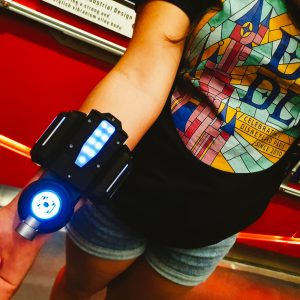 After all those years of waiting, our visit to the brand new Marvel Avengers Campus at Walt Disney Studios Park in Paris felt like a dream. Is this actually happening? Oh, you bet! It was such a privilege to be among the first to see this new area, experiencing the summit of all the hard work that went into it. MAC really has a lot to offer.
In the past, we here at D2DLP haven't had a lot of spare love for Walt Disney Studios. Frankly, who did? It has consistently been at the bottom of every Disney Parks quality list. Even the gorgeous Ratatouille area seemed unable to elevate the park, too little, too late. But then, in 2018, former Disney CEO Bob Iger announced a €2 billion investment in WDS. Marvel Avengers Campus is the first step in that multi-phase plan to bring WDS up to standard. All we can say is, if the rest of the expansion lives up to the calibre of Avengers Campus, WDS may yet be a world-class park in the near future.