DLP Reopening Roundup #4: Open Up The Gates!
Cast Members, Characters, Attractions, Rides, People! Yes, the magic is back at Disneyland Paris, and here's your D2DLP roundup of the first 3 days of its 2021 reopening.
Welcome to what is hopefully the last Reopening Roundup. We say hopefully because of course Disneyland Paris is now well and truly open again since the 17th of June. And we sincerely hope that if enough people in France get vaccinated, continue to practice social distancing and mask-wearing where necessary, bringing Covid-19 infection rates down and hospital admissions manageable so that the French government doesn't have to impose new travel and crowd restrictions, ultimately facilitating Disneyland Paris to keep their gates open.
And while we're talking about crowds, let's discuss the first three days DLP let us into the parks again. Dedicated to DLP's own Beth is fortunate enough to live in France as well as being an Annual Pass holder, so she has been reporting live from the moment Disneyland Paris first accepted AP holders for the soft opening days on 15 June. Naturally with quite a few countries still under strict travel restrictions, most notable the United Kingdom, the amount of AP fans who could make it to the parks was limited and so the soft opening days were quite chilled in her experience. Come official opening day on June 17th crowd levels were still lower than she had feared. "It was pleasantly filled and felt very safe," she observed. That could very well be a testament to how Disneyland Paris has now become very proficient in its crowd, safety and hygiene protocols, although we may not know if the 28,000 capacity was actually reached on the first day.
Furthermore, Cast Members were not hesitating to kindly remind guests of the proper way to wear masks (over the nose) as well as frequent announcements about the use of hand sanitizers and keeping 2 meters distance throughout the park. Transparent dividers in queue lines and even on rides themselves were abundant and added to the sense of safety.
The atmosphere was therefore joyous, magical indeed, helped by glorious, sunny, hot weather. Which begs the question, why was there no pineapple or mango whip to be found anywhere? Ice creams were selling like hot cakes, even Fantasia Gelati was open, but people need a refreshingly fruity slushie to slurp on! Even DLP's new Food & Beverage Product Manager Jean Marie Clement said we would be getting these!
And while we're on that subject, many annual pass holders were confused by the fact that Gaumont Cinema was the only operational establishment at Disney Village during the soft-opening days. Not even World of Disney. Don't get us wrong, Cruella is a great movie, but there's only so much popcorn you can eat. It was more like First and Furious: AP Drifters
Fast Pass? Stand-By!
Forget what you knew about fast passes and single rider queues, this season is all about the Stand-by Pass! It will be activated between 11.00 and 17:00 o'clock and they will be released in three waves throughout the day.
The concept is simple, with the official Disneyland Paris app on your mobile, in which you have logged in to your Disney account and then registered your park tickets, once in the parks you can book time slots for certain loading times for the following attractions: Dumbo, Peter Pan's Flight, Big Thunder Mountain, Hyperspace Mountain, Autopia, Twilight Zone Tower of Terror, Crush's Coaster and Ratatouille. Once you have been issued a QR code you can show up during the allocated 30-minute time slot, have the code scanned and enter the attraction. You can only reserve one Standby Pass at a time (for each member of your family or group whose tickets are linked to a single Disney account). Once your time slot has begun you can reserve a Standby Pass for another attraction.
If Standby Pass has not been activated for one of the attractions above, just join the line as usual.
What's hot, what's not?
There was much to see and do at the reopening of Disneyland Paris. Since we love lists, we thought we'd share bullets of things that may or may not excite you at DLP right now.
Attractions
NEW: Cars Road Trip. Fun people-eater for the kids and family, lovely colours and trees.
Buzz Lightyear Laser Blast: Now with 80% more vibrant UV colours. Would still be 100% more at home in Walt Disney Studios.
Orbitron: Gone. Out for refurbishment.
Pirates of the Caribbean: Fully functional, fantastic animatronics and fun.
Hyperspace Mountain: Still Hyperspace Mountain. Has issues.
Big Thunder Mountain: Roaring around the mines as before.
Phantom Manor: Plexiglass in the painting gallery, that's spooky. But safe.
Crush's Coaster: Chris Evans loves it.
Buffalo Bill's Wild West Show: Gone forever. Get over it.
Everything else: As you know and love it, mostly.
Restaurants
Open establishments include:
Bistrot Chez Remy
Plaza Gardens
Captain Jack's
Lucky Nugget Saloon
Videopolis Café
Casey's Corner
Au Chalet de la Marionette
Hakuna Matata
Agrabah Café (from July).
Last Chance Café
Definitely closed:
Walt's 
l'Auberge de Cendrillon 
Pizza Planet. Oh that closed years ago? We hardly knew ye.
Meet & Greets
Star Wars at Videopolis, including Boba Fett, Chewbacca, Kylo Ren and Captain Phasma.
Marvel at the Studio theatre with superheroes.
Mickey, Fairy Godmother & Cinderella at the Animagique Theatre.
Cinderella & Prince Charming at the Auberge de Cendrillon carriage.
Nautilus Minnie, Mickey, Donald & Daisy at the Nautilus in Discoveryland.
Bollywood Chip & Dale as well as Clarice in Adventureland
Surprise princesses at the Princess Pavillion
Shows & Cavalcades
Cheshire cat Train with Alice, Cheshire Cat, Mad Hatter, Rabbit
Max & Goofy dance show on Production Courtyard stage
Princesses cavalcade
Disney Junior Dream Factory (Opening July 1st)
Reopening FAQ
Did menu prices increase?
Not noticeably. Lucky Nugget and Silver Spur offering the same menu which includes a €22 Fish & Chips, Soft Drink and Sundae or Fruit Salad.
Is Disney's Hotel New York – The Art Of Marvel open?
Yes. It has rooms and restaurants and a Skyline bar on the ground floor. And Spiderman. We think.
Can you walk through the castle?
Yes! But Dragon's Lair and the 1st floor gallery are closed.
Does the castle look weird, and when will it be unboxed?
Honestly, we think it looks fun. It's almost modernist cubism with fairy godmothers. Le Château de la Belle au Bois Dormant will definitely come out of its cocoon before April 2022 for the park's 30th anniversary. Maybe sooner though?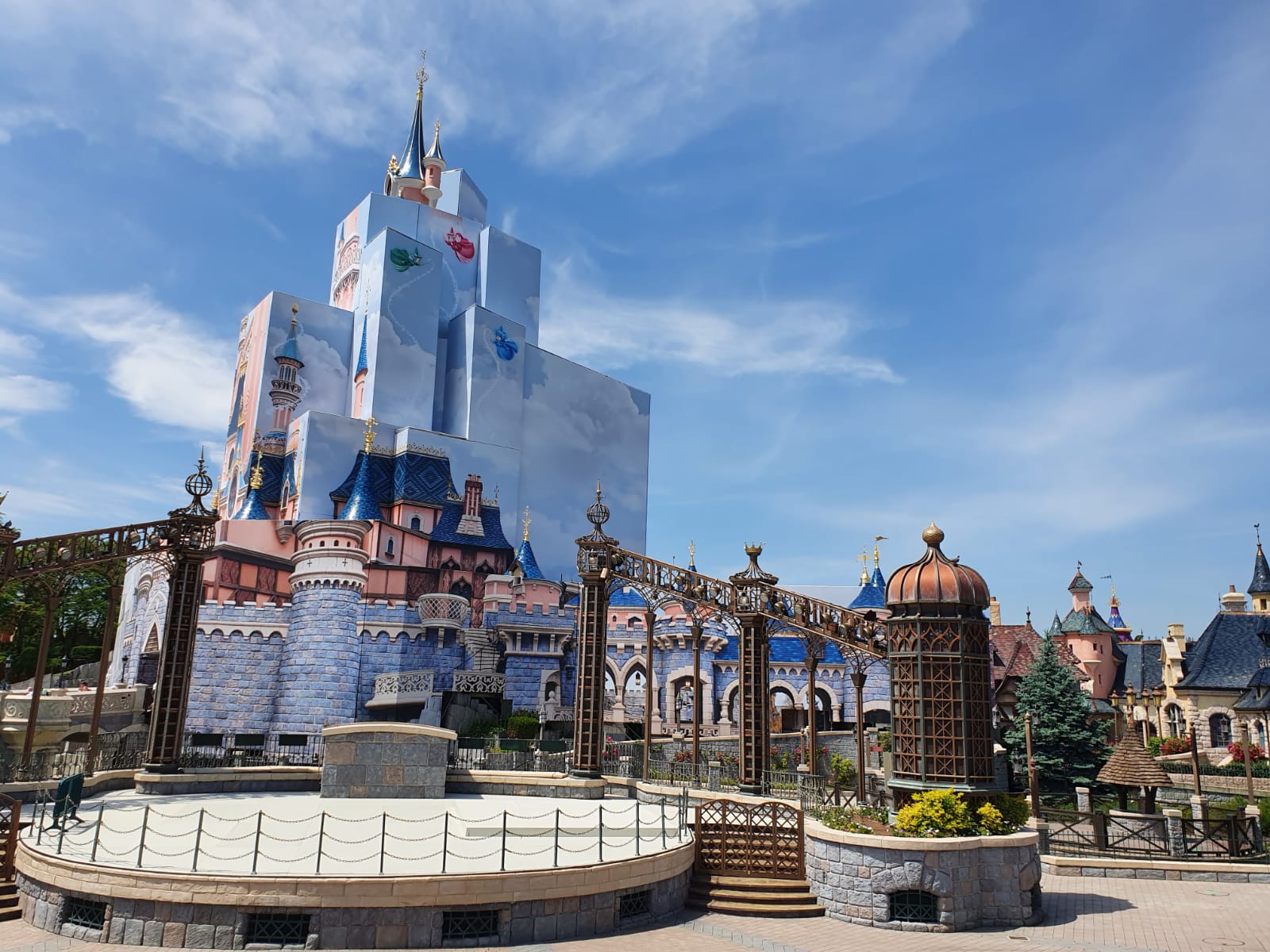 When Will Avengers Campus open?
2022-ish. No official date yet.
Should I go this year?
If you're like us, you've probably had a DLP-deprived year. Or two. It's been tough in general. This is a deserved potion for the soul, even if not everything at the park is operational, taking a day or two off to be here, walk through the atmosphere, take it easy, and yes, escape! Just take a look at the passion of the smaller fan blogs, groups, instagram and twitter feeds and vlogs. Even our own little Facebook live streams show the relaxed joy of Just. Being. There. And then the comments of those who are not able to be there yet, we honestly believe Disneyland Paris is good for you right now. Crowds are still low, queues are shorter, but the magic is 100%. If you can, go!