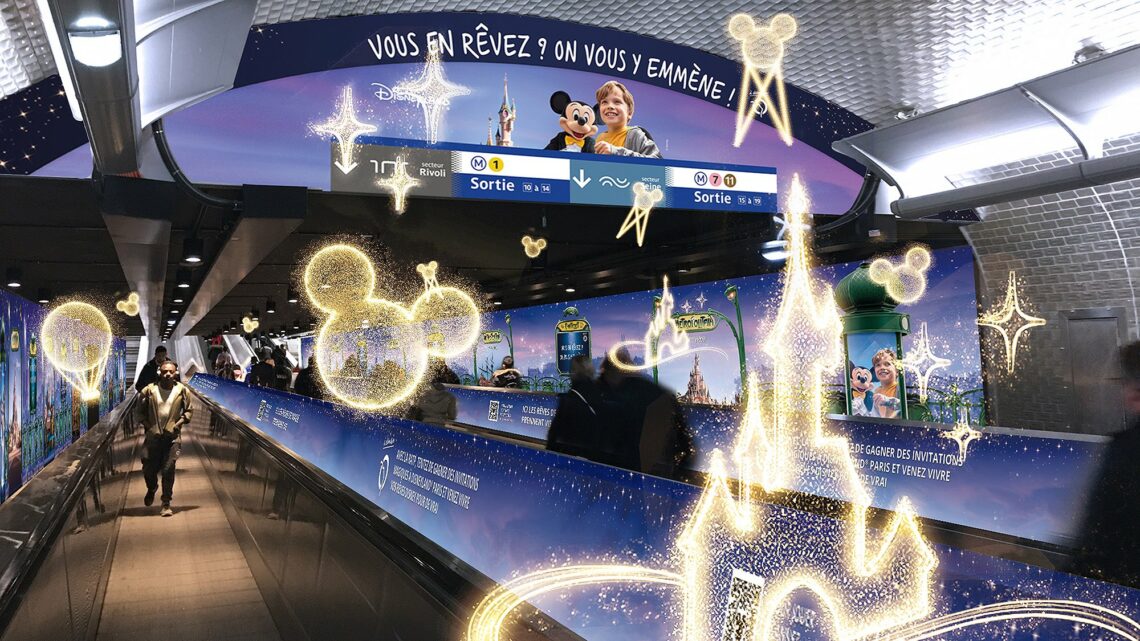 Disneyland Paris + The Paris Transport System = Magic Everywhere!
Your travel between Paris and DLP just got that much more magical! The RATP, which is Paris' inner-city transport system, has partnered up with Disneyland Paris: From June 17th to the 23rd, you'll discover a whole slew of surprising Disneyland Paris-inspired experiences on the platforms. All aboard!

This month, the RATP and Disneyland Paris are pairing up to offer travellers a series of DLP activities to make the reopening period extra special.  It all kicks off on June 17th, the big day itself!  
At the Châtelet metro station, where you can catch the RER to DLP, you'll be treated to a unique augmented reality experience. Just scan the QR codes with your phone and the connecting corridor between RER A and lines 1, 7 and 11 will change before your eyes! Stay alert to enjoy the show: the different lands of Disneyland Park and Mickey will be showing up. And get this: the RATP promises that a real Disneyland treasure hunt awaits you. We aren't sure what it will entail, but it sounds fun!
Throughout the operation, RATP agents will be available to help you take advantage of all the offerings, either at the event stand or at the various sales counters in Châtelet.
You'll also have an opportunity to win tickets to Disneyland Paris. If you're not an instant winner, don't give up hope. You'll be automatically registered to participate in the drawing at the end of the competition and could win an amazing DLP stay for 4 people from September 24 to 26, 2021!
Even just waiting for your metro or train will be fun during this period. From June 17 – 23, the billboards over the platform seats will be "dramatised" to let you virtually try on some iconic Marvel, Star Wars or other Disney ears. Making the wait a lot more fun. You'll also be able to participate in a quiz to test your Disney knowledge. The RATP says the answers may surprise you…but we think our D2DLP readers will probably know it all. Hopefully some of you will give it a go and tell us how you did.
On top of all this, throughout Paris, the metro platforms and bus lines will be adorned with posters that allow you to dive into the heart of the iconic attractions of DLP,  thanks again to the power of augmented reality.
The RATP has promised more details will be coming soon. We here at D2DLP certainly applaud this fun new way to celebrate the reopening, an example of a creative and potentially engaging campaign!