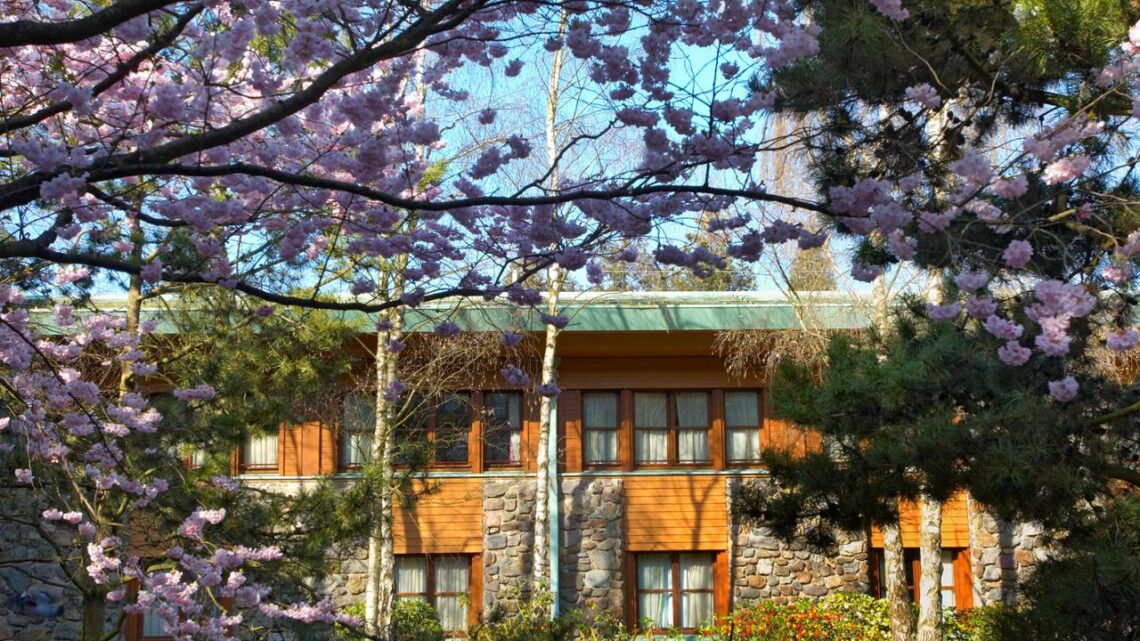 Review: Sequoia Lodge Hotel
One of the first hotels operational on opening day in 1992, Sequoia Lodge is situated on Lake Buena Vista between the New York Hotel and the Newport Bay Club, an enjoyable 10-minute walk from the parks. It is styled after a U.S. National Park resort, surrounded by large sequoias, and the natural stone-and-wood interior gives it a distinctly intimate mountain-retreat atmosphere.
Sequoia Lodge may feel cozy, but this 3-star hotel boasts a mighty 1011-room capacity, spread out over the main building and six exterior lodges, one of which houses an indoor swimming pool with a very fun water slide. There's a gym and no less than two restaurants – The Hunter's Grill and the Beaver Creek Tavern. A real favourite is the cosy Redwood Bar & Lounge which has an open fireplace, plush seating and snacks – perfect for early park closing hours in winter. In addition, the hotel's gift shop has loads of charm and is a great place to pick up souvenirs and snacks.
The Redwood Lounge at Sequoia Lodge Hotel
The Rooms
The Standard rooms are located in the five lodges outside the main building, whilst the more convenient Montana rooms are in the main building. If you get one of the many recently refurbished rooms, you are in luck! The ambiance and comfort cannot be beaten with its soothing woodland-themed decor featuring Bambi and friends. The beds are some of the best on DLP property, with medium-firm mattresses that are a blessing after a long day in the parks. It is our expectation that most rooms will receive the new refurbishment once the hotel reopens, but it might be a good idea to ask for one just in case.
A real plus is the layout of the bathrooms. The sink is located in an alcove that is separate from the toilet and bathtub/shower. This is quite different from the two lower tier Disney hotels, which both have more traditional bathroom set ups with everything in a single space. The separate basin makes getting ready in the morning much easier, especially if you are three or four in the room!
As the Lodge rooms are outside the main building it may be a bit of a chilly walk on cold mornings to get your breakfast. On the other hand, some people enjoy the rustic vibe of being out among the trees. If you are a fitness fan or love swimming, you might like to request the Yellowstone lodge, as it is closest to the Quarry Pool and Health Club building.
In contrast to the buildings at Hotel Cheyenne and Hotel Santa Fe, the Lodges all have lifts, as well as stairs, to access the second floor. Although they don't come equipped with boiling kettles, you can request one and it will be brought up free of charge.
For extra comfort, the rooms in the Golden Forest class on floors 5 through 7 in the main building have more amenities, including that kettle, a coffee machine and a small fridge. They are also much closer to all hotel facilities.
Dining:
Breakfast is an optional part of your booking and uses a time-slot system, which you need to choose upon check-in. Those who don't choose for the extra expense prefer to pick up a quick breakfast elsewhere in Disney Village or in the parks.
If your budget allows getting a room on the Golden Forest floors, it guarantees a separate breakfast lounge without the need to book a specific breakfast time. It also includes free afternoon tea time, coffee, refreshments and cake. The Golden Forest Lounge is beautifully decorated and is a great getaway from the bustle of the parks.
Standard breakfast and dinner are served at the Hunter's Grill and Beaver Creek Tavern. One or both of these spaces may be open, depending on how busy the hotel is. These have traditionally been all-you-can-eat buffet services featuring hearty fare and lots of options for children. However, we await news of this changing to family-style dining due to current covid-19 measures. Be sure and call for reservations ( Tel. 01 60 30 40 50 ), ask the concierge or use the app.
Special Features
The Golden Forest Club option also includes a special Fast Pass for each member of your family and a dedicated check-in desk. The latter can really cut down on the time it takes to register and get your room on arrival.
Many people consider the Sequoia Lodge Quarry pool to be the best on property. It is an indoor pool highlighted by extensive skylights and large glass-paned walls. There is also an outdoor section that opens when weather permits. Yes, towels are provided- big, fluffy striped ones- and you can also borrow pool noodles, kick boards and float belts. Kids and grownups alike will enjoy the water slide, as it is good fun and not too scary. But only the adults get to use the hot tub!
Our Verdict:
Officially opening on October 23, 2021, we look forward to staying at this charming and cozy hotel again. If you are looking for a touch of luxury in a rugged setting, Sequoia Lodge presents great value for the price.
That said, make sure you choose wisely, upgrade if you can and don't hesitate to request the room you want. There is a large difference between an unrefurbished Standard room and a remodeled Golden Forest room.
Featured image courtesy of Disneyland Paris