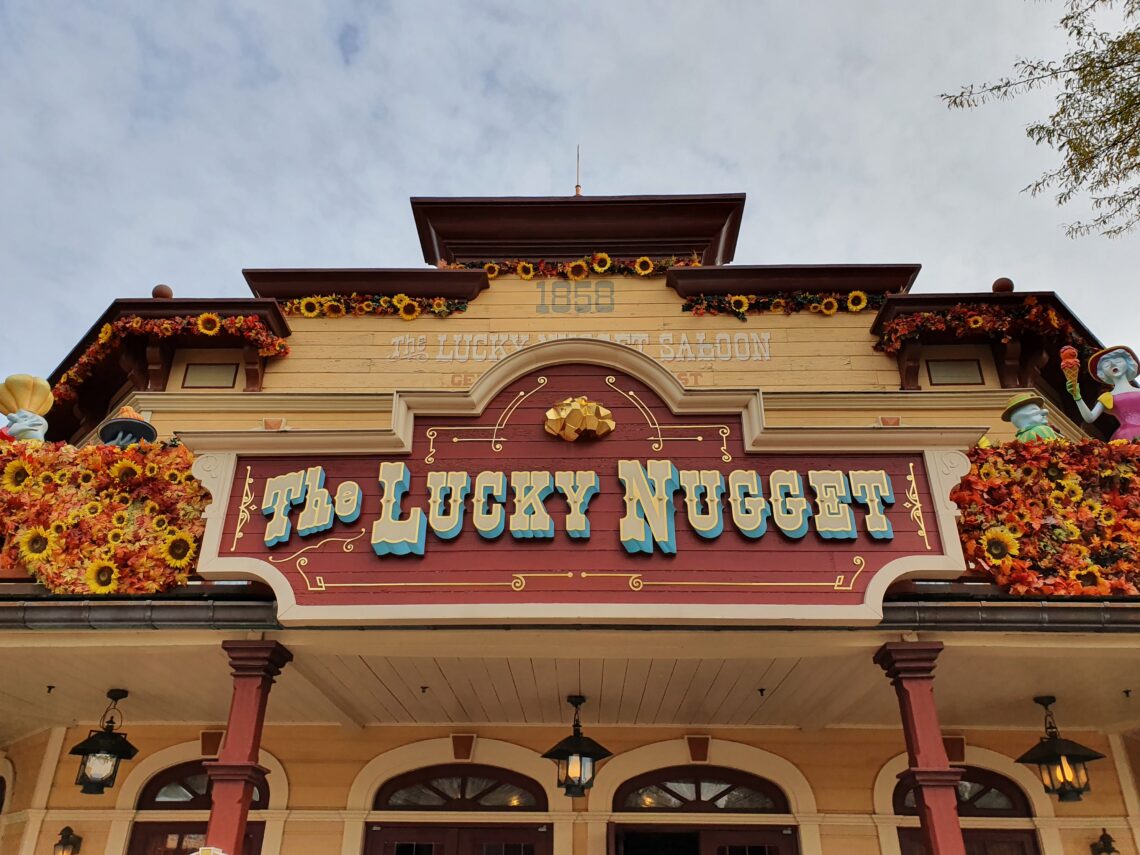 Review: The Lucky Nugget Saloon – A Dining Gem
There's more than meets the eye at The Lucky Nugget Saloon. This Frontierland favourite has a few tricks up its sleeve, being a counter and table service hybrid restaurant. In this review, we explain why The Lucky Nugget has so much to discover, for prospectors of all ages. 
Tex-Mex with a twist is how we would describe The Lucky Nugget Saloon, a restaurant for hungry explorers trekking through the Wild West. Located at the entrance of Frontierland right after you pass through the gates of Fort Comstock, this eatery could easily be overlooked as your attention is drawn by the rocky turrets of Big Thunder Mountain, the Molly Brown Riverboat and Phantom Manor. But seasoned travellers to these corners of the park know the secret behind this quaint façade, it is in fact a hybrid restaurant. The Lucky Nugget Saloon has a clever mixed style system which is perfect for guests who prefer a meal that combines the comfort of table-service dining and the speed of a counter-service restaurant.  
In contrast to a normal restaurant, you order and pay for your meals at a front desk upon arrival. A waiter then seats your party and your food is brought to you when it's ready. No waiting at a counter and then hunting for a place to sit! And at the end of your meal, no waiting for a check, as the bill has already been prepaid. This means you can get back out to the parks on your own schedule. We love it!
As for the menu, it features combination meals which include mains such as ribs, burgers, and fish and chips. These meals also come with a drink and dessert, which is usually a choice of either ice cream or a fruit cup. We have always found the meals to be generously portioned and incredibly tasty for the modest price. These combo meals are currently priced at €21,99 which is a bargain in terms of both price and quality. The most popular item on the menu is the pork barbecue ribs: they are exceptionally tasty and come as a particularly large portion. Another plus are the special seasonal menu specialties that pop up!  
For the most part, food is served in small, plastic dining baskets which add to the novelty of the experience. The menu's only drawback is that it's quite limited, with only three main course options, meaning young children and picky eaters may be hard to cater for. 
Not only does The Lucky Nugget boast a good value-for-money menu, but also an elaborate backstory which ties into the overarching narrative of Thunder Mesa, the mining town in which Frontierland is set:
"The flamboyant Miss 'Diamond' Lil cajoled a mineworker into taking her on a tour of Big Thunder: she had the good fortune to find a lucky golden nugget the size of a loaf of bread. Upon this moment of good fortune, Lil decided to build Thunder Mesa's grandest gold rush saloon in 1858."
That same lucky nugget can be seen mounted on the signage of the restaurant: an exciting piece of décor for fans who enjoy the tales of old Thunder Mesa. However, the saloon boasts most of its detailing inside.
 The interior of the saloon is the sort you'd expect, making guests feel like they really are in an old Western bar. The stained glass and antique-style ceiling lamps do this splendidly at the entrance, where food orders are placed. On a bitterly cold day, you will find that the ambiance of the warm woodwork is exactly what you need to feel toasty again: that's why we highly recommend that guests visiting during winter head into The Lucky Nugget, even if only for a warm drink.
Another bonus of The Lucky Nugget are the saloon shows that you can catch throughout the day, all of which take place on a rustic stage. The stage is crowned by a vibrant mural which includes Big Thunder Mountain, the Molly Brown and other features of Frontierland, as well as a very impressive chandelier. The shows can include puppet shows featuring Mickey and friends, and on occasion live bands. There appears to be no specific timetable for these shows, so it is best to visit around lunch or dinner time when they appear to be most frequent.
The Lucky Nugget is a fantastic dining option which boasts not only tasty, reasonably priced food but also a fantastic setting, entertainment and photo opportunities. While there are cheaper options in the park for similar styles of food, the Lucky Nugget is still hard to beat when considering everything on offer. The shows are particularly effective at keeping children both entertained and settled, meaning adults on family trips can enjoy that extra bit of recuperation time that may well be needed during a busy day in the parks. 
All things considered, The Lucky Nugget Saloon is one of D2DLP's top recommendations for dining at Disneyland Paris!