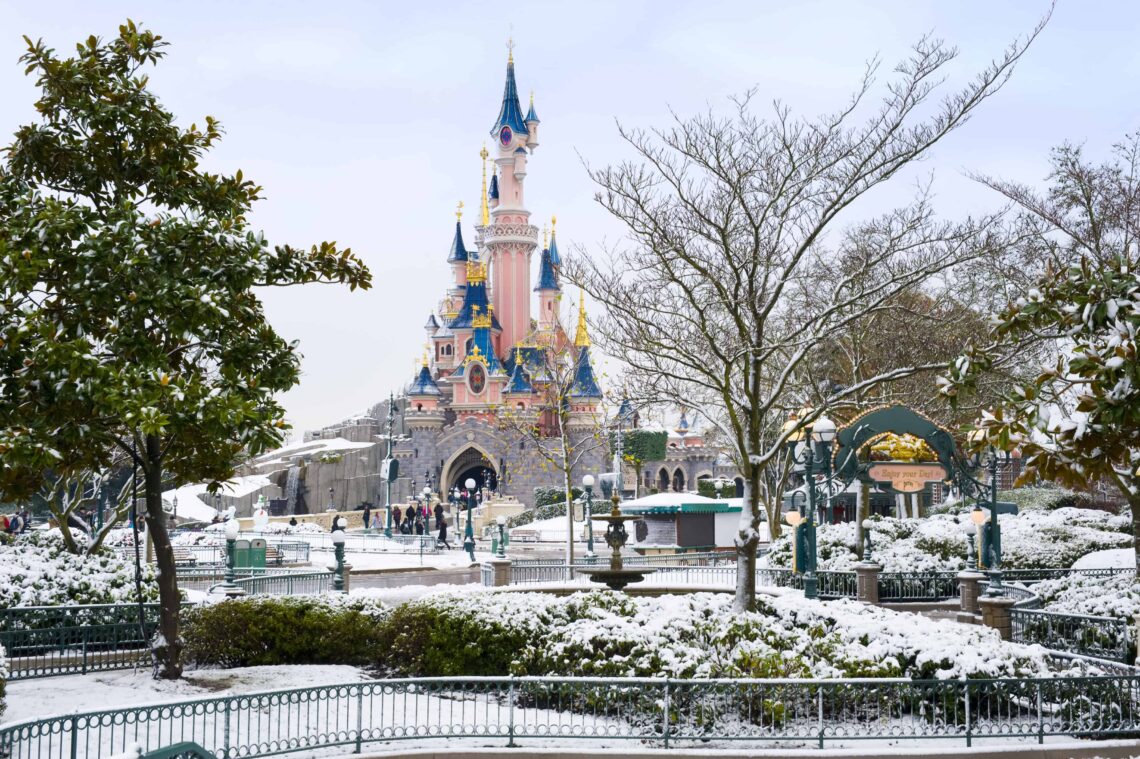 So You Are Visiting DLP in Winter?
5 insider tips on braving the cold and getting the most out of your trip
We all have tales to tell from seemingly endless and extremely cold days at DLP, in particular in the early months of the year. While the weather might be particularly harsh in January and February, the promise of lower crowds and reasonably priced accommodation can be a big draw for booking a trip during the frozen time of year.
So now that you might have booked a stay in winter, you're wondering what to pack and expect? Let the D2DLP team give you some solid advice. It might not save you money, but it will make your Disneyland Paris adventure much, much more comfortable.
Pack the correct footwear. As for all seasons at DLP, the right footwear will make or break your stay and we are not exaggerating. Ideal winter boots must be light, water resistant -if not water proof- and comfortable. Here lies the challenge – most boots only tick two out of three boxes here. Take your time and if you are really well prepared, by all means, buy some in the sale. Do not, we repeat, do not wing it with Wellington boots or sneakers. Neither of these options is an ideal DLP winter shoe. For actual snow, we would recommend "Moonboots" for ladies. You might not win the style stakes, but they are light as a feather and can really deal with the Main Street slush. Gentlemen have had fantastic experiences with "Timberland" boots. And for ultimate comfort any gender will feel right as rain in cosy high-top and rain-repellent Allbirds Wool Runner-Up Mizzles.
2. Layers! Layers of everything. With most highstreet retailers (Decathlon/Primark/M&S) offering thermal tights, socks, long johns, camisoles etc. at fantastic prices, there is no excuse to be cold. Layer up from the ground and add an extra lightweight down body warmer or jacket under your coat. Uniqlo have fabulous lightweight jackets, which can be packed extremely small – extra brownie points for hand luggage! If your jacket is not water resistant, pack ponchos to protect yourself from any rain or snow. Snow onesies are ideal for your little ones.
3. Woolly hats, gloves, scarves, mittens galore. Put them in an easily accessible pocket of your weatherproof daypack. There is no shame in also putting your mittens on a string and not losing a new pair on a ride. (Not that this has ever happened to any of us. Multiple times.) For the style conscious traveller who refuses to wear a hat, get some "Ear Mitts". These are extremely discreet and comfy mini-muffs which just cover your ear. A lot of stores selling equestrian equipment sell them.
4. A hot beverage. Do bring one in a travel mug or reasonably sized flask. We have never been turned away with coffee stowed in a bag and let's be honest, DLP is not great at coffee.
5. Disposable hand/foot warmers. You are welcome. These beauties will make your trip a breeze. You can find them online or in any good mountaineering store. Some Pound/Dollar/Bargain stores also sell them. Get a bunch and keep cosy in any queues. We had no issues going through airport security with a whole bag full of them.
Obvious Bonus Tip: If you haven't already, invest in a comfortable day backpack to carry most of the above, with separate compartments for clothing and snacks, elasticated sidepockets for water bottles or a small thermos and hidden zip pockets for your important documents (tickets!). Something like the Crumpler Zero Border will save your back, literally.
These are our 5, okay, 6 key tips for making the most out of a winter DLP trip. Now get packing!