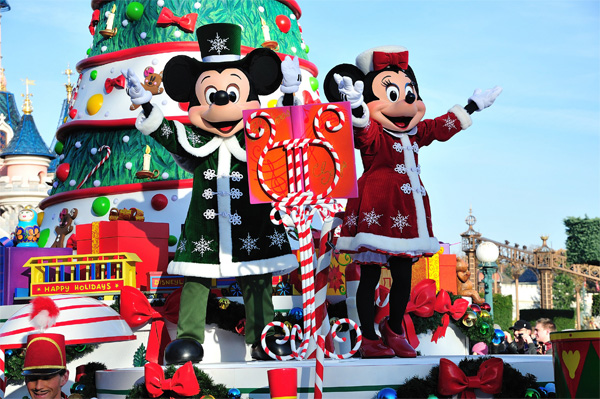 Top 10 Things I'm Looking Forward to in Disneyland Paris This Christmas
As I write this article (started onday 27th at 2.30pm), I am 4 days away from being back in Disneyland Paris. In fact, we would have arrived at the train station 30 minutes ago, so by now, everything going to plan, we'll have dropped our bags off at the front gate and be in Disneyland Park, ready to experience Christmas 2017 in Disneyland Paris. Though Christmas is obviously a huge part of why we are going in early December, it's not the only thing I'm looking forward to. So let's crack on, with my Top 10 Things I'm Looking Forward to in Disneyland Paris This Christmas, off the top of my head, and in no particular order…
Christmas Band Show
Regular readers will know that I am spoiler free for this Christmas season in Disneyland Paris, as much as I can be anyway. So because of that I'm almost certain I have the name wrong, but I am scared of seeing images that will spoil the surprise, so for now, the Christmas Band Show is what I'm going with. It takes place several times a day in the Videopolis Theatre, in place of the Jedi Training Academy, and for the longest time I thought it was just the Jingle Bell Boys back for another year. I say just, as this previously, and under a couple of names maybe, was a brass band playing Christmas songs with either Mickey Mouse or Goofy conducting. Not so! Apparently, according to friends who were there just last week, this show is much bigger, better and with a combination of said band, live singing and dancing. It has been heralded by many as the best thing about the 2017 Christmas season in Disneyland Paris. So something that was pretty low on our list of priorities, and something we would not have been bothered about missing, is now the number 1 thing we absolutely have to make sure we see. So although this list isn't in order, the Christmas Band Show is in its rightful place if it were.
Restaurant Choices
This is something quite different for my family, as we usually don't make plans, deciding on the day where we want to eat, more often than not just a few minutes before, when my son declares that he is so hungry that his legs are getting tired. So for once, we have made a decison on where we will be dining on what days, and the choices were unanimous. On our first day we won't have an in park meal as we arrive at 2pm, and we'll only have 5 hours to roam Disneyland Park, so we plan to eat before we arrive and then grab something when we leave Disneyland Park after Illuminations. Also known as looking at each restaurant in despair as we walk through Disney Village, until we get to Earl of Sandwich, which will be the only establishment with empty seats. That's fine though, as we love Earl of Sandwich – it's pretty cheap, and the views over Lake Disney are fab, especially after dark.
It's always such a treet to get live country music in Cowboy Cookout. Food & atmosphere are superb. Best counter service in Disneyland Paris pic.twitter.com/8VoZSZOZg4

— Dedicated to DLP (@DedicatedToDLP) October 5, 2017
We are trying to keep a modest budget, but that actually plays into some of our favourite choices anyway, starting with Toad Hall. Fabulously themed inside, with great fish and chips. We'll just have to make sure we get there as soon as it opens as being quite small there aren't that many tables. Next will be our splash out meal for Sunday lunch at Plaza Gardens, the favourite restaurant choice for all three of us. I adore the food options, being plentiful and fresh, and rare for Disneyland Paris, offering actual vegetables. With drinks and food only limited by the space in our bellies, at €34,99 (that's before annual passport discount) for adults and €17,99 for kids, it's excellent value for money. Third and last will be the Cowboy Cookout Barbecue, which has taken over from the Lucky Nugget Saloon as our traditional last day eaterie. With any luck the fire will be roaring and some live country music will be playing. Combined with delicious chicken or sausage, in a Western themed setting, what could be better? For our family, nothing.
Christmas Laser Show
Yes, I'm back with awfully inaccurate show titles, but this is the Christmas laser show that is projected into Tower of Terror, much like Star Wars: A Galactic Celebration during Star Wars Season of the Force. I have avoided the test pictures and videos, which I really wish people wouldn't be so adament to make public, and so have absolutely no idea what the show entails. I know people loved A Galactic Celebration, so I have high expectations, especially when you factor in a Christmas theme.
Big Thunder Mountain
Go read this: From Fear to Obsession – How Big Thunder Mountain in Disneyland Paris Changed Me. This upcoming trip to Disneyland Paris will be only the second time we as a family have been there as Big Thunder Mountain fans. Well, mostly my son and I, but my wife will enjoy the  extra rides we take for the hot cholocate and chill times it will offer her. Winter means that we have more time to ride Big Thunder Mountain in the dark, and I can't wait. Maybe we can even tie a ride with the Christmas Laser Show for some spectacular on track visuals.
Christmas Parade – New Music?
That's what I'm hearing, in the few tidbits of information about Christmas in Disneyland Paris that have slipped through my spoiler net. The reaction so far has been very good, and that's as far as my intel goes. Disneyland Paris has a rich history of fantastic songs, but one question remains – can it be better than the utterly brilliant and legendary Chante, c'est Noel?
httpvh://www.youtube.com/watch?v=d_yb5zdSKC0
Christmas Decorations
Aside from the two photos I briefly glanced upon showing me blue trees. I've seen nothing. Will the garlands be as good as usual as they apparently will have to hang higher because because of the parade floats? Will the character statues around Central Plaza have any kind of Christmas makeover? Will Walt Disney Studios have more decorations than the usual meagre offering now that it has a decent amount of Christmas entertainment? Lots of questions, and all of them to be answered in just a few days. As long as there is snow, and I mean Disney snow, not the cold wet and slippery real stuff, then I'll be happy.
To Crush or Not To Crush?
You read about Big Thunder Mountain earlier in this article, and next on our hit list is Crush's Coaster, maybe. Coming away from our last family trip in the summer we all decided that Crush's Coaster would be our next challenge, given that loops are a big no no for my wife and son, and probably me to be honest. Actually, my wife has declared she won't do Crush as she hates rides that spin, and after reading replies to my Crush tweet from a few weeks ago I'm having second thoughts, and too. We had the same feelings towards Big Thunder Mountain in August and look how that turned out, so maybe we will face this next challenge head on, and come out victorious. I'll let you know if it's fight or flight for us.
Darth Vader Wearing a Christmas Jumper
Just to clarify, I won't be sporting my Darth Vader jumper, because  I have a new Christmas jumper that features Chewbacca, and some fairy lights that actually light up. Naturally I thought it would be the ideal attire to be wearing for a meet with the Dark Lord. He's such a fantastic meet and greet experience and this added element of festive fun can only make it even better, right?
Goodbye to Phantom Manor
It's no sceret that Phantom Manor will be closing down early in 2018, for a very long refurbishment, the details of which are still unknown, for now. It definitely needs it, as it's looking a bit tired these days, expecially in comparison to the recently improved Pirates of the Caribbean and Star Tours, to name but a few. So although I welcome whatever improvements they have in store, it'll be a big loss to have it closed for so long, and so this will be our chance to say goodbye, or maybe see you soon would be more appropriate.
Cheyenne Texas Room
I adore Hotel Cheyenne, as you no doubt know, and the recently introduced Texas Rooms are just perfection. Now I get to show them off to my family, who share my love for Hotel Cheyenne, but haven't yet stayed in the Toy Story Tastic new rooms. There's nowhere else I'd rather wake up each moring and return to each night whilst in Disneyland Paris.
There are many more than 10 things to look forward to in Disneyland Paris, especially at Christmas, but these are the ones that come to mind first. I'll report back on how all these go, answering any questions I have posed, and adding anything else that deserves to make the top 10 in hindsight. Merry Disneyland Paris Christmas Season!