Review of Disney PhotoPass in Disneyland Paris
My trip to Disneyland Paris in the last week of May this year was the first since the new Disney PhotoPass system has been introduced. Before that time ride photos could be purchased after your ride from the counters of specific rides such as Pirates of the Caribbean and Space Mountain: Mission 2, and photos with characters could be purchased from your on site hotel shop or the photography centres such as Town Square Photography on Main Street, U.S.A. With those character photos you would be given a card for each time you got your photo taken with a character, and these could then be pulled up on the system and printed out.
The idea of Disney PhotoPass is that you get this card given to you when you have your first character or ride photo of your trip, and then all subsequent photos can be added to your account by scanning the card. You can then take this PhotoPass card to any of the hotel shops and the two photography centres in Disneyland Paris: Town Square Photography on Main Street, U.S.A., Disneyland Park The Disney Gallery, Disney Village and Walt Disney Studios Store, Front Lot, Walt Disney Studios. From there you choose what to have printed out.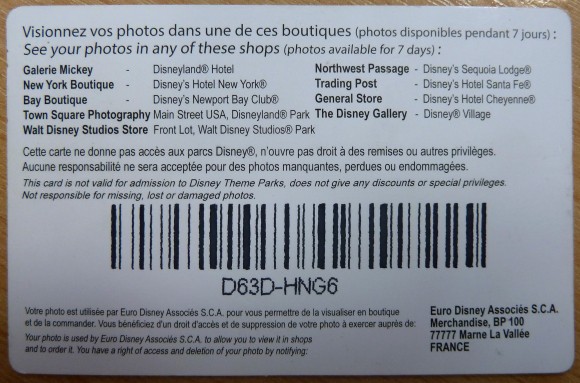 Our first photo opportunity was Pirates of the Caribbean, of course, and when we got to the photo counter and had our photo brought up on screen there was no mention of PhotoPass from the Cast member, and there were no notices anywhere telling us about PhotoPass. Wanting to try this out for convenience and cost purposes, I asked if we could have a PhotoPass card. The Cast Member got one out from under the counter and then proceeded to edit the photo, as this can't be done once it's been loaded onto the PhotoPass account.
Throughout the rest of the holiday we loaded quite a few photos onto our PhotoPass account, from rides such as Tower of Terror to meet and greets with Duffy. The only time we couldn't have it loaded onto our card was in Meet Mickey as they had PhotoPass cards ready to give out to each guest having their photo taken. Interesting that this was the first time I came across PhotoPass cards without having to ask for one. So that now meant we had two PhotoPass cards, and two PhotoPass accounts.
We went to Town Square Photography the day before we left, so that we could order any photos and have them packed ready to leave the next day. Having two PhotoPass cards was no problem as the Cast Member combined them, and loaded them all onto the system for us to scroll through and decide which ones we wanted. In the past it's cost us anywhere from $15 to £30 to get a ride photo, depending on the frame that came with it. With PhotoPass you get to choose what size you want and we went for A5 sized photos. When you buy 4 photos of that size you get charged €29 – the prices for all quantities are as follows: €15 for 1 photo, €20 for 2 photos, €25 for 3 photos, €29 for 4 photos and any after that are €3 each. After a 4 day holiday of multiple ride photo poses and meeting Duffy & Mickey, we had 30+ photos to look through, and ended up choosing 8 to be printed. I wouldn't have dreamed of buying 8 photo on previous trips but at a total price of €41, reduced to €34,85 after shareholder's club discount, it became much more affordable.
Don't worry about themed borders, because you still get the great looking photo details even if you don't get the photos from the actual ride counters. You also get some added detail on character photos when meeting the likes of Mickey and Duffy. Below are 5 of the different ride and character photos we got – click to enlarge them.
Unlike in the US parks there was no option to have the digital files, or to order the photos online once back home. Overall though it was a much easier way to do things. The cost alone makes it worthwhile, but also to not have to carry ride photos around with you and to be able to pick and choose which ones are the best at the end of the holiday is fantastic. I'm sure we are not the only family who do their best ride pose towards the end of the holiday, but by then all money for ride photos has been spent. The photos stay on your account for 7 days, so if you are staying longer than that then don't forget to get them printed off in time.
We'd definitely use the PhotoPass system again, and though it's not as extensive as the system used in the American Disney Parks, it's a huge improvement on what preceded it, and maybe this is just phase 1 of a complete Disney PhotoPass roll out.