Review of Mickey's Magical Christmas Lights 2015 in Disneyland Paris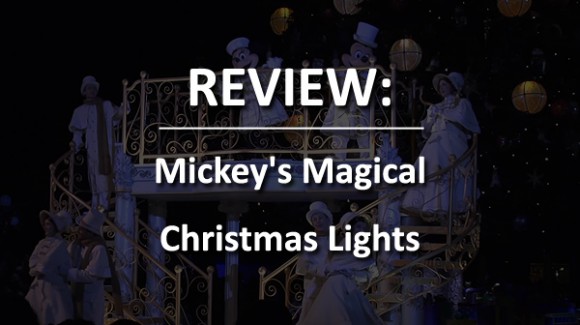 Nothing can really compare to being in Disneyland Paris to experience the magic in person, but as that didn't happen for me this Christmas season (you can read why here), I'm left with watching videos and forming my opinion from those. Luckily DLPGuide.com was there, and it is those videos I am using to do these reviews. Starting with the new Mickey's Magical Christmas Lights, I'll let you watch it yourself, then we can talk.
httpvh://youtu.be/JNiicZnFUPc
Before I start on the new 2015 version, read my thoughts on the 2013 version, when it was introduced in a new format and called Magical Christmas Wishes. This presentation was retained last year in 2014, albeit with a few changes, but still the same concept, which again I loved. Fast forward to 2015 and it's a very different story, with the focus taken away from the tree, and put directly onto the characters in front of the tree. This is precisely what I feared when I first heard the rumour back in June, and though I put my faith in Disneyland Paris, for me personally this a big step down.
Previously the tree part of tree lighting was what got the attention, and no matter where you were in Town Square or if you were half way down Main Street, you got the same show. The positioning of the new float in front of the tree does allow you to see it from down Main Street, but it's a much smaller target to focus on than a 24 meter high tree and if you want to make the best of it you really need to be close, and get into position well in advance, especially for the bit when the first characters first appear and walk up to the float.
As for those characters, it's no surprise that Mickey is there given the name, but if we do need to have characters can we not mix it up a bit? Last year Anna and Elsa did a meet and greet in Princess Pavilion – well that's not here for 2015, so maybe they could be part of the tree lighting given their huge popularity. For those that are bored of Frozen, then how about Beauty and the Beast? They have a their own Christmas film with outfits to match and the original story has its origins in France. I'm getting sidetracked by the characters here, when the best thing would be to not include them at all, and go back to having some wonderful music accompany a terrific light show on the magnificent tree, rather that than another sing-along of Jingle Bell which does lack any kind of originality.
It might sound like I'm being harsh, and I am, but I absolutely adored the previous version of the tree lighting and I'm miffed to see it replaced by yet another character driven showcase. With the introduction of Santa it becomes even more cliched, but at least that signals it's not long until we get some decent music and the tree can take centre stage at last. Unfortunately this part is way too short, and before long it's over, unless it's the first showing and you can come back later in the evening to see it all again.
It is hard to make final judgement on something without being able to take in the atmosphere yourself, but for my tastes Mickey's Magical Christmas Lights isn't a patch on Magic Christmas Wishes that preceded it. This is the first Christmas season in Disneyland Paris I have missed since 2010, and I'll do everything I can make sure I'm there in 2016. At that point I'll be able to experience it myself, and maybe my opinion will change. You never know, Disneyland Paris may agree with me and go back to Magical Christmas Wishes – here's hoping.