NEW Disneyland Paris 25th Anniversary Mickey and Minnie Costumes – A Merchandise Dream
This might be the shortest article I ever write for Dedicated to DLP because the photos do all the talking, as the new Disneyland Paris 25th Anniversary Mickey and Minnie Costumes have been released and they look incredible. Hats off to whoever decided Main Street at night was the perfect photoshoot location – you were spot on.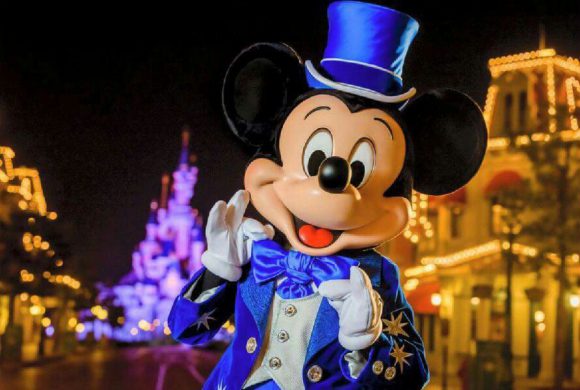 Not only do we have the new look Mickey and Minnie, but these outfits are so classy and ooze special occasion, which is exactly what the Disneyland Paris 25th Anniversary is and how it should be portrayed. The stars from the artwork we saw last week are present on the costumes, and us Disney fans love nothing more than good continuity. we saw Disneyland Paris have been very clever in designing this look, because not only are people going want to meet Mickey and Minnie and get a photo with them looking so good, but merchandise sales are going to shoot through the roof and beyond. The inevitable plush toys will sell by the thousand, but throw in pins, t-shirts, mugs, stationary, phones cases, and….well the list goes on.
In the past week or so we've seen a quite a bit of information and imagery come out about the Disneyland Paris 25th Anniversary, and so far it's not only meeting but exceeding expectations. I had speculated previously that this will be the greatest celebration of them all in Disneyland Paris, and day by day that is seeming more likely.